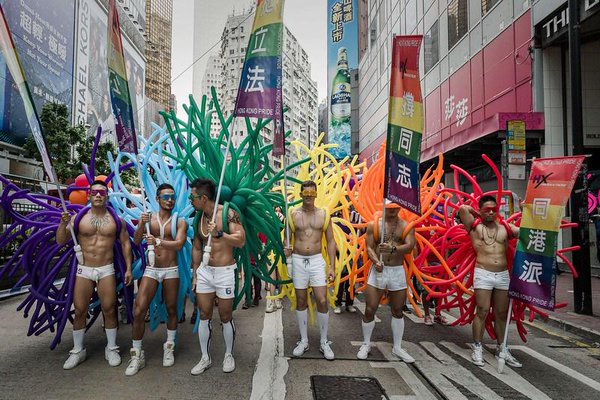 Over 10,000 marched in Hong Kong calling for GLBT equality. 
Demonstrators paraded through downtown Hong Kong, with many complaining that the city lags behind other major Asian hubs in terms of GLBT rights the South China Morning Post reports. Among those marching were a number of diplomats from the United States, Britain and France and other countries.
During the rally, the government was urged to take immediate action to enact laws to protect sexual minorities against discrimination. Tommy Jai, one of the parade organisers, said: "We have waited 20 years for anti-discrimination legislation already, and that's far too long".
GLBT issues are in the spotlight again in Hong Kong after comments from the city's Catholic bishop, which angered many in the community. Cardinal John Tong,  penned a letter saying concepts of marriage and family were being "challenged" by what he called "the gay movement".
Referring to a proposed measure which would outlaw discrimination on the basis of sexuality, the Cardinal wrote "If a sexual orientation discrimination ordinance were enacted, or gay marriage legalised, this would force our society into undergoing a change that would turn it upside-down".
 Article | Levi Joule.