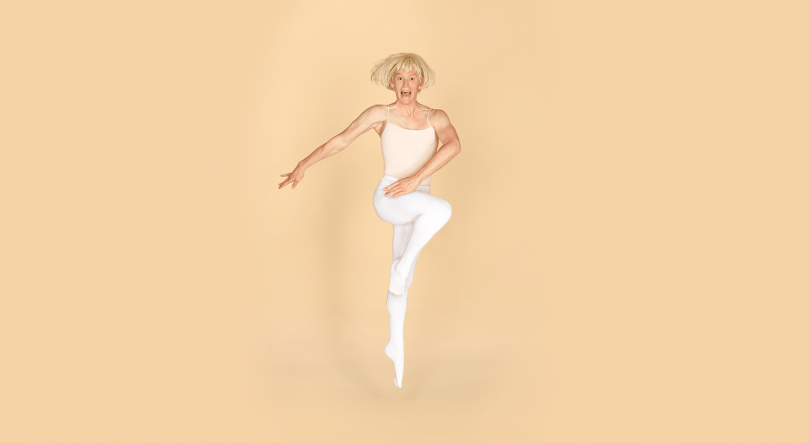 The second Auckland run of Chris Parker's solo show No Dancing in the Good Room winds up at Q Theatre tonight.

Originally debuting in Wellington and then causing a stir in Auckland last year as one of the best-reviewed shows in the 2015 NZ International Comedy Festival, it was no surprise these limited Pride Festival Dates sold out in record time.
This season the show's pace has been slowed, allowing the powerful script to breathe and Parker to dance a little more. This has turned out to be a self-sacrificing act as he is performing with a broken foot, but there is little evidence of this in his movement, other than two rapidly blackening toes. (Post-show he downs painkillers and tells me he would rate his discomfort as a two before he performs and a six after.)
No Dancing in the Good Room has an abstract feel, and this subtle touch ensures the punch of its conclusion hits all the more hard. Parker plays his childhood self, performing to anyone who will watch. The sparse and modern stage represents the good room –  the one room in his home Chris is not allowed to dance in and of course, the only one he wants to.
Projections of genuine old home movies introduce us to his white middle class suburban childhood; starring eight-year-old Chris and his parents.
On stage he merges into both his mother and father with oddly different takes. He presents his father as the happy go lucky chap we see in the videos, advising his son to have fun, as long as that falls within the confines of presenting a 'good' image of himself to others.
For his mother meanwhile Chris dons a Norman Bates-esque ensemble and presents the Christchurch housewife as Good Room Guardian with a dash of Edina Monsoon-like fire in her eyes; not remotely reminiscent of the angelic mummy the projector has previously revealed.
At times you wonder if the production was hard for Parker's parents to watch but the authenticity of his tale ensures the audience will see parallels of their own familes on his stage.
It is only in the show's closing moments that the topic of sexuality is finally discussed, representative of what Parker regards as his own late coming out. The raw anxiety he displays in this monologue ties this 55-minute piece together so beautifully; you can expect to shed a tear.
While poignant for many, it is the parents of LGBTI children with whom the production will resonate the most. No Dancing in the Good Room highlights that no matter how supportive your environment; coming out at any age is hard. A message delivered through joy, humour and subtlety.
Expect to see this superb show tour and more of this in-demand entertainer's talent displayed on stage and screen. But just remember which magazine put him on their cover first!
No Dancing In The Good Room will be performed at Q Theatre tonight at 6.30pm as part of the Auckland Pride Festival.
Article | Oliver Hall.