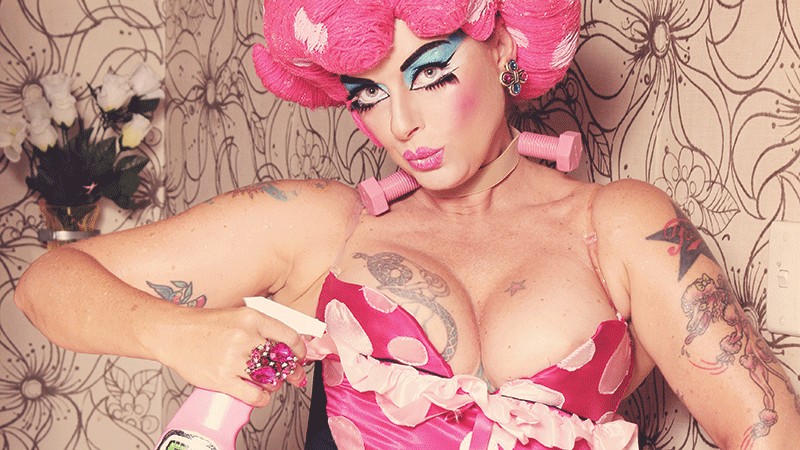 A revolutionary, intimate, cosmic sex parody; these are just five words that describe The Glitta Supernova Experience – Let's Get Metaphysical, coming to Wellington, Dunedin and Auckland as part of the New Zealand Fringe Festival 2016.
It all started with a longing to develop art culture outside of the queer underground. Self confessed queer and hyper-gendered Glitta Supernova created Pretty Peepers Untraditional Cabaret, touring the Fringe circuit with spectacular results. Unsurprisingly her show sold-out all across Australia, receiving volumes of rave reviews.
Now she brings us The Glitta Supernova Experience – Let's Get Metaphysical, a sex comedy where you can experience "a cocktail of polarities, yuck and yum, the absurd, crossing the line, camp hilarity with an intimate unfolding and personal story." A hybrid of performance art, absurdist theatre and drag artistry, creator and star Glitta Supernova also tells express that the show is "a front row seat into the slippage from club culture into theatre, a beautiful fusion of high and low art into a single mash of colour and revolution. Let's Get Metaphysical wants to attach you to your spirit, to the creativity within you and to each other through a surreal dark comedy romp into laughter, chaos and liberation."
Knowing full well that there were people out there who were not only open to, but also hungry for, this type of entertainment, Glitta comments that the overall experience was rewarding and as an artist it opened a whole new world that she was destined to take part in.
With over twenty years experience in performance, and a member of the queer community, the purpose of Glitta's performance is to express the importance of finding your power against all the odds. She wants her audience to be able to live their own unique value on the planet regardless of what they are labelled.
"You may feel confronted, uncomfortable, and unable to stop laughing and uplifted!" Some audience members have told Glitta that after seeing The Glitta Supernova Experience – Let's Get Metaphysical that they are finally able to accept themselves and love their bodies. This is exactly what Glitta is trying to achieve, she says. The promotion of "self-acceptance so people can go ahead with their own unique power and change the world." So why not come along and experience this "energetic orgy for change!"
Catch The Glitta Supernova Experience – Let's Get Metaphysical from Friday 25 February to Saturday 5 March at Wellington's Fringe Bar, Dunedin at the Fringe Festival Club on Friday 11 and Saturday 12 of March, or at the Basement Theatre in Auckland from Tuesday 22 to Saturday 26 March.
Image Credit | Glitta Supernova by Cat'O'Nine Tails Photography.