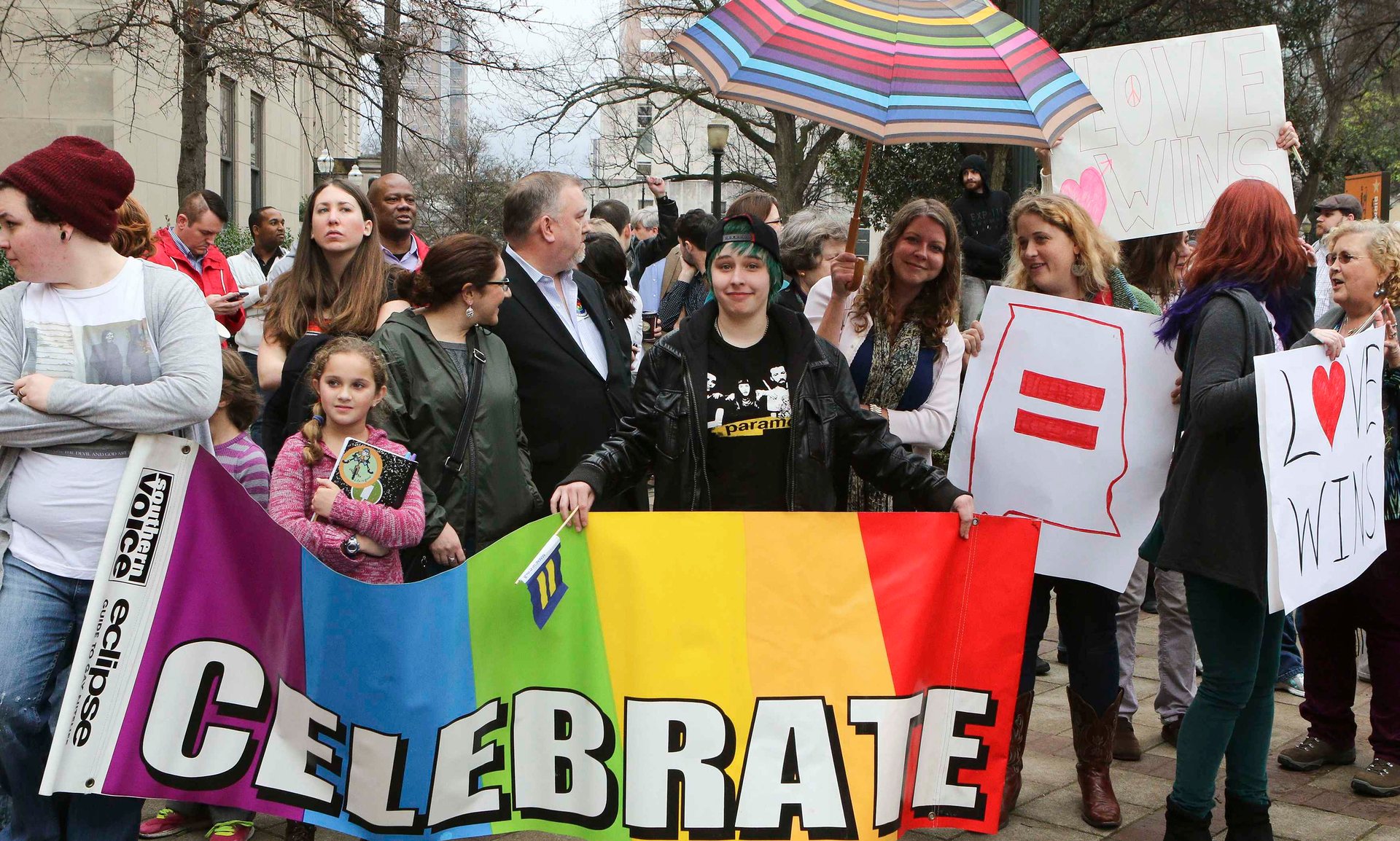 Eight justices' decision reverses ower court's ruling that the adoption rights granted to a same-sex couple in Georgia had no validity in Alabama.
In a victory for LGBT rights groups, the eight justices of the supreme court on Monday unanimously overruled an Alabama court that balked at recognizing a same-sex adoption.
The decision reverses the lower court's ruling that the adoption rights granted to a lesbian couple in Georgia had no validity in Alabama. The two women, identified only by their initials of EL and VL, were raising three biological children EL conceived while they were a couple until they separated in 2011. A Georgia court had given parental rights during that time to VL, who has no biological relationship to the children. But when she moved to Alabama and sought visitation rights, her former partner challenged her parental rights and won in front of the state supreme court.
The case had been closely watched by LGBT advocates as a key test of same-sex adoption rights. Across the country, states have uneven protections for same-sex couples raising children. More than half of states allow both partners in a same-sex couple to obtain parental rights.
But many same-sex parents have found their adoption rights jeopardized by a move across state lines. The Alabama ruling, LGBT allies warned, had "the potential to wreak havoc" if it were allowed to stand.
"According full faith and credit to adoption and parentage judgments that these families have obtained is critical to their security and integrity given continuing objections to the families of same-sex couples," reads a brief submitted by several LGBT rights advocacy groups. "This case is a part of our continuing national conversation about legal respect for the relations formed by and between same-sex couples, including those who raise children."
Alabama is one of a handful of states that has remained hostile to the rights of same-sex partners even as most courts give them full recognition. In January 2015, after a federal judge struck down Alabama's constitutional ban on same-sex marriage, the state supreme court chief justice wrote a letter to the governor vowing to continue enforcing the ban. That summer, state officials defied the US supreme court's ruling that same-sex marriage was constitutional until another lawsuit forced their hand.
Alabama's state court has previously ruled that the state's laws don't permit adoption by an unmarried parent in a same-sex couple if he or she has no biological relationship to the child. In VL v EL, as this case was known, the Alabama supreme court ruled that Georgia should not have granted VL adoption rights when the parental rights of EL, the biological mother, had not been terminated.
In their ruling on Monday, the supreme court justices wrote: "A state may not disregard the judgment of a sister state because it disagrees with the reasoning underlying the judgment or deems it to be wrong on the merits."
The plaintiff in the case, VL, was represented by the National Center for Lesbian Rights. Other LGBT rights groups immediately hailed the ruling as a breakthrough. "The nation's highest court today ruled in the best interests of these children, setting a firm precedent for others across our nation," Sarah Warbelow, the legal director for the Human Rights Campaign, a Washington-based policy group, said in a statement.
Nationwide, more than 16,000 same-sex couples are raising some 22,000 adopted children.
Article | The Guardian 
Image | Marvin Gentry/Reuters, Supporters of same-sex marriage hold signs outside the Jefferson County courthouse in Birmingham, Alabama, in February 2015.