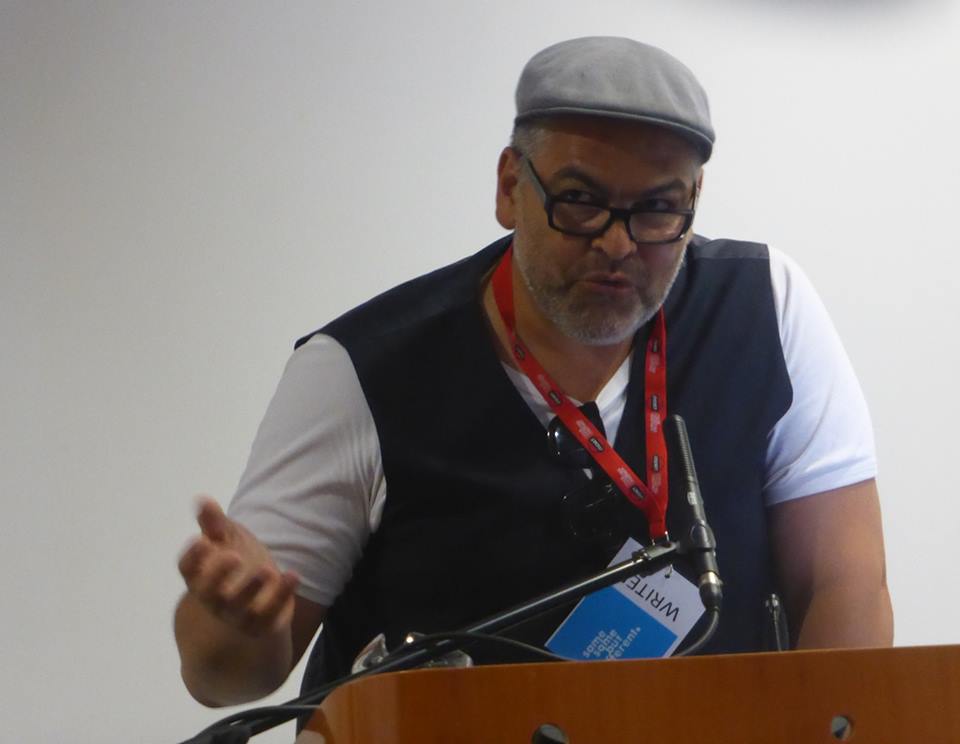 Words are boats which carry meaning and power.  For at least four decades, our Queer community has deliberately acted to re-define words heteros have used as demeaning epithets for us – dyke, faggot, poofter, pussy-eater – imbuing them with our pride.
Same same but different, the 2016 Pride Literary Festival showed how magnificently we have done that.  Held at sponsor AUT's campus, it drew over 400 people to its 8 sessions, each carefully planned to cover our past and possible future writings.
The opening session The Book that Turned the Light On, regally chaired by tiara-wearing, silver-clad Edward Cowley (aka Buckwheat), ten writers shared their 'light-bulb' moments.
In Wilkie Collins Woman in White, biographer/historian Joanna Drayton noted the main character, Marian, was "very masculine", fully turning on her light when she then read Lisa Alther's Other
Women. Writer/museum curator Paul Diamond gained insights from many books, including Peter Wells' Gay Writing in New Zealand.  Metro editor Susannah Walker, was inspired by Broadsheet and also Stephanie Dowrick's Running Backwards over Sand. "It was the first time I'd read about women fucking," she said."I was riveted."
For Douglas Lloyd Jenkins, Willa Cather's My Antonia "excited my imagination and suggested possibilities" as did the work of Oscar Wilde. Paula Boock, writer and founder of Longacre Press found  Pinnochio inspiring because "like me, Pinnochio wanted to be a real boy."  For Pacific Island playwright Victor Rodger, living in Christchurch with his palangi mother,  buying OUT magazine  was "perfect for a teen who knew at eight he was gay."
For transman Cole Meyer, "there was no book to turn the light on, unless it was my own journaling. But I read sci fi/fantasy because it transcended reality." His impassioned poem I Hate gave vivid insights into his difficult journey to be himself.
Jeremy Hansen was inspired by many books: Rupert Everett's biography, Derek Jarman's fearless books, Michael Angelo's Being Queer in America, and Witi Ihimaera's Nights in the Gardens of Spain.  For Rainbow Tick's Michael Steven, The Naked Civil Servant and the Front Runner led to his knowledge that he "wanted to love and be loved by other men."
A rousing end to the evening came from Whaitiri Mikaere, aka Diesel Dyke Poet, who " laid my lips on the screen"  on seeing TV1's newsreader Angela D'Audney, adding "it was electrifying"
Carole Beu chaired the Larger than Life session, which heard Alison Mau talk of "the weight of responsibility" she felt when writing the biography of Liz Roberts, NZ's first transwoman. Biographer Joanna Drayton felt a similar responsibility when writing about her mother's school chum, Anne Perry, once Heavenly Creatures Juliet Hume. "Yours is a story New Zealand needs to hear," Joanne said to convince the usually reclusive Perry to speak with her.
For historian Julie Glamuzina, hot on the trail of Iris Warren aka cross-dresser Peter Williams, finding the 1945 marriage certificate stamped "The parties are both female – not to be released" was as good as gold, as was Peter's own declaration "I am perfectly natural."
Witi Ihimaera held the audience captive, revealing how he handled being married to a woman at the same time as being in a relationship with a man. "My wife was very generous," he told us, "even when rocks were being thrown through our windows because of my writing about passion between men."  His novel The Uncle's Story makes visible the missionary-induced homophobia in Maori nation.
In Now & Then, new voices as well as established writers were heard. Aorewa McLeod's poem of discarding old feminist classics like Lesbian Ethics chided the next generation for "throwing your pasts away."  Semira Davies, who won the One to Watch award in 2015, read from her Sex Poems and No Bra, with its telling line "you make me write songs I am scared to sing."
Samesame didn't overlook the trend to self-publishing, covered in Paddling Your Own Waka. Ian Watt, whose publishing experience includes working for Reed, Harper Collins and Exisle, said "the good news is that actual book sales are up 7%, while e-books plateau-ed two years ago and are now declining. "And today's publishers are looking for authors who are prepared to help sell the book, engage with people directly or on social media."
Chris Brickell's Genre Books fuses new ideas of do-it-yourself publishing with well-proved traditional ones. "Genre Books looks for queer stories which may find difficulty getting published elsewhere," citing the success of Two by Two – Men in Paris.
His Maori/Swiss cultures contribute to the aesthetic of writer/publisher Anton Blank, whose mother "was the first Maori woman to win the Katherine Mansfield Award".  For Maori, "tikanga is a policing of behaviour. There is no reflection of my reality in Maori literature, which is why we need a Maori Landfall."
Laughter was the keynote of Teenage Years, dynamically opened by Glenfield college students Chrys Jones and Aleisha Parkinson. Their rousing delivery of prose-poem I Am Sure, showed some of this generation of queer youth is more than certain about its sexual preference. Peter Wells then led writers Stevan Eldred-Grigg and Associate Professor of Gender Studies Chris Brickell down memory lane to their teenage years as queer youths in the rigidly normative society our country was in the 40's,50's and early 60's.
In  #TheFuture, panellists agreed the buzz word for today is diversity. "No more straight white men!" declared playwright Aroha Awarau, to which transwoman Amanaki Prescott Faletau added "and transpeople playing male and female parts!"
Playwright Josephine Stewart Tewhiu, (The Black) ,showed how mentoring can really help young writers: "University lecturer Marilyn Waring taught me to be strong," she reveals. "Marilyn was outed by Truth when she was very new in Parliament. She was reviled by the whole country, it seemed, but she held on, supported by close lesbian friends."
Pacific Island transwoman playwright Amanaki Prescott-Faletau (Playmarket's Best Play for the Young 2015) sees it as "my duty to create roles for Pacific Island actors, especially women, as part of representing the trans community on stage."   Maori playwright Aroha Awarau adds that he "particularly enjoys writing female characters"
The final session in this richly-diverse literary feast was Dangerous Pleasures. The title refers to the way Queer people in the past searched for sexual information, sometimes even in "blatantly homophobic texts". Strength and clarity were almost revered in books like Pleasures of the Flesh, Stevan Eldred-Grigg's 1984 novel, and from Peter Wells in 1994, Dangerous Desires.  "Compare them to Coal Flat, published in 1969; originally, the story had two males "but Kiwi writer Bill Pearson had to change the gender to get it published."
Before the Festival ended, an accolade was given to David Linden Brown, who died of cancer late last year. David's Calling the Fish closes with the classic lines:  "My deep dark pain is home./Come here, I said to the boy/ and tell me some lies about yourself."
Finally, this review – and the whole event – would be extremely remiss without giving a standing ovation to Peter Wells. Peter almost spearheaded Queer writing in this country with his numerous stories, films, and novels. Journey to a Hanging is the title of his most recent book, an investigation into the connected hangings of Maori chief Kereopa Te Rau and Rev. Sylvius Volkner.  Peter's clarity, wisdom and passion combined with his innate dignity make him one of our Queer community's proudest claims to writing fame.
Image Credit | Studio Guidon