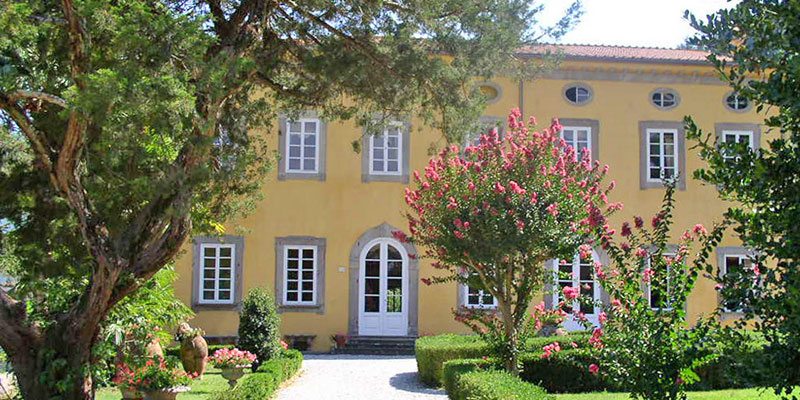 Richard Todd previews an 18-day hedonistic tribute to the altars of Italian design. He concludes that this is the trip for any gay man or woman with a heightened awareness of taste and refinement.
Viaggio Grande Disegno is unashamedly aimed at those who appreciate the best of what Italy offers. Beautiful food, wine, luxurious accommodation and a personal introduction to Italian design – from kitchens, bathrooms, interiors to fashion and motoring icons. Yes – visits to Ducati, Smeg, Ferrari, Gucci, Ferragamo and others (even La Marzocco – the leading designer and maker of hand made espresso machines) are all included!
The Grand Disegno itinerary commences with a 14 night stay in a luxury suite in Villa Controni (pictured above, left), situated just outside the alluring walled city of Lucca in Tuscany and is timed around the music festival. Only one set date is available: starting 23 July and ending in Milan 10 August. As well as visiting key design icons the itinerary includes trips to Carrara, Cinque Terre,
Florence, San Gimignano (wine!) and the billionaire's sea-side hideout of Forte dei Marmi. The magic of Lucca, the home of Puccini, can be discovered with any number of visits to its churches, markets and piazzas.
This small group of design aficionados will be hosted throughout by passionate design guru Mal Corboy of MC Design. The programme includes almost all meals (think leisurely!) side trips and accommodation, including 4 nights in Milan (Europe's design capital) at the designer Hotel Straf near the stunning Duomo and La Scala. Hotel Straf is a mesmerizing monument to the deconstructive aesthetic; it being conceived by architect Vincenzo de Cortis as a work of art – happily with creature comforts!
In case this overview indicates a hectic schedule, be aware a number of days of pure relaxation are included at Villa Controni, which has of course a pool, magnificent grounds filled with vineyards and olive groves – and al fresco dining!
For those who wish to extend their stay an option of including Verona is available…and if it were combined with an open-air opera at the Roman Amphitheatre I can guarantee pure bliss! (I personally attended some years ago an opening night production of AIDA – with some 700 performers – and it is forever etched in my mind as a highlight of my life!)
Grand Disegno offers something truly special for those who have high levels of discernment. Viaggio owner Lance Green says "the programme will appeal to well travelled, successful, understated professionals. No more than 20 people are included which allows for a good interaction among like-minded people."
Interested? Go first to www.viaggio.net.nz or call Lance Green on 0800 100 799! Note that costs exclude airfares – but Lance and his crew can organise these for you also.
This is no package tour. At all levels, both before and during the trip, a one on one relationship with clients is included.
This is a unique opportunity to indulge in all the best Italy offers. Previous guests are extremely complimentary and Viaggio has an excellent reputation. Highly recommended? And more!
Image Credit | Lance Green