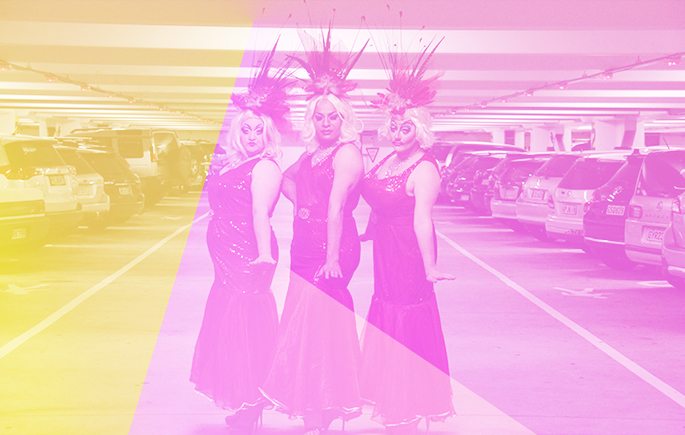 Returning to the Basement Theatre stage after a stunning stint at the infamous Spiegeltent during the Auckland Arts Festival comes Dragons: Cold Snap! Produced and created by New Zealand's own foul mouthed Princess Lola La Bomb (otherwise known as Bryony Skillington), Dragons is a drag makeover cabaret show consisting of a live band, sensual dancers, professional drag artistry and tremendous transformations of your favourite kiwi celebrities.
Joining the team this time around are television personality Oliver Driver (and his size fifteen feet) and poet and comedienne Penny Ashton. Each of these notable New Zealander's will be dolled up and dressed down by the on-stage team, and transformed into fabulous drag superstars for an evening of frivolous fun! The celebrities arrive with a lip synced routine (often including an entourage of back up dancers) and our resident professional Drag Queens Trenyce Bhone and Arabia Le Veil make them over for their big drag debut!
Past dragons include Pua Magasiva, Jarod Rawiri, Thomas Sainsbury, Rose Matafeo, Chris Parker & Robbie Magasiva and each of their transformations was sublime. Can we expect the same from our two newest dragons? With cheekbones like Penny's and a mop like Oliver, we can safely say yes.
The (popped) cherry on top is that Dragons is donating 20% of the nights taking to  the New Zealand Breast Cancer Foundation! Skillington says that "we believe drag queens are a celebration of women. They are all shapes and sizes, completely outrageous and free to be whoever they want to be as all women should."
If you are looking for a crazy night out with some of the best entertainment Auckland can offer, Dragons: Cold Snap is the show to see.
See Dragons: Cold Snap at Basement Theatre on Saturday 11 June at 8pm. For tickets or more information visit www.basementtheatre.co.nz or phone iTicket 09 361 1000.