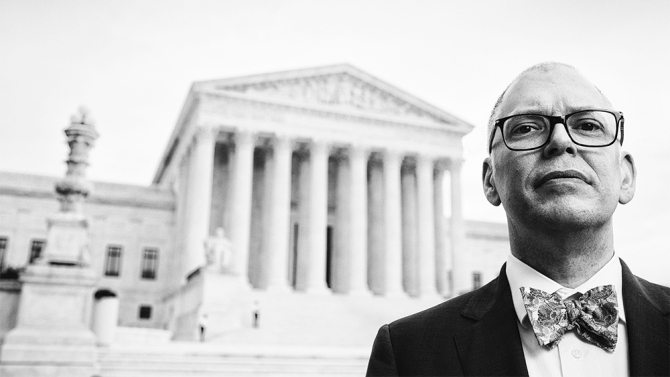 Moments after the US Supreme Court approved the historic decision to grant every citizen the right to same-sex marriage, President Barack Obama made a personal phone call to one man. That man was Jim Obergefell, the lead plaintiff who became an 'accidental activist' after making a promise to the love of his life to change the world.
Love Wins is a book written by Obergefell and Pulitzer Prize winner, Debbie Cenziper which reveals the inside story of the lovers and lawyers behind this David and Goliath battle that delivered the US civil rights victory of our time — and inspired the rest of the world.
More than twenty years ago, Jim Obergefell and John Arthur fell in love in Cincinnati, Ohio, a place where gays were routinely picked up by police and fired from their jobs. In 2013 Jim and John – who was dying of the crippling neurodegenerative disease Amyotrophic Lateral Sclerosis – flew to Maryland, where same-sex marriage was legal, and exchanged vows on the tarmac.
But back home, Ohio refused to recognise their union. John's death certificate would describe him as single and Jim would not only have to mourn his partner but also be denied acknowledgment of the life they had shared.
Then they met lawyer Al Gerhardstein, who had spent nearly three decades advocating for civil rights, and who now saw an opening that had never been explored in the courtroom.
Together Al and Jim began a long and gruelling battle against overwhelming odds, partnering with more than fifty lawyers and plaintiffs to make their case.
On 26 June 2015 the Supreme Court ruled in their favour, making same-sex marriage the law of the land in a landmark decision seen as groundbreaking as the historic Roe versus Wade case.
Love Wins is part-love story, part-thriller documenting history in the making,with an unerring eye on the heart and facts of the case, right up to victory in the Supreme Court.
Love Wins is the ultimate love story – about a man who goes to such lengths to fulfil a promise to the love of his life that he ends up changing the world.
Love Wins: The promise that won the landmark case for marriage equality by Debbie Cenziper and Jim Obergefell is on shelves 14 June, 2016.