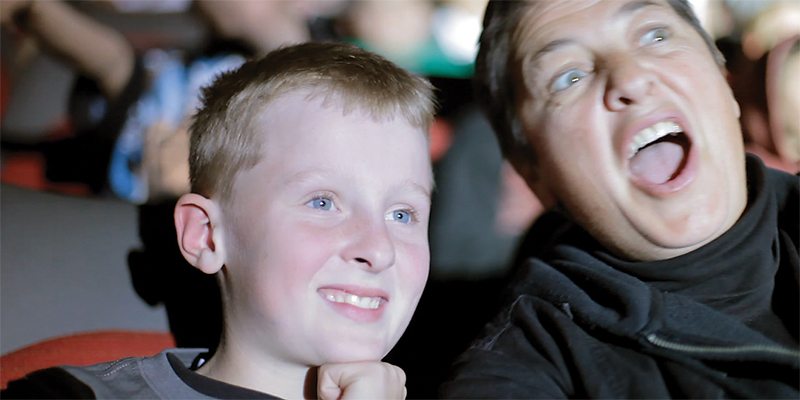 Embrace the rainbow with Rialto Channel, Sky Channel 39! express' resident film fanatic Simon Shin previews two accomplished queer films premiering in August, Maya Newell's Gayby Baby and Timothy Conigrave's Holding the Man.
Gayby Baby
Premieres Thursday 4 August, 8.30pm
Being insightful and poignant, Gayby Baby offers inspiring gay parents and their children a platform to show their struggles and triumphs during a time and place where GLBT rights is an everyday issue. It is a bittersweet documentary that follows same-sex parents and their children in different parts of Sydney who feel conflicted and misunderstood. To be honest, at first I watched it with non-existent interest, but by the end I really liked the film. Gayby Baby offers us this hopeful if somewhat bittersweet view of same-sex marriage and family. The families' journeys were made easy to follow thanks to director Maya Newell's skillful cinéma-verité camerawork and her remarkable collection of interviews of both humdrum yet extraordinary people. In the end, if you are looking for proof that humanity has the potential for total and complete compassion and altruism then look no further. The film, like the families, is looking for a little bit of hope in this world. Happily, it finds some. Whether a child's parents are straight or gay, what it is trying to say is something that all of us should take to heart.
Holding the Man
Premieres Saturday 6 August, 8.30pm
It is undeniable that Holding the Man is a beautiful interpretation of Timothy Conigrave's 1995 memoir. The film's love story is imbued with heartbreaking universality, helped by the moving performances of Ryan Corr and Craig Stott. It is funny, touching, compassionate, compelling and emotionally devastating. But most of all it is a good film, on its own terms. Even though the film may not be a revelation, it is able to masterfully articulate so deeply into old truths about love and loss and the mess and thrill of life. Miraculously, it also has a humanistic spirit that transcends any hint of gloom. In the end, it is a mature and emotionally complicated film. It is a film that people can relate to in one way or another. At its core, the film is not a gay love story. It is simply a love story. It has the simplicity and clarity of a fable, wedded to the honest realism of any love story. A well-crafted telling of star crossed love with all the complications of any affair. Neither gratuitous nor shying away from the hidden passion, director Neil Armfield crafts a beautiful film.
Simon Shin is an avid film critic and aspiring filmmaker. Apart from being a keen cinema-goer, Simon likes to spend his down-time listening to classical music film scores. He also dedicates his time to the arts, photography and drawing.