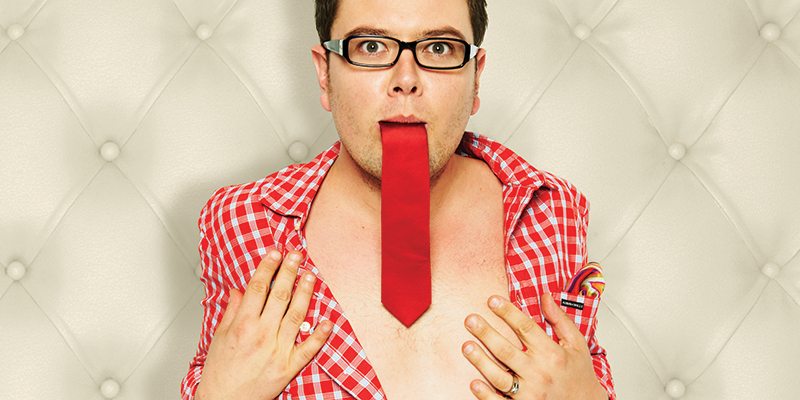 Oliver Hall speaks with British Comedian and Chatty Man host Alan Carr about bringing his live comedy to NZ for the first time, turning 40, and drinking heavily.
Alan is initially bashful as I open our conversation by gushing about how talented I think he is, and how his previous tour Tooth Fairy is one of my favourite stand up comedy shows of all time. "Do you like laughing at fat gay people with glasses moaning about how bad their childhood was?" he asks. I assure him that it indeed tickled my funny bone.
We talk just one week after Carr hit the big 4-0. To celebrate he took over an art-deco venue called Brighton Proud, themed the party, 'Life is a Carr-baret', and insisted every dress in a style that screamed 1920s decadence. "I arrived dressed as a male," he explains, "then half way through I came out as Sally Bowles or Silly Bowels as I was called and sung the theme to Cabaret… The next day I had to go down to the venue and collect my clothes because apparently I had started flinging them off… it looked like an explosion in a very gay clothing bin!"
I ask Alan for his advice for gay men who are staring down the barrel of another milestone birthday regretting things they haven't done, but he believes remorse of this kind can seldom be found in the GLBT community.
"The great thing about being part of this community is we have laugh! Have you ever known a gay person who says I never did that? That's the joy of being gay – we do everything. We're not one for regrets… We go to Gran Canaria, Mexico, Rio – everywhere there's a party, we go! If anything we cram too much into our lives."
That sentiment could also sum up Carr's career, from sell-out stand up comedian, to variety show host, to being the UK's highest-rating chat show host, second only to Graham Norton.
"With TV, I love it, but there's a lot of politics. With a chat show, there's guest bookings, time slots; there is something I love about going on stage for an hour and a half and talking to people. No politics or agenda, no ratings, it's so pure."
His live stand up show Yap, Yap, Yap will visit theatres throughout our three main centres. It follows 2011's Spexy Beast which played to large sold-out arenas across the UK. "If you love Chatty Man – you'll love this" he reassures express.
Chatty Man remains the jewel in Carr's crown. A-list celebrities are invited on to the couch and invited to start with a drink from his seventies-style globe-shaped hostess trolley. As more guests arrive throughout the four-part episode, the more drinks are poured. But is anyone really drinking them? "By part four – I'm always pissed!" reports Carr, who squeals, "I'd be in rehab if I filmed more than one a day."
Carr says in spite of the heavy boozing, he could never forget Grace Jones' appearance. "We were both pissed and I ended up getting off with her."  'Was she a good snog?' I enquire. "A very good snog!" he assures.
"On her rider she has red wine and oysters and that's all. So when she comes on, she's pissed and horny already! We were like oil and fire… if she'd gone near a naked flame she would have gone up like a Christmas Tree."
Grace Jones isn't the only one to have gotten a pash from Carr. After 15 years of being unlucky in love in 2008 he met partner Paul Drayton and eight years on the pair are still going strong. I ask Alan what tips he has for finding 'the one'.
"The thing is you've just got to get out and about. I can't do all that Tinder and Grindr… I've got a nymphomaniac friend who's always on Grindr and we'll be sitting in restaurants and he'll say: Alan I've got to go, there's a power bottom in High Barnett! And he'll just disappear. The gay community can get sex anywhere but if you want a long lasting relationship – you'll have to put yourself out there.
He is however doubtful that marriage or children are on the cards.
"You're having a laugh aren't you? Kids? I can't even look after two red setters, let alone kids! Everyone who has kids starts looking like shit… You go round to see 'em and have to ask, do you realise you've got sick on your shoe? And cow & gate on your collar? They look like zombies! And they're just sitting there saying: 'Thank God you're not Peppa Pig! I don't need to look any more shitter, thank you very much!"
His future dreams seem to remain focused on his career as he shares the tantalizing tip bit: "I feel there is a sitcom inside me." Carr seems set to keep us laughing for many years to come.
Alan Carr performs at the Wellington Opera House on 13 August, Auckland's ASB Theatre on 15 August, and Christchurch's Isaac Theatre Royal on 18 August. Tickets through Ticketek for Wellington and Christchurch shows and Ticketmaster for Auckland.