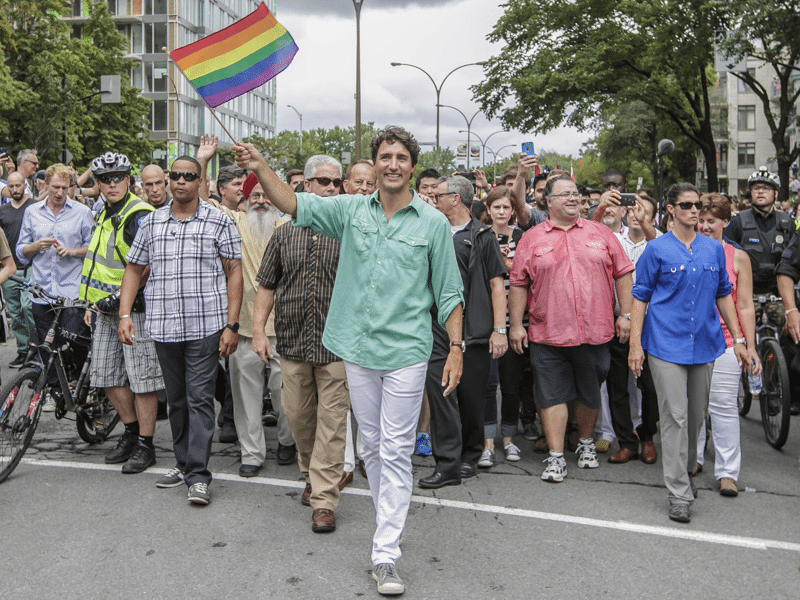 Indian filmmaker and activist Sridhar Rangayan made a call for greater collaboration between India and Canada to end discrimination during the Montreal Pride Parade on Sunday 14 August.
The Montreal Pride Parade was attended by Canadian Prime Minister Justin Trudeau, who has also attended two previous parades and has made history as the first Canadian Prime Minister to attend the celebration. He said that the world looks to Canada for leadership in the fight for universal recognition of the human rights of gay, bisexual and transgender people.
"We know people look to Canada to see the example," Trudeau said "And we will continue to work hard to push the limits of what other countries do because we have to send the message that LGBTQ rights are human rights."
Indian filmmaker and activist Sridhar Rangayan, who was one of the Grand Marshals leading the parade alongside Trudeau said, "I am delighted and humbled to be invited to be one of the Grand Marshals of Montreal Pride. While it is a great personal honour, I see it also as an opportunity to rally global support for the Indian LGBTQ community."
Waving an Indian flag, Rangayan said, "Today, coincidentally, is Indian Independence Day – it is the 70th independence day of one of the world's biggest democracy. Sadly while India was liberated 70 years ago, the Indian LGBTQ community is still under a colonial law. The judiciary and the government in India still do not see LGBTQ rights as basic human rights. While India has become a global force to reckon with, it still sadly refuses to address the problems of gay, lesbian, transgender community, who are even today persecuted and discriminated."
"We need this changed and we need this changed now. We need a movement within India and a thrust from across the world", he said.
Calling for a greater collaboration between India and Canada, Rangayan said, "I request and entreat the Honourable Prime Minister of Canada Justin Trudeau to call for a greater collaborative involvement and support to the Indian LGBTQ community, so that someday soon we too will enjoy all the rights just as LGBTQ people in Canada do."