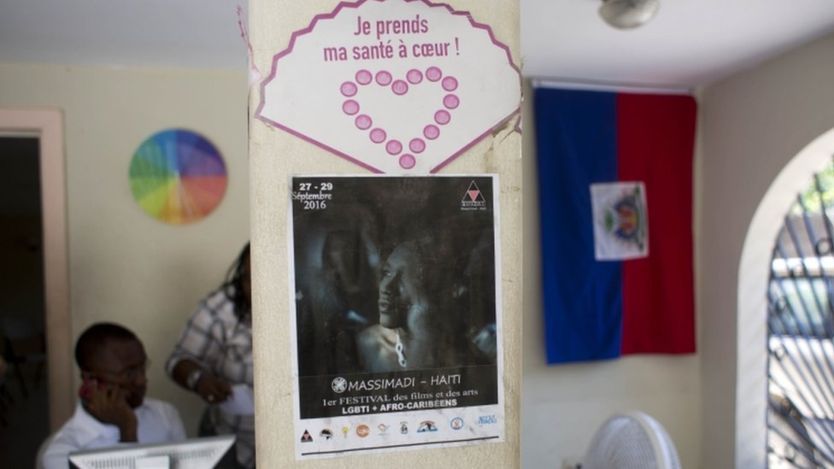 Image and story: AP
A cultural Massimadi festival in Haiti has been cancelled after threats were made to members of the organising foundation.
Massimadi, a portmanteau of massissi and madivine (pejoratively referring to gays and lesbians in Creole), is a word used to describe the Afro-Carribean LGBT+ community. The festival itself was launched in 2009 by a group called African Rainbow, in Montreal, Canada. A previous festival in Belgium went without incident, and this is the first time it has been scheduled for Haiti.
Government Commissioner of Port-au-Prince, Jean Danton Leger has been outspoken on his homophobic views, and called for the festival to be banned.
As Jeudy Charlot, of the gay rights group Kouraj (the main event organiser) says, "our festival was postponed precisely because there has been a verbal ban".
"Homosexuality is frowned upon, perceived as evil. At times, they may be ridiculed, they can be attacked".
Haiti itself does not outlaw homosexuality, but its LGBT+ community is still on the outskirts due to the social implications and attitudes.
Violent attacks, including arson, that were included in the threats to host FOKAL, a prominent Haitian cultural institution, and other co-hosts.
Jean Danton Leger went on the radio waves earlier, issuing an order to stop the festival in order to protect Haiti's "moral and social" values. This was in accordance with a complaint from Senator Jean Renel Senatus, who also stands for 'traditional family values'.
Although the festival has not been given a definite date, organisers say that the Massimadi festival will definitely go ahead sometime in the future.