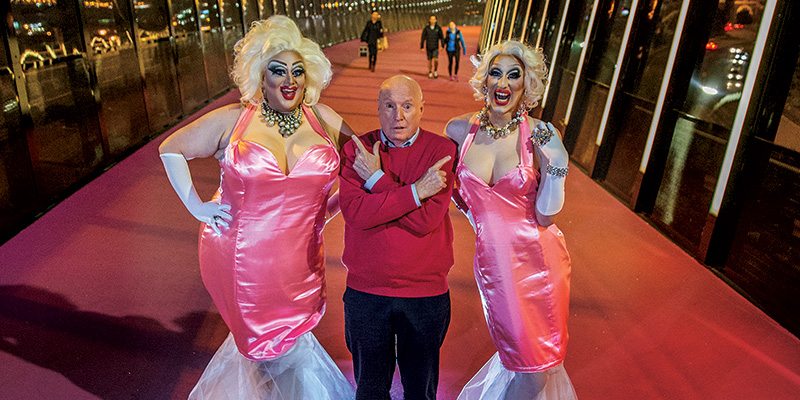 Stone the flamin' crows! Amy Jane Bedwell sat down with Australian television legend Ray Meagher to talk about his upcoming role in the queer cult favourite Priscilla Queen of the Desert. 
Most of us know Ray Meagher as good-natured grump Alf Stewart from Home and Away. But this October, this small-screen legend is taking to the Civic stage in one of the rainbow community's best loved shows, Priscilla Queen of the Desert.
Reprising his 2010 West end role as Bob the Mechanic, Meagher says that slipping back into Bob's oil-stained over-all has been a cinch. He says that he is lucky that his current role on Home and Away is not entirely dissimilar to the one he is playing on stage, remarking that "Alf is probably like Bob on steroids."
In spite of being a true-blue Aussie bloke who has a passion for rugby, Meagher expressed a respect and support for the queer community and says that being different is never something to be ashamed of. He likens an inclusive society to a rugby field, saying there should be a place for everyone no matter who you are.
"Rugby is a game that finds a place for all shapes and sizes. Little blokes usually play half back, and tall, gangly guys play in the second row. Big guys usually play on the wing. So, there is a place for everybody. And I think we should broaden that out to all people."
"People are bloody different. There are all kind of shapes, sizes, wants, and needs. It doesn't mean that some people are right and some are wrong – we're just different."
Meagher says that shows like Priscilla have worked to open up heteronormative audiences to the fun and fascination of drag culture, as well as interacting with the complexities of alternative sexualities and gender identities.
"It is the best show" says Meagher. "It really is for everyone."
Alongside Meagher's Bob come performers from Priscilla productions the world over, all converging at Auckland's Civic Theatre from Friday 14 October to Sunday 6 November. So put on your frock, jump on the bus, and get excited for Priscilla Queen of the Desert!
For more information and to book tickets visit Ticketmaster.co.nz