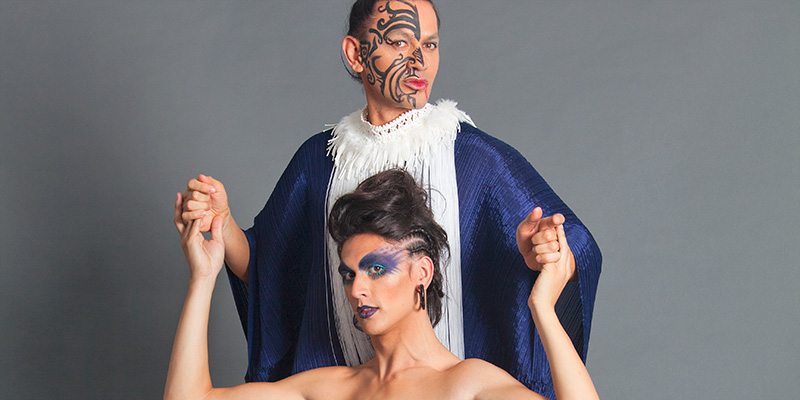 The cultural make-up of the Mika Haka Foundation is an absolute multi-ethnic melting pot. Meet some of Mika's magnificent mentees and learn more how MHF is supporting diversity in the Arts. 
Since 2008 the Mika Haka Foundation has been supporting and nurturing talented young people in the arts. A safe space for talented young people, the foundation is built upon pillars of culture and diversity which Founder and Arts
all-rounder Mika Haka says emphasises "being authentic to whatever you believe in."
"MHF was formed to keep progressing my belief in health and arts" says Haka whose focus was to address alarming statistics around bad food habits, drugs and alcohol, and mental illness in the Arts. He says that some artists are still heavily affected by these things, especially those from lower socio-economic groups, the LGBTIQQ community, and Maori and Asian communities.
As a "Māori foundation for everyone," the Mika Haka Foundation is all about inclusion. MHF provides a space in which young people of all cultures, genders, and sexualities realise their potential with the support of one of New Zealand's most diversely successful artists. Mika's success is partly due to the mentorship of notable New Zealander's like musician and producer Dalvanius Prime, film maker Merata Mita, and artist John Draper. "All of them mentored me at no cost," says Mika, "so I do the same."
Jay Tewake – Youth Advisor (featured above)
I am currently the Youth Advisor for the Mika Haka Foundation. I work alongside these emerging leaders and assist them in creating pathways in Arts industry. I have eight years experience working on national and international works in Stage, Screen and Music. I believe MFH is a great venue for young emerging talent to showcase their strengths in the industry while being given the freedom to create ideas and develop them into achievable outcomes. MHF has supported and influenced my passion for the arts and I have worked with a range of communities to develop numerous projects. It has also taught me to be humble and genuine and to inspire others to be creative and seek a better tomorrow. Among other projects, I will be featured in a new TV series on Maori Television starting February called "Queens of Panguru."
Hariata Tai Rakena – Television Presenter
I was first connected to MHF through my work place Toi Tangata, as we were looking to collaborate on projects with mutual interest. From that spark I was fortunate enough to have a presenting role on Matika and continue to be involved with various MHF television productions. I would love to see the melting pot of cultures that MHF represents working at a world class level of entertainment. In particular, I am excited about the prospect of individual characteristics such as culture, style or personality being celebrated as our strength.  The MHF is a space where everyone involved is encouraged to express themselves and fulfill their potential. This unique culture has allowed me to connect to a myriad of talented people who are making waves in our community.
Andrew Abrau (Empress) – Drag Star and Designer
I have worked with Mika on several of his projects that have included me being both behind and in front of the camera! More recently I have been featured on the Aroha Project. I am a Fashion Design graduate and my aspiration for the future is to be able to merge my two passions, drag and design, and to make a living out of them. The MHF foundation has given me a space and platform where I can truly be myself without judgement, where you're encouraged to be brave, crazy and daring. Most importantly the MHF has allowed me to share my story as a young gay person growing up in a conservative Christian background through the Aroha Project. I'm currently looking at saving up for a studio space for my design work so I can start working on my first collection.
Siche Zhang – Musician and Producer
I collaborate with Mika and produce many of his songs. MHF has expanded my social network and now I can reach top people in the music industry. Mika has taught me to be a musician who doesn't just want to get recognised and to be an artist who wants to express new ideas to the world. MHF gave me the initial push and guided my professional career. MHF is helping me be successful and genuine in the music industry and inspire other people to embrace their souls and see the world with compassion and love. I am currently collaborating with Gary (the main singer in our duo band), Alan Jansson and my music publisher Simon Grigg. I believe Mika Haka Foundation is what we need here — an "Andy Warhol's Factory" with optimism and love.
Romeo Sadozai – Performer and Model
I am one of Mika Haka's models, as well as an actor and performer with the Mika Haka Foundation. My main aspiration is to make it big in Hollywood and I am working through small milestones with the foundation before I get to my ultimate goal. The foundation has allowed me to discover the hidden talents and potential within myself which I never knew I had. It has made me more aware of putting those talents to good use. Being part of the MHF has exposed me to the most talented photographers, models, and designers from the queer community and taught me to  accept people regardless of their differences. I recently performed in the main event at New Zealand Fashion Week and plan to take every opportunity one by one. At the moment, I am focusing on growing myself as a model with help from the organisation.
Photos: Members of the Mika Haka Foundation pose for portraits by Jay Tewake.