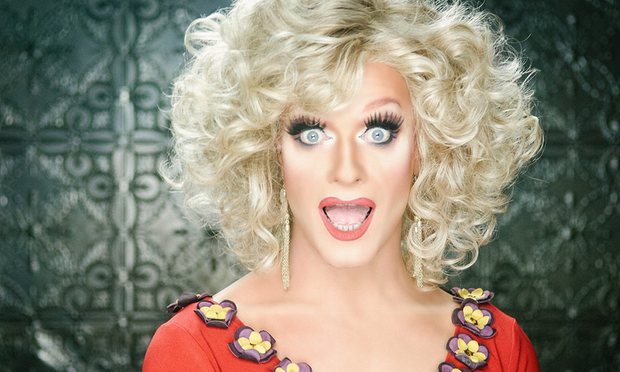 Drag queen Panti Bliss, otherwise known as Rory O'Neill, was astonished at how fast he was catapulted into the public consciousness after giving a interview on an Irish current affairs program recorded during the campaign for marriage equality in Ireland. The wrath of conservative Ireland descended upon him and it would be fair to say his interview helped galvanise the country into pro and opposed factions.
This is powerful material to grapple with as a film producer and director. I am sad to say a golden opportunity missed.
Queen of Ireland is a combination of superstar bio and social history and attempts both dimensions of the films personality. Rory as a average gay man going about his domestic chores: having dinner with his parents, wandering the streets in jeans and t-shirt, melding into the throngs like hundreds of others. In the next frame we now view Rory dressed up in tight fitting frock, high heels, exaggerated make up and wild hair doing all the above. Only this time as Panti Bliss: infamous to famous drag queen.

About half-way through viewing this near-90 minute documentary I did ask myself how many more times I would have to cope with the camera focussed endlessly on Panti's posterior – albeit a good one – in various tight fitting frocks and high heels. Too much of a good thing I concluded.
Panti's transformation from guy to gal is striking; what interested me was the subtle emergence from one character to another when Rory shed his masculine attire of jeans and t-shirt and changed into a frock and make-up. As Rory he was slightly introverted and uncertain, but as Panti, he was extroverted, articulate, and larger than life.  His drag became his armour, clearly making him feel more comfortable in his skin. The frocks and make-up lent him a confidence to be his true expressive self. The transition from Rory to Panti is both fascinating and poignant to observe.
There was much in the film I liked but I felt the director focussed too much on the subject and less on the marriage equality campaign which promoted Rory/Panti into national prominence.  We saw nothing of the public back-ash that Rory/Panti describes at length in his interviews or speech. Yes, the film is a homage to a feisty, articulate drag queen but the director omitted a sense of balance on the personality and the political campaign. Consequently, the film never quite finds its feet in a narrative sense.
I was frustrated as to why the director did not expand on the interview and subsequent Abbey theatre speech, lauded as one of the great public speeches of the century by the national Irish press. I was left wanting on the content of the speech and the reason it resonated so strongly.
Both the television interview and Abbey theatre speech were pivotal episodes in propelling Rory/Panti into a marriage equality spokesperson. When the film directed its focus away from Patti towards the meaningful people in her life we sensed heart in the film. The powerful scene in the film for me was observing Panti walking towards her homecoming celebration in full drag: she standing statuesque and proud in the centre flanked by her diminutive mother and father on either side, hand in hand. That image spoke volumes to me about unconditional acceptance, the power of love but unfortunately such moments in the film are rare. What we end up with is a director's workman like approach to a subject and issue that required a broader perspective.
Director Conor Horgan approaches his subject too reverentially and devotes too much of the camera's lens on Panti Bliss. Though she commands the camera, I felt there was too much focus on one person considering the length of the film. I could have done with more of the other personalities involved in Rory's life: the mother and father, the boyhood friend, other drag queen buddies. Although I applaud and admire the documentary's subject, I was left frustrated by the end of the film. I never sensed I had experienced a full, rounded picture of the subject.
Look, let me state loud and clear I applaud the courage and the audacity Rory/Panti expounded. We desperately need strong characters in times of political adversity and what was interesting was the depiction of a relative unknown thrust into national prominence on the back of one television interview.