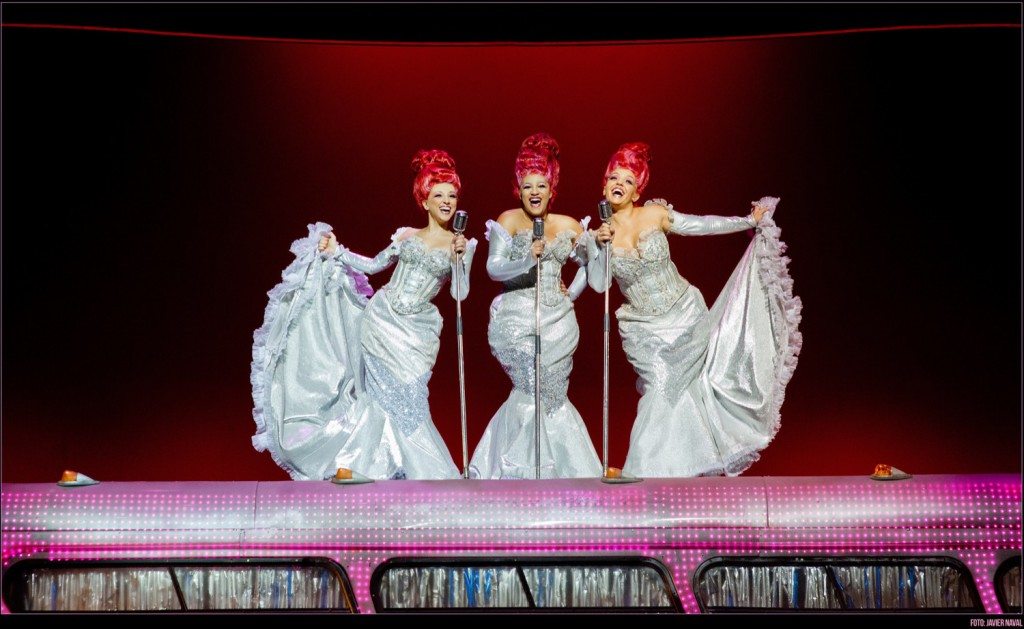 It's not too often that the Civic gets filled up these days but the opening night of Priscilla – Queen of the Desert just about managed to fill both the stalls and the circle.
Everyone has seen the movie – or an earlier show ­– but the latest production, on until 13 November, is still a great feel good show and not to be missed. Although billing itself "direct from the UK", many of the crew are from all four corners of the earth. Much loved Bob is Australian Ray Meagher from Home and Away. His "mail-order" bride is NZ resident Sofia Martinez who still raises many laughs with her ping-pong ball skills.
The three leading roles are ageing trans gender woman Bernadette (Simon Green) along with drag queens Mitzi (Bryan Buscher-West) and Felicia (Andre Torquato). The story is simple enough – a bus trip to Alice Springs from Sydney to perform in the casino – but the events on the way are what makes the story and the show so memorable. So, too, the relationships that develop including the discovery of Mitzi's wife and son in Alice Springs.
Non-stop music had the audience tapping, cheering and clapping throughout the performance. Kylie is a goddess! ABBA seemed less featured than before but the visuals including the bus and the costumes were much more striking.
Although a thoroughly enjoyable show in its own right, it of course highlights intolerance and bigotry (prevalent at least in the Australian outback). That the drag queens conquer all that is thrown at them on this journey of course adds to the appeal of the show and gives us all another reason for celebration.