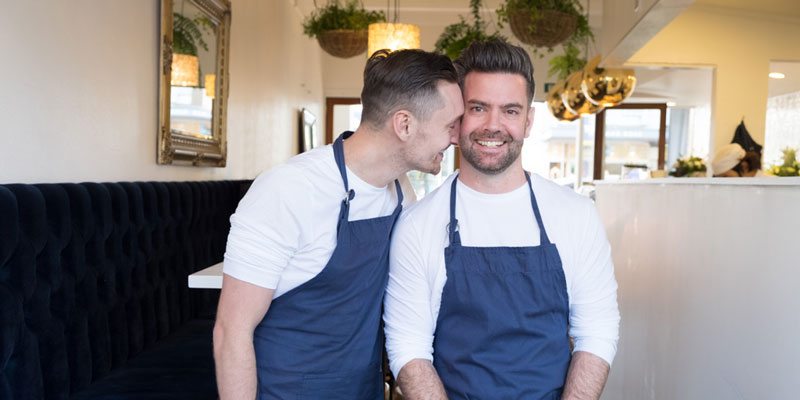 I'm sitting at one of many gleamingly white tables across from Brad Roebuck and Tobias Ward at their restaurant, AdamArnold in Ponsonby, and all I keep thinking is how sickeningly cute they are. Tobias keeps staring at Brad with that sort of love that makes you want to punch them for being so happy, and yet you also imagine how beautiful their upcoming wedding on Waiheke Island will be.
They met initially when Brad was trying to plan his birthday party at Tom Tom, where Tobias was the events manager. Tobias flirted shamelessly because the thought Brad was the "hottest person [he] had ever met", and even used the sly tactic of asking if Brad was going to bring a significant other. Unfortunately, the schedule was fully-booked and Tobias promptly forgot about it.
That is, until Brad called Tobias two days later asking him for coffee. Coffees led to dinners, then three months later, Tobias saw Brad's apartment for the very first time and pretty much never left.
Tobias always wanted to start his own restaurant for the last eight years, and Brad's always wanted his own bar. Their partnership has grown from being just domestic into their professional lives as well. You'll find them both working the floor most nights: their original plan of dividing the room into sections, like a conventional restaurant, lasted only the first week. Instead, the two of them are so in sync that they'll be constantly switching places throughout service.
Some couples find going into business together takes a toll on their relationship, but they have found that it's only brought them closer. As they put it, they have more fun because they spend so much more time together – like I said at the beginning of this piece, they are sickeningly cute. In fact, one night after finishing up, Brad told Tobias, "we've got this, and we've got each other."
Their relationship is almost like a fairytale: their engagement story is just as adorable. While they were busy building the restaurant (the pair transformed the dingy cave that was Lulu's café into the lustrous space it is now in the space of only four weeks), they took a trip out to Orewa and after dinner, Brad played Tobias a video on their iPad. The video consisted of Brad holding placards, Love Actually-style, on their couch and with all their favourite songs playing in the background. The first few said "it's too early to propose, but I want you to know how much I love you, and how much you are loved by others", and then played videos from Tobias's closest five friends who live overseas, followed by one final card saying "but I lied, and then said, would you like to get married?"
Like their relationship, AdamArnold is evolving: they recently painted a gold feature wall, and the menu will change seasonally like all the other good restaurants. If anything else, a visit just to see the two owners in action is worth the trip.