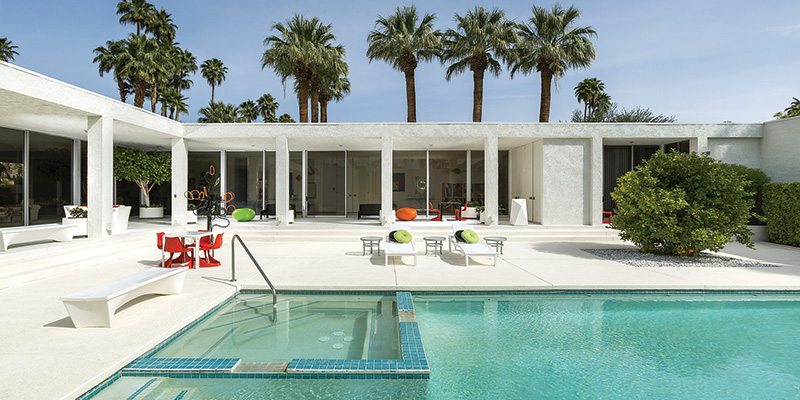 Having time to travel and view exceptional art and architecture is my idea of luxury. A perfect example magically occurred on my October visit to Palm Springs, perhaps the birth place of mid-twentieth century modernist design.
Friends knowing my passion for contemporary architecture arranged a visit to view a house in Palm Springs, which possibly is the most interesting home I have viewed. In terms of material luxury, this exciting home had it all: design, style, taste, imagination. Built with old money, there is no evidence of budgetary restraint, which only the very wealthy can achieve. Also in line with old money, this home was accomplished with taste not vulgar excess.
This iconic architectural masterpiece was designed in 1969 for Jerome Factor, cousin of the legendary cosmetic genius, Max Factor. Its imposing facade exudes strength and privacy, with Canary Island palms surrounding the house as sentinels protecting a fortress from prying eyes. One senses upon entering the receiving art gallery through ten-foot high aluminium-clad doors, all aspects of the concept have experienced the sure hand of a visionary designer. Richard Himmel was the master fronting the project whose work is historically recorded in many design books and journals. Though he specialised in residential design, his work was embraced in hotels, country clubs, corporate aircraft and retail design. Like many authoritative designers, his passion included art and furniture, and his obvious influence in both dimensions pervades the home.
Designed in 1969 when plastics emerged as the it-material, he used it to his advantage, creating pieces of furniture that stun the viewer with wit, imagination and clarity. Nearly 40 years later, the specially-manufactured furniture stands the test of time – many pieces are works of art: the bed frames, the moulded bar chair frames, the coffee and side tables, standard and hanging lamps. Smaller items he designed especially include serving trays, appliances and bowls for the kitchen. Some of the furniture is upholstered with pop art fabrics manufactured to complement the wallpapers. The attention to detail in the house is enthralling, my favourites being plastic wall switches painted in the exact design of the wallpapers to deflect intrusion, and the stainless steel handles made specifically for the kitchen, bathroom, wardrobe doors. Plastics, stainless steel and aluminium were starting to be recognised as alternative materials at the time, and all three were used sparingly and with stunning results.
The main gallery is filled with a treasure trove of contemporary paintings and sculptures illuminated by a lighting installation way ahead of its time. Amongst the art collection, I noted original Victor Vasarely and a Frank Stella. The living room with its towering ten-foot ceilings is anchored by a black granite fireplace, flanked by stunning floor to ceiling screens that act as doors to the private areas. This classic formal space is softened by white sofas and one-of-a-kind accessories. A particular touch I admired were the backgammon tables encased in plastic with matching needlepoint-upholstered French chairs.
All primary rooms overlook, and have direct access to, the 14-foot tall, walled, wrap-around courtyard with covered pool terrace. Himmel designed kite sculptures in flight and installed them against the wall giving the impression of birds in flight. These personal touches pop up in various domains adding whimsy to his overall concept. The view of the mountains from these quarters is breathtaking.
If one could find fault, it's possible to say some people may consider the design and its contents exude more of an art gallery vibe than a home. However, it has always been a personal dream of mine to live in such an atmosphere. Frankly, I would jump at the chance to set up residence there. Too bad it's more of a dream than a reality.
Along with my friends, I left the premises in awe of what I had experienced. This house and its contents today stands exactly as it was first inhabited. We felt heartened that some folk with vast wealth have added a footprint to the environment with imagination and vision. The Factor Empire has left a legacy of inspiration and example for future generations.