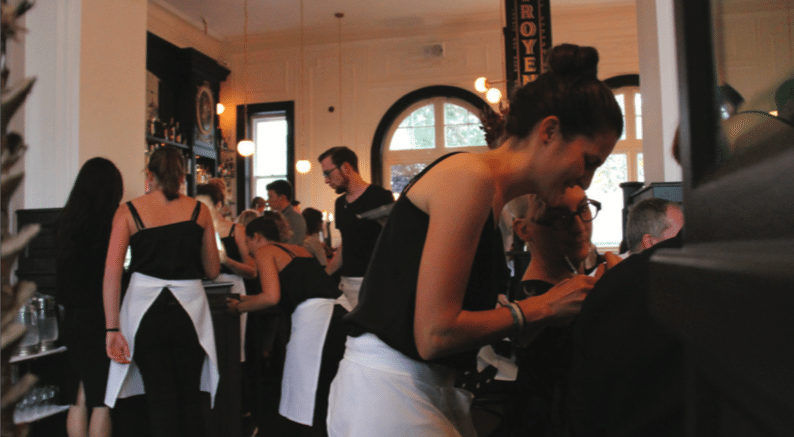 Augustus is SPQR owner Chris Rupe's new venture. Along with his wife and daughter, they have transformed the old Ponsonby Post Office into a magnificent French bistro, which opened in mid-November.
A tiny florist makes for a beautiful, sweet and pungent entrance. pull apart the black velvet curtains and you are transported to Paris – historical features in a grand old lady of a building with exotic wait-staff and suave, interesting punters.
The interior is done by Paul Izzard Design. Izzard himself happened to be seated opposite us after making an entrance with a tableful of friends halfway through our meal. Such is the excitement of Augustus's opening that I can verify quite a selection of restaurateurs, artists and socialites in attendance, and a good offering of the beautifully-coiffed rainbow community.
We are seated in the larger back room: high ceilings, white walls, huge floral-printed curtains, mirrors, an array of plants hanging down and a huge number of tables fill the space. It is light, airy and so French.
The menu offers an exciting variety of options making it rather hard to choose. There is a tantalising selection from fruits de mer (seafood), charcuterie plates including duck liver parfait, and casual sandwiches, which sound anything but.
But choose we did and the entirety was perfection! The Boursin custard tart with hazelnut and mustard vinaigrette was so delicate and smooth it had me levitating above the table. My date had gone for a charcuterie plate and was in meat-lover heaven with the poussin and ham hock terrine.
My main was quatre épices duck confit with red cabbage, prune, apple and Parmesan: a stunning warm dish. The dry-aged sirloin with French fries, Béarnaise sauce with red wine jus was deliciously dense yet soft.
Our desserts again were sublime. The fresh and frozen raspberry yoghurt and meringue bombe was soft, airy and unexpected. While the assiette au chocolate, elderflower, blueberry and kaffir lime was a trio of chocolate deliciousness.
The stunning Bourgogne (Burgundy) wine we chose was seriously and interestingly explained to us by the Sommelier who came to our table and wowed us with his looks and his passion.
Until this point, I considered SPQR the most iconic restaurant in Auckland. For over 20 years, it has always been a huge gay haunt, with an impressive staff of flamboyant stunners, a sensuous and dark atmosphere, and always-impeccable food and drink.
The serious difference between the two is the food. The level of beautifully simple and fresh produce created at Augustus nears divine with the menu being designed by ex-Clooney Executive Chef, Des Harris.
The first weekend saw booked-out evenings – I don't doubt that this will be the ongoing trend over this summer. Rupe has done it again.
Augustus Bistro is at 1-3 St Mary's Road, Ponsonby. Bookings for dinner are essential, call (09) 950 4855 or book directly online at www.augustusbistro.co.nz