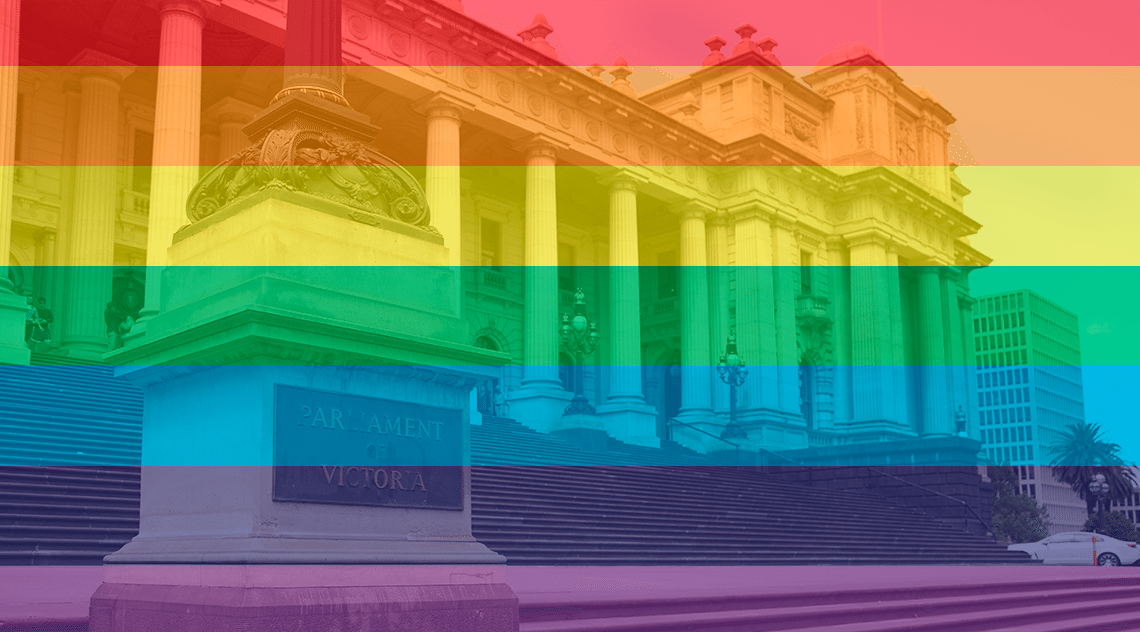 Article: Star Observer
The South Australian Government is making good on its promise to amend discriminatory laws against LGBT+ people by passing five landmark bills in the past 48 hours.
In 2015, Jay Weatherill's government commissioned the South Australian Law Reform Institute (SALRI) to investigate discriminatory legislation in the state's law in regards to sexual orientation, gender, gender identity and intersex status.
The SALRI review was one of the most in depth reviews done in Australia and recommended a number of changes to legislation including allowing same-sex couples with children to be recognised on a child's birth certificate.
On Tuesday the South Australian parliament voted 10-7 in favour of passing the Gender Identity Bill which will allow trans people to change their gender on their birth certificate without undergoing gender reassignment surgery or going to court.
Now, transpeople 18 years or older simply have to present a statement from their doctor or psychiatrist saying they had "undertaken a sufficient amount of appropriate clinical treatment in relation to the person's sex or gender identity".
South Australia follows in the footsteps of the ACT and Western Australia who also allow a person to change the gender on their birth certificate without having to have surgery.
The state's amended Gender Identity Bill will also remove the need for a transperson to divorce their partner before being allowed to change their gender on their birth certificate.
Other significant changes to South Australian legislation for LGBTI people include the creation of a same-sex relationship register.
Following the high-profile story of Marco Bulmer-Rizzi, a UK man who was not allowed to be named on his husband's death certificate after he died on their honeymoon in South Australia, because the state did not recognise same-sex marriages from overseas. The government has now passed a law allowing couples who are married overseas can register to have their unions legally recognised in South Australia.
Other bills passed this week in South Australia include the Adoption Amendment (Review) Bill and the Statutes Amendment (Surrogacy Eligibility) Bill which will allow same-sex couples to adopt and to access surrogacy services.
Intersex communities have labelled amendments to the Relationship Recognition Bill – which will enact some protection against discrimination on the grounds of a person's intersex status – as a step forward but say there is still more work to do, including to understand implications for the right to health.
The landmark changes to the law follow from the government's apology last week to LGBTI people for past legislative injustices.
Greens MLC Tammy Franks said the next important piece of legislation for the state to tackle was to remove the gay panic defence.
"Queensland has announced it is going to get rid of it, every other state and territory has gotten rid of it, South Australia needs to step up and get rid of gay panic," Franks told ABC Online.
"The idea that a murder charge can be downgraded to manslaughter simply because a gay man made a sexual advance … and that should justify him being killed and not being considered murder is offensive."
Well done again SA! The Gender Identity Bill will make a huge difference to the lives of trans, gender diverse and intersex people. #saparli pic.twitter.com/gQf6dNyPJ4

— HumanRightsLawCentre (@rightsagenda) December 7, 2016
The news out of Victorian Parliament this week was not so good as the Liberal National Coalition party struck down two pieces of legislation that would have helped improve the lives of LGBTI people.
On Wednesday the Victorian parliament Births, Deaths & Marriages Registration Amendment Bill 2016 which would have removed the need for surgery for a person to change the gender on their birth certificate failed to receive enough votes to be passed.
Community advocates have condemned the Liberal National Coalition whose MPs voted against the reform.
"Trans and gender diverse people and their families are grieving this week as they face up to the lack of compassion and understanding shown by the Coalition, and the rejection of this profoundly important reform that would have simply allowed us to have our most basic identity document reflect who we are," said Trangender Victoria chair, Brenda Appleton.
Another piece of legislation which failed to pass was proposed changes to narrow discrimination exemptions for religious employers still facing a vote.
The Equal Opportunity Amendment (Religious Exceptions) Bill 2016 was introduced to protect Victorian workers from discrimination when seeking employment at religious bodies or schools and according to the government would have ensured a fair and more contemporary balance between the right to religious freedom and the right to be free from discrimination.
"It makes it more difficult for a teacher to be fired if a school finds out they are gay, if they have successfully been performing their role for years without any issues," Anna Brown, Director of Legal Advocacy at the Human Rights Law Centre told SBS Sexuality.
The Victorian Government said it was bitterly disappointed by the Liberal National Coalition's decision to oppose a key equality Bill which would have improved the lives of thousands of Victorians.
"Opposition members should hang their heads in shame. Their arguments were completely devoid of empathy and a willingness to consider that all Victorians should experience equal rights," said Martin Foley, Minister for Equality.
allowing religious institutions to discriminate just perpetuates their sense of privilege and of being above the law pic.twitter.com/3DvzWep9PG

— Fiona Patten MP (@FionaPattenMLC) December 6, 2016