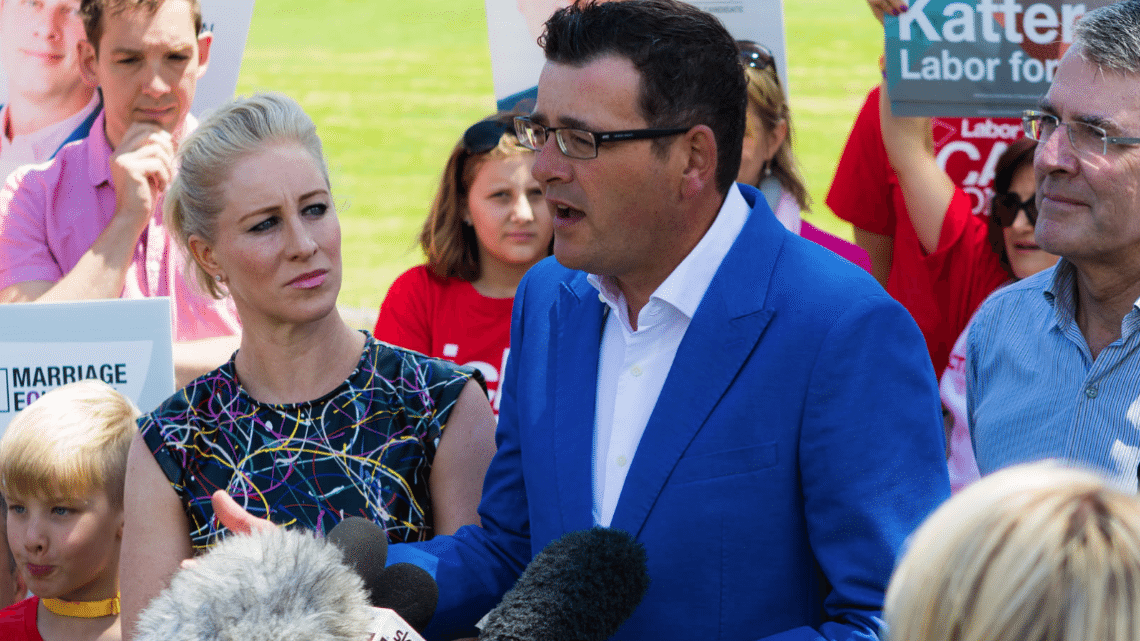 Article: Star Observer
Members of Victoria's LGBT+ community flocked to St Kilda over the weekend for the city's annual Pride March, which saw thousands of marchers take to the streets to celebrate their diverse identities.
The 22nd march attracted a number of high-profile politicians including Opposition Leader Bill Shorten, State Premier Daniel Andrews, and Minister for Equality Martin Foley.
The Premier with our Indigenous group preparing to March with Pride #Midsumma ???? pic.twitter.com/fqIqylbfnz

— Midsumma Festival (@midsumma) January 29, 2017
So honoured to march with @thegenderfairy1 and the Parents of Gender Diverse Children today at #midsumma Trans is beautiful! ???????????? pic.twitter.com/jjzPRSCWwY

— Sally Rugg (@sallyrugg) January 29, 2017
Thank you to everyone who marched for #MarriageEquality at #Midsumma today – and to the crowd for showing their immense support pic.twitter.com/9dLyXe5OAX

— AU Marriage Equality (@AMEquality) January 29, 2017
Andrews said the march provided a significant opportunity for the community to restate the things that were important to them.
"That's equality, inclusion, and making sure people are valued and safe – and no one does that better than our state," he said.
"The opportunity to do that so publicly is really important because it sends a message to young people that who you are is absolutely good enough – no more, no less."
Looking to the year ahead, Andrews said initiatives like Safe Schools and the city's Pride Centre would be priorities over the coming year.
"I think things like Safe Schools and rolling out our programme in full delivery of the election commitment we made is important for us to do," he said.
"What's more, we need to keep pressure on every politician in the federal parliament to make the change that's necessary to not only have a situation where you've got Victoria as a progressive state, I want Australia as a progressive nation.
"And until we've delivered the marriage equality people are so richly entitled to, then we'll never be able to say that."
Foley said Melbourne's Pride March was more important than ever, particularly in light of recent adversities faced by the LGBT+ community both here and abroad.
"I think we're seeing a hardening of international and sadly national attitudes towards diversity and LGBT+ equality in particular," he said.
"We need to make sure Victoria and our LGBT+ community are increasingly assertive, organised, out, and proud.
"In the coming year I'm not giving up on trans issues in particular, as well as issues facing young people and our indigenous communities.
"We're really disappointed that the Liberal party knocked off the trans reforms last year but we're not giving up on those reforms."
For the first time Melbourne's Pride March was led by a group of Aboriginal elders and community leaders in the LGBT+ community.
A smoking ceremony was held before the march kicked off and continued when the march arrived at Catani Gardens in St Kilda.
At one point the march was slightly disrupted when a group bearing signs saying "queers revolt" and "liberation not assimilation" were accosted by police.
LGBTIQA+ people protest police & corporate involvement in Melbourne #PrideMarch #springst pic.twitter.com/R8RtPnCCT3

— nrcars (@nrcars) January 29, 2017
Police push genderqueer anti-police pride marcher at Melbourne #PrideMarch #springst #auspol #lgbt #trans #queer pic.twitter.com/S7cZAmpRCU

— nrcars (@nrcars) January 29, 2017
The leader of the group had their face concealed while holding a sign that read: "Cops still bash queers. No pride in police!"
Police officers grabbed the person by the arm and tried to keep them moving in the march, while the person struggled and stated loudly, "I'm marching at Melbourne Pride, I'm not causing an obstruction".
The activist group eventually continued on and the police officers parted ways.