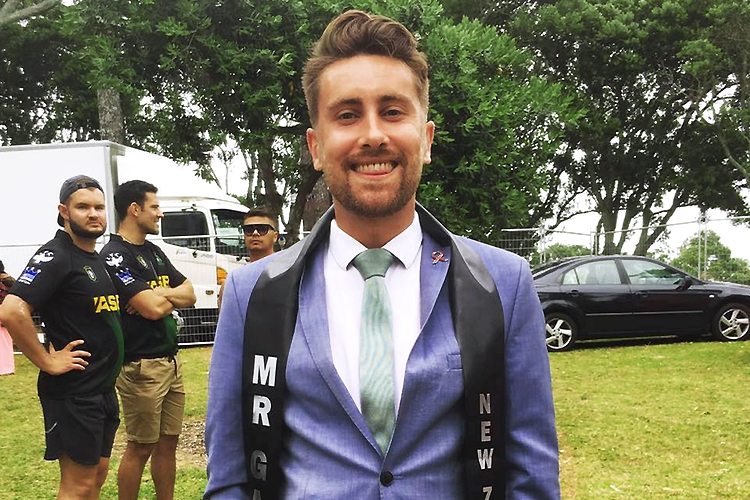 This year's Mr Gay New Zealand title has been won by Charlie Tredway, an incredible man who works with the New Zealand AIDS Foundation as a Community Engagement Officer and has devoted his life to HIV advocacy and community awareness.
Tredway, 33, was announced as the winner onstage at the Ending HIV Big Gay Out yesterday after the ten finalists were put through an extensive array of activities to find out who will represent the country at the Mr Gay World Finals in Spain in May.
The South African-born, Kiwi-raised advocate said in his profile that raising awareness about HIV was his main goal. Tredway, himself being HIV-positive, says,"for people living with HIV such as myself, there is often a perception that we are unclean, lesser people, and that we aren't deserving of respect or dignity. That makes living openly and authentically really difficult."
Straight after the announcement, Tredway was visibly emotional. "I'm just really overwhelmed, never in a million years," he explained about the win, "the community got behind me and I've run out of words."
2016 winner Bernard Lee says Tredway will be a tremendous ambassador for New Zealand on the World Stage.
"Charlie has been really strong across the whole competition including the public vote and charity sections where he ranked highest out of all of the finalists," Lee said. "His work with the NZAF and the Ending HIV campaigns will complement all of the work he will do as an ambassador for New Zealand on the world stage."
Tredway was first place with Cody Jarvie in second and Alexander Kachfi in third. "We had a real tough time selecting the top three," says Lee, "All the finalists are incredibly passionate individuals. So glad to have met them. Jake, James, Caleb, Jerome, Adrian, Max and Logan. Congratz [sic] to Cody and Alexander who are amazing ambassadors in their own right."
Tredway later took to Facebook to thank all of his supporters:
Thank you all for your support and love, I am truly stunned, humbled and honoured to be Mr Gay New Zealand 2017. And I owe it all to you darling people…

Now that I am home with a glass of wine and have the chance to process everything I need to say that this journey and moment is in actual fact devoted entirely to the HIV+ community. If you have ever felt like you can't be authentic and open, or have been made to feel unclean or lesser because of your status. This is for you and only you. Never be afraid to expect or demand the same dignity and consideration anyone else receives. You are as wonderful and worthwhile and tremendous and beautiful and intelligent and special as everyone else on earth. And I say this with the utmost love: don't you ever fucking forget it or believe otherwise.
You can read more about Charlie's work with NZAF here.