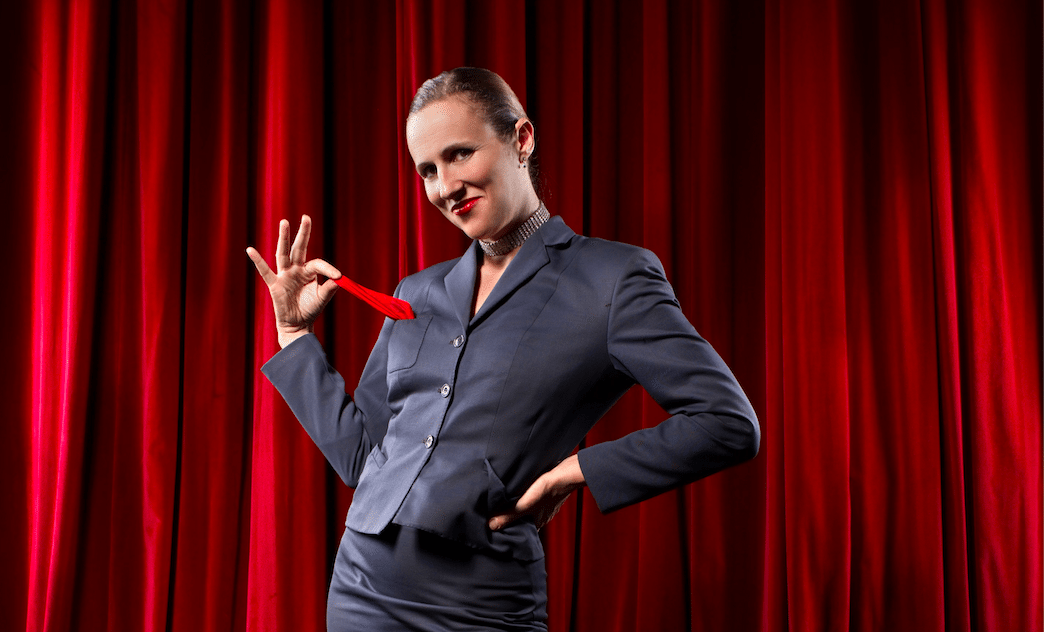 Ursula Martinez is not afraid of what you think of her. In fact, she took audience responses from a viral video of her piece 'Hanky Panky' (which was published without her permission) and turned it into another critically-acclaimed show, My Stories, Your Emails.
It's fair to say that she is not afraid of airing her dirty laundry out in public either: the whole premise of 'Hanky Panky' is that she uses sleight of hand to continually disappear a red handkerchief, which she then 'finds' and retrieves from a garment of clothing she's wearing and then promptly takes said-garment off. Of course, she runs out of clothes, and much to the audience's consternation, she retrieves it from another, ahem, hiding place.
Martinez comes to Auckland as part of the La Soirée troupe, having been one of the original members of the preceding La Clique group. She will be performing both her super-famous 'Hanky Panky' act as well as 'Viva Croydon!', her comedy-flamenco act where she sings about her Spanish mother.
In fact, that's where her surname comes from: Martinez is her mother's maiden name, which she adopted specifically for 'Viva Croydon!'– one of her first acts – in order to sound more exotic. It sort of stuck after that, and being more exotic has its advantages – except in Spain, where Martinez is a common surname.
Martinez is very public about being lesbian, especially identifying as a queer performer. This isn't to say that her work is inherently LGBT+-related; sure, there are occasional queer themes that pop up from time to time, but her work is, quite ironically, 'for the masses'. As she says, her acts have been "inherently embraced" by the mainstream, seeing as she started off performing in queer venues.
One of her homes would be Duckie, a queer club in London. She was one of the first performers there, and as she puts it, she has become a bit of an "elder of Duckie", mentoring new acts and recently running its summer school programme.
Martinez did not start off in queer venues because 'straight' venues were saying no to her, rather, she sought out starting there in a sense of solidarity.
"There are some benefits to belonging to a marginalised community. Say, you're travelling, you're going on holiday, and you're spending a week in Berlin. You find a community […] you seek out the queer clubs."
Martinez continues, "[it's] an advantage of belonging to a marginalised community – it reduces the parameters and gives you a focus as to where to go. As a queer artist, it was a logical thing to do to seek out queer venues to start."
Her work has grown since then, taking on that mass appeal through Youtube videos – filmed both with and without permission – and turning it on its head. What is great about her breakout hit, 'Hanky Panky', is that there is no talking whatsoever, so it transcends all languages.
It has been the same with her performances, audiences are usually not defined by which country Martinez is performing, but rather what time the performance takes place. As she says, "it's all about context".
La Soirée promises to bring with it all sorts of debauchery and boundary-pushing acts, with Martinez being one of its shining stars. Take Martinez's advice when going, "rock up with optimism and an open mind".
La Soirée plays 8 to 24 March as part of the Auckland Arts Festival at the Spiegeltent, Festival Garden, Aotea Square. Tickets are available from Ticketmaster.