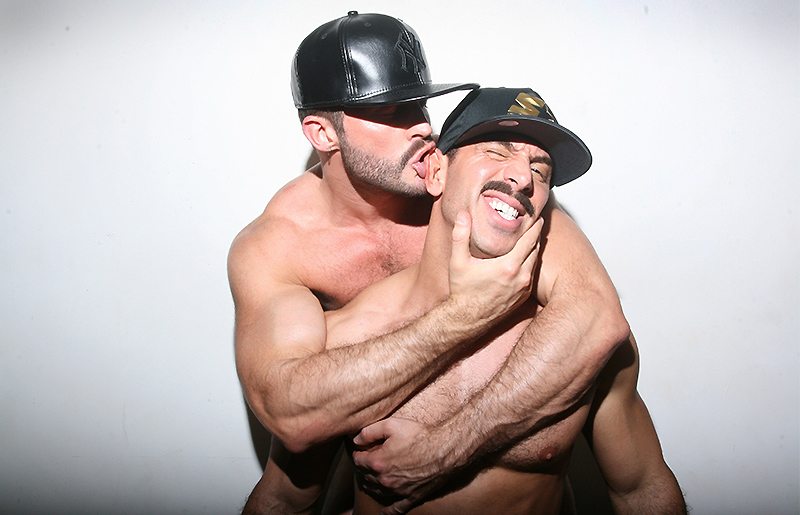 Direct from London, SEXSHOOTERS, perhaps the world's most-photogenic DJ duo, are joining the international cast of party superstars jetting in from Los Angeles and Melbourne for PROUD 2017, Auckland Pride Festival's official closing celebration.
The pair – David Hart and Claudio Girardi – have taken the world by storm since 2013, working dance floors in the world's largest clubs and turning up parties with their sexually charged, high-energy and uplifting sets and it's finally New Zealand's turn!
How did the SEXSHOOTERS come to fruition?
D: We were both at a turning point in our lives and careers and just happened to meet each other at the right time when we both wanted to try something new and do what we always wanted to do.
C: …and most importantly doing it together!
What exactly is a SEXSHOOTER?
C&D: We are Sexshooters, it's not a thing, it's just us and our way of life 🙂
Will this be your first trip to New Zealand? What have you heard about our country?
D: We have heard so many amazing things about New Zealand, mainly about the beautiful natural scenery, so we are super excited to discover what the people and the clubs are like out there!
C: Yes it will be our first time in NZ, I'm from Australia but never had the opportunity to get over to you guys… 'til now!
You exude sex appeal both physically and in your music, but are there other messages you'd like listeners to take from your sets?
C: Haha, thanks! We just want people to enjoy our sets and podcasts for what they are: well-crafted and well-created, energy-building and super fun. The sexy part just comes naturally to our music choices and productions, it's not something we purposely aim for really, we guess that's just us.
What kind of music do you enjoy playing the most? Describe your DJing style to our readers.
C&D: Big, massive, sexy, good time music, full of energy and unpredictable moments!
What is it about DJing that excites you?
D: Simply, the music for me, it's what I always knew I would end up making happen!
C: Seeing people in the crowd really get into the music, especially when it's one of our tracks. I love the immediacy of DJing, you play a song and you pretty much instantly know exactly how a crowd feels about it.
Being a couple that also works together, how do you keep your relationship fun and fresh with each other?
C: Working together and being around each other all the time, it's all about allowing every moment, whether good or bad, to be a shared experience so you're never on the journey alone.
D: Just being together and working together every day of our lives is the biggest blessing we could have. Luckily, we never tire of each other!
What advice would you give to young David and Claudio, if any?
D: Hmmm, great question!
C: I always say that I should have demanded that my parents had let me study piano along with all the sports that I did.
D: Yeah, it would've really helped as we have had to start from scratch at a relatively late age in life compared to most musicians these days who started in their bedrooms at 14!
Are you the only gay male DJ duo that you know of?
C: Over the years we've definitely heard of at least a couple of other gay male DJ duos that circulated around for a bit, but to be honest – as a gay male DJ duo, who are also a real-life couple, makes us pretty unique.
What's the support like from audiences outside the LGBT+ community?
D: We do some private events and some club stuff out in the 'straight' world, but we are gay and this is the industry we have made our mark in. For now we are happy with that, though we are aware what a small bubble the gay scene worldwide is and would one day like our work to be noticed mainstream.
What do you believe was your career defining moment? And/or what has been your favourite performance of your career (so far!)?
C: I don't think we have had our 'moment' yet. It is quite a competitive industry and we are still working our nuts off to get halfway to where we want to be!
D: Our favourite part of DJing is not really about one performance, it's just amazing that we have built our brand from scratch and managed to get taken all over the world with it!
What can our PROUD 2017 party goers expect from you?
C&D: Just to have a f**king good time!
Is there anything else you would like to share with express readers?
Can't wait to see you all at the party – we want you to show us how it's really done in New Zealand!
Also on their maiden voyage to Auckland are Melbourne's genre-smashing DJ, YO! MAFIA, and the immaculate star of RuPaul's Drag Race: Season 6, Courtney Act.
Directly following the Pride Parade, PROUD 2017 will be the biggest LGBT+ party of the year, incorporating all levels of the indoor Studio super-club, plus an outdoor Galatos Street party, closed especially for the night. On the night you will find a large and luxurious outdoor space, local DJs and performers, food stalls, late-night surprises and large-scale projections courtesy of the FAFSWAG Arts Collective.
With a local DJ line-up that includes Dick Johnson, Jordan Eskra, Karn Hall, James Leuii, Creamy Mami and Samuel Holloway – and with much, much more to be announced!
Don't miss the legendary PROUD 2017, directly after the Pride Parade, Saturday 25 February on Galatos Street, Auckland City. Tickets are $55 and are available from: www.eventfinda.co.nz.
Article | Zakk d'Larté