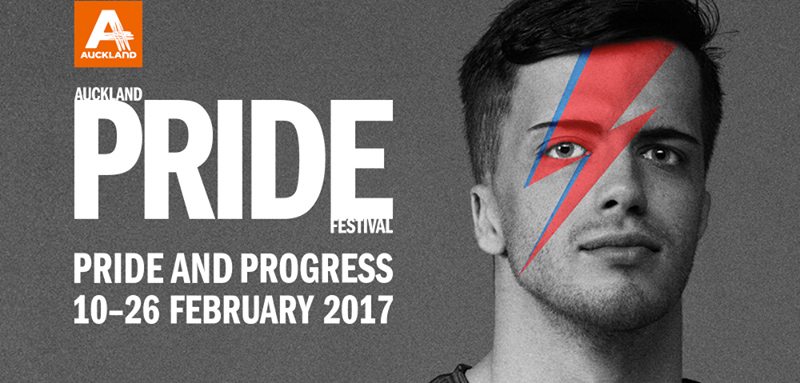 We are just as excited for this year's Auckland Pride Festival as you are! Here are 12 of our must-sees throughout the 2017 festival.
Hot Brown Honey
Hot Brown Honey will be sure to turn up the heat, delivering sass with a pinch of empowerment in its cabaret show. This posse of independent and unapologetically fierce woman smashes through stereotypes, remixes the system and celebrates our similarities and differences. With set, lighting, music and costumes to rival Queen B herself, it's political theatre like you've never seen before.
Camping
Much to our pleasure, Parker and Sainsbury's cult hit comedy has returned to Auckland. Les and Fleur are a middle-aged couple bored as hell with each other. Francis and Connie are newly-weds frightened of intimacy. The couples have double booked a romantic camping retreat as as a storm brews, so does their angst and enough sexual tension to powers the lovers' Jacuzzi!
The Great Auckland Pride Debate
Team Jacinda Ardern will be joined by Green MP Jan Logie and comedian Urzila Carlson, and will be challenged by Team Richard Hills, joined by Wellington Central MP Grant Robertson and comedian Eli Matthewson, debating the moot, 'girls do it better'! In what promises to be a battle of the sexes like we've never seen before, the debate will be adjudicated by The Real Housewives of Auckland superstar, Gilda Kirkpatrick. Throw in MC Steven Oates for some fun and a few celebrity judges and you have a unforgettable night of side-splitting hilarity that will also be helping raise funds for Positive Women.
WOOF
For everything fluffy and furrrbulous, The Auckland Pride Dog Show is taking over Western Park once again. The catwalk is stripped away and the dogwalk takes front and centre stage in this doggy-tastic day with MC Steven Oates, celebrity judges and plenty of prizes. Categories include Best Dressed, Best Dog/Owner Look-a- Like, Biggest Dog, Smallest Dog, Best Talent/Trick and Best in Show! All entry fees will be donated to the SPCA.
Loud and Queer
They're not the hottest trend and they don't give a shit about your GAYTMS. They're in love, they're angry and they're about to get messy as fuck. In a no holds barred performance, Loud and Queer addresses the complex reality that queer and trans people face in present day Auckland.
Ze: Queer as Fuck
A comedic odyssey through the real life of Michelle/Ryan – a solo genderqueer, kinky, femmesexual, polyminded, gay-divorcée. Ze rips the bandage away from a strict American upbringing in a multi-layered and international coming out process.
Femslick
Storytelling through movement, soundscape and urban material culture, Femslick is a series of vignettes set against underground Vogue culture in New Zealand. Scrutinising redundant gender norms and tired cultural codes, it unpacks the complexities of queer brown bodies as they navigate cultural and social space in real time.
Ride With Pride
Fancy arriving at the Ending HIV Big Gay Out in style? Join in the fun starting from Britomart enjoying a 90 minute ride through the city to Coyle Park. BYO gayly/queerly sprinkled bike and whatever you fancy on wearing! Lycra is optional but definitely encouraged!
Future of Women's Leadership
Asking all the right questions, Maryan Street will be giving a lecture, looking at the political view of woman in leadership roles from a personal perspective. When has gender contributed to success and the impact on a leadership role? This annual lecture celebrates women leaders and commemorates Labour MP Mary Dreaver.
RainbowYOUTH Open Day
Located at their new drop-in centre just off K' Road, the open day is an opportunity for all to ask questions and learn about the variety of services that RainbowYOUTH offers. This event will be of special interest to those who are counsellors, doctors, school staff or any other service to do with RainbowYOUTH. The drop-in centre is a safe place for young people complete with gender-diverse books, DVDs, a community wardrobe and much more.
Dykes on Mics
An outspoken part of Auckland's lesbian cultural fabric, this is a place where lesbians perform with a sense of belonging and a place to contribute their ideas – whether this unfolds with the gracefulness of swan or the awkwardness of a cake stuck in a tin, we can't say!
PIG
For those who enjoy the darkier, heavier side to sex, don't think we forgot about you! A private event held at the sexiest little cruise club in Auckland, it boasts sinfully good facilities including a cross, two slings, angled bondage wall and rack, chain-restraints, private rooms with beds, glory holes, a cast iron bath and screens playing dirty porn movies complete with a dark grope room. Whether you want to join in or just watch it all go down, you pick your experience. Mild to wild – it all happens!
---
For more information about these events and the many, many others that are on throughout Auckland Pride Festival 2017, head over to www.aucklandpridefestival.org.nz.