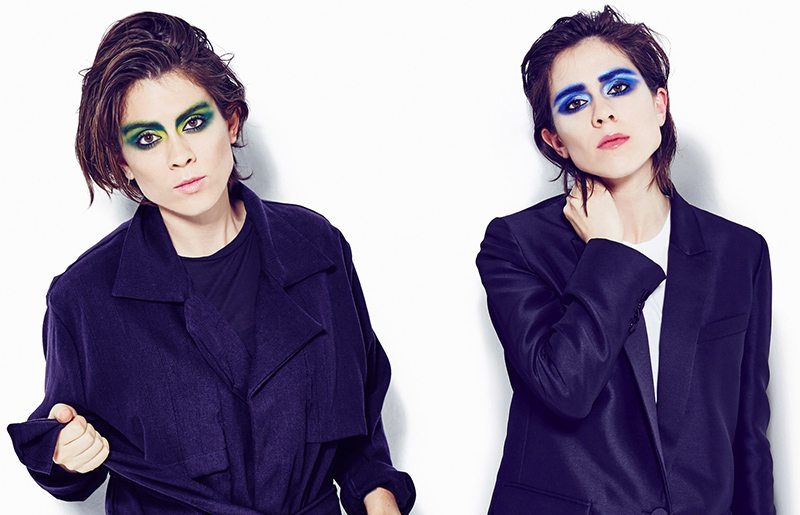 Canadian indie-pop duo and LGBT+ advocates Tegan and Sara are set to return to our shores for the first time in seven years, continuing their tour in support of their eighth studio album, Love You To Death, released back in June.
This will be the first chance for Kiwi fans to enjoy a full set from the Quin sisters since they were last in New Zealand in 2010, opening for Jack Johnson.
We were lucky enough to have a phone interview with Sara, direct from Los Angeles, about the girls' new sound, their activism and coming down under.
The proudly-queer identical sisters have been favourites within the LGBT+ community since they formed in 1995, but have exploded into the mainstream with their last two albums and finally gained the success that they deserve. 2013's Heartthrob shifted the duo's sound towards pop-rock, debuting at #3 on the Billboard 200.
Their most recent release, Love You to Death, has found the girls staggering success, spawning a number of hits including Boyfriend and Stop Desire, resulting in a new stream of fans coming through.
We try to service the original fan base as much as we can, but we also have to live in the now and keep moving forward – that's the most authentic way we can be as a band.
As two passionate and vocal women, Tegan and Sara have never separated their activism from their music and have supported social change and progression for the LGBT+ community throughout their career. They have also been devoted to advancing the rights of sexual and gender-diverse communities. "I hope that by being out and visible and fighting for the rights of LGBT+ people, we are contributing to the community and making it better for some," says Sara.
"I have never felt like being in the closet would have helped us," she continues, "it always seemed like a shame to hide such an integral part of one's identity".
We were interested to hear about the girl's coming out story – we knew Sara came out first, but this left us wondering whether there was any pressure for Tegan to come out too or whether people instantly expected them both to be gay anyway.
"People didn't talk about it back then – I sound like I'm talking about being gay in the 1800s – it just wasn't talked about. I was an adult and the sleepovers with my girlfriend weren't little 'high school' ones anymore," Sara continues, "It was time for me to say to my family and friends that I am dating this person and I am gay. For Tegan, she had a boyfriend whom she'd dated for most of high school and so it took her a bit longer. We never talked about it in terms of 'oh, well, one of the twins are gay, so the other one must be'".
She mentions that it's a "relief to see the world becoming more comfortable and casual" about it and how it's "a wonderful reflection of how society can change and become more accepting".
"I definitely think we've seen that a lot of the sexism, misogyny and homophobia from our earlier days has lessened".
The pair are moving full speed ahead in their mission to fight for justice and equality. Last month alone, the duo brought over 50 LGBT+ women together in Hollywood to launch a coordinated effort for equality. Another recent example of their activism is the launch of The Tegan and Sara Foundation in December which "works for economic justice, health, and representation for LGBT+ girls and women".
"Tegan and Sara is about more than just Tegan and Sara," Sara says, noting that the band employs nearly two dozen people.
When asked whether she was excited to be coming back down under next month, Sara responded, "Yes! We are really looking forward to being back! We like to think of New Zealand as being sort of like Canada and Australia as being kind of like the States, so whenever we are in Auckland, we feel like it's a little bit more like where we grew up."
The Quin sisters have spent over half their lives performing together in a band. They are 36 now, but began playing together at age 15. With a noticeable new shift towards the pop market, Tegan and Sara have re-energised their already-dedicated fan base, taking their stellar vocals and powerful lyrics to club dance floors across the globe.
The genre-chameleons offer an introspective side in their latest project, an upbeat album filled with eighties-style synthpop anthems. "LYTD is a collection of serious stories dressed up in happy, energetic dance beats," says Sara, "that's the signature Tegan and Sara sound these days".
I have never felt like being in the closet would have helped us […] it always seemed like a shame to hide such an integral part of one's identity.
Tegan and Sara prove with this album that they can bend genres just as well as they can bend genders (checkout their Boyfriend music video). "We aren't limited by genre — we can constantly change the look, the sound, the feel, the energy of our project. I don't think we've ever felt that we are a 'genre' band. We are writers and performers and so we don't ever think about ourselves as limited to a specific sound".
Their new focus in the pop market seems to be working in their favour, with Love You to Death receiving highly-positive reviews from music critics and landing them in the list of Top 50 Albums of 2016. The girls have also impressively sold over 1 million albums and have earned seven Gold certifications, three Juno Awards, two Polaris Prize nominations, and a Grammy nomination, plus their single Closer was certified Double Platinum.
When we mentioned these accolades to Sara, she excitedly responded, "You know, any support, whether it is in the media or just from fans, even after all these years — we never take that for granted. From album to album, we're just so grateful that people continue to support the work. We knew it was a bit of a risk changing from a more rock-identified band to a pop one, but it seems like people are really into it so we have been really really happy with how it is being perceived".
Addressing their fan-following, Sara mentioned that she believes each album release is a way to develop a new fan base. "Regardless of if we have had a significant change in our sound, I think people fall off. It's a normal thing for people to grow out of bands, or get distracted, or have a kid or whatever – you know? A lot of our fan base that has supported us from the start are like us and in their mid-30s with kids and careers, so they aren't as interested in going to shows or buying albums anymore. So for us, from an artistic place, we are always making music that we love and if people like it, we are thrilled. We try to service the original fan base as much as we can, but we also have to live in the now and keep moving forward – that's the most authentic way we can be as a band".
Before Tegan and Sara arrive here, they are first confirmed to headline Sydney's famous Mardi Gras Party on Saturday 4 March. Joining the twins at the party are another set of identical twin sisters, The Veronicas, one of Australia's finest acts.
Don't miss the chance to get a little bit closer to incredible pop act at Auckland's Bruce Mason Centre for one show only on Saturday 11 March. Tickets are on sale via www.livenation.co.nz.
Article | Zakk d'Larté