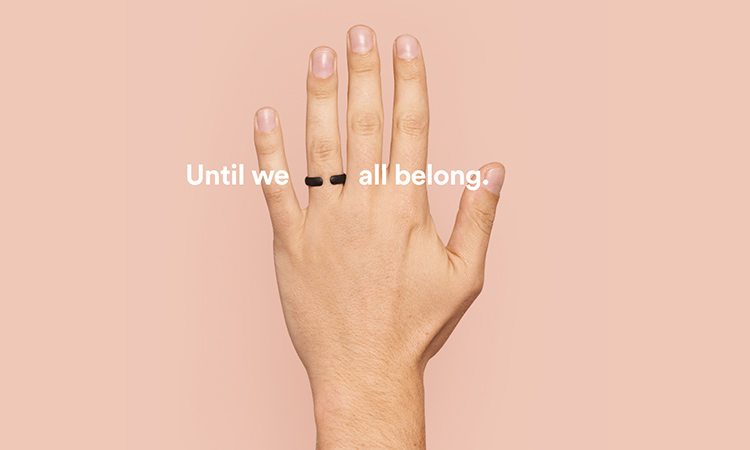 In collaboration with The Equality Campaign, Airbnb has just launched the powerful Until We All Belong campaign.
The campaign plans to make Airbnb's support of marriage equality well-known and requests Australians to commit to wearing a ring, with 'Until We All Belong' engraved on the interior, until same-sex marriage is recognised in Australia.
Airbnb is involved in advocacy for the LGBT+ community, participating in the Sydney Gay and Lesbian Mardi Gras each year and in 2016, introduced an anti-discrimination policy protecting the right of trans people to rent properties.
CEO and Head of Community, Brian Chesky, says "We are committed to helping people belong no matter where they are in the world and strongly believe that everyone should have the right to marry the person they love".
"This is an opportunity for people to show their support for marriage equality – not just those within the LGBT+ community, but for anyone to make their support for a brother, sister, parent, friend or loved-one known."
Wear your acceptance. This incomplete ring symbolises the gap in marriage equality that we need to close. Until the day comes when two people who love each other can celebrate that love through commitment, will you wear this ring and show your acceptance of marriage equality?
Designed in collaboration with world-renowned designer Marc Newson, the matte-black ring does not form a full circle – representing the gap in marriage equality.
From the Until We All Belong website: "Our mission is to make everyone feel welcome and accepted no matter who you are. It's this focus that has brought our attention to the LGBT+ community and the support needed for marriage equality in Australia. We see marriage as a fundamental part of belonging and, while we know Australians accept marriage equality, we are determined to help empower change to ensure all Australians have the right to marry the person they love. We now look to you, your hand and this ring to help us lead the way. When we stand together, we can make a big difference."
The Equality Campaign executive director, Tiernan Brady, said this campaign is about the most Australian of values, which is a fair go for all: "Two-thirds of the nation, as well as a majority of politicians, want every Australian to be able to marry the person they love in the country they love," he said. "Marriage equality will not change anything for the vast majority of Australians but will make a profound difference to the status and dignity of many."
Airbnb is also making it easier for all Australians to get involved with the campaign, by making the rings free of charge plus standardising postage costs across the country. To make your acceptance of marriage equality known and receive an Acceptance Ring, head over to www.untilweallbelong.com.