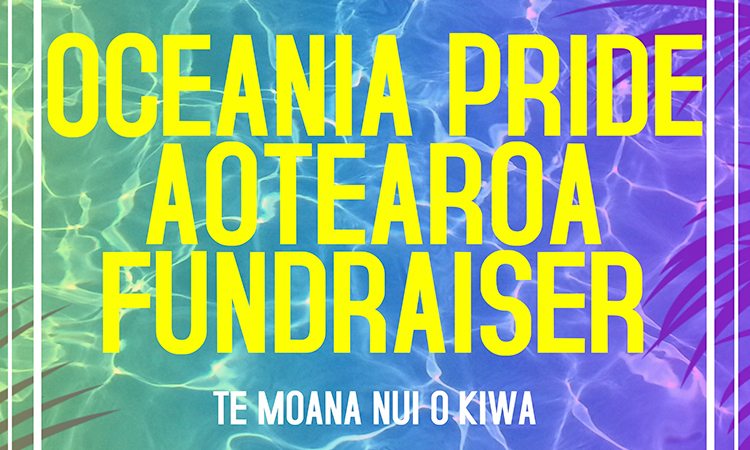 Family Bar & Club is set to GO OFF on Queen's Birthday weekend, with Auckland Vogue Scene hosting the first Vogue Ball produced independently by the emerging Vogue Community on Saturday 3 June, and the Oceania Pride Aotearoa Fundraiser on Sunday 4.
---
Those of you that attended this year's Auckland Pride Parade will remember the powerful float that lead the parade down Ponsonby Road.
For the first time, the Tangata Whenua (Iwi Māori) and Tangata Pasefika (Oceania – Peoples of Pacific nations) communities banded together, celebrating diversity under the umbrella of Ngā Aho Tapu o Te Moana-nui-o-Kiwa – Sacred Connections of Oceania.
Previously, the two worked individually to promote their nations and communities, but this year's float represented the Polynesian lineage and sacred ancestral journeys throughout Oceania. The Takatāpui community opened and welcomed this partnership, and the Tangata Pasefika communities agreed with the decision to stand as one.
Alongside, and in support, were three religious leaders from hāhi Māori — Ratana (Daniel Nehemia), Ringatu (Rangi McLean) and Paimarire (Brad Totorewa) — who guided the float with incantations and created a safe passage way for the parade.
The eight-strong committee of advisors (including Peter R F Thomas, Oceania Advisor, Tai Waru, Tangata Whenua Co-Ordinator, Sonya Apa Temata, Tangata Pasefika Co-Ordinator, Eriata Pere, Māori Advisor, and Kevin Dunseath aka Miss Ribena, Community Co-Ordinator) are hoping their new partnership is here to stay for years to come.
We spoke with Peter Thomas who says the purpose of Ngā Aho Tapu o Te Moana-nui-o-Kiwa – Sacred Connections of Oceania is "to engage, strengthen and reconnect Māori and Pasefika communities to their identity and Polynesian heritage".
"It promotes traditions, beliefs and values as well as embracing their connection as indigenous people. It also aims to provide opportunities for leaders to come forward, as well as building the confidence to those who were disconnected and are new to discovering their heritage."
"Takatāpui were once rich with pride and place of 'people of difference'. Their stories have been forgotten and we need to create new ones as a way or means to reclaim pride and place. Evolution and demands of Western life, religion alike, are diminishing our value and place in society. We return to tradition and celebrate who we are. Strong, together with pride."
"Since the Parade, we have had overwhelming support to continue a intergenerational approach," says Thomas, "which requires our leadership to move forward and help our young people who continue to live in communities of discrimination and bigotry. We want to determine the idea about what it is to be connected through blood across Oceania."
He continues "Our communities still face adverse realities, where we in the Mardi Gras may not have the six pack and speedos to attract money. What we want to do is evolve ourselves and continue showing our X Factor in being Polynesian/Māori."
He mentions that giving youth an opportunity to shine, and creating equality around what they do, requires leadership and that too many leaders that have passed on, i.e. Carmen, Mama Tere, and Georgina Beyer being unwell, so now it's time to grow the new line of leaders, i.e. Louisa Wall.
Tai Waru mentions that she wants to connect to whānau throughout New Zealand, for unifying and connecting the culture and the communities.
Their first event since the parade will be the Oceania Pride Aotearoa Fundraiser at Family Bar & Club on Sunday 4 June. The MCs for the evening are set to be Newshub's Aziz Al-Sa'afin, Lady Trenyce, Limelight Cabaret's Macau Johnson, the divine Miss K, Daphne Bush, Miss Mole and, of course, the outrageous Miss Ribena.
There will be song tributes for Mama Tere, Carmen Rupe and Mahinarangi Tocker.
So far, the confirmed performers are:
Slash and Burn
Cindy of Samoa
Vicki Lee (Diamond Divas)
Kita Mean and Anita Wigl'it (Caluzzi Cabaret)
Tess Tickle
Ivanna Dr'nk
Trinity Ice and Stella Callisto (Limelight Cabaret)
Tiffany Rose and Kyra Pantyz
Lady Nanu
Miss Patty
Bebe Gunn
Cherry Poppins
Liyummm
Vanessa La Roux
Chi Chi La'Qua
Fi Fi Fobulous
Felicia Thunderthighs
Fatima and Venus Brown
and Sonny
Don't miss the Oceania Pride Aotearoa Fundraiser at Family Bar & Club on Sunday 4 June. Doors open at 7:00pm with the first show at 8:00pm. Entry is just a gold coin donation — easy!

For more information about Oceania Pride Aotearoa, email oceania.pride.nz@gmail.com.
FAFSWAG have been supporting the community to establish a self-determined approach to governing their own scene so that the Vogue Community's identity isn't mistaken with FAFSWAG the brand or FAFSWAG the arts collective as they are different things.
For more information about the Auckland Vogue Scene, contact Jaycee Tanuvasa aucklandvoguescene@gmail.com.