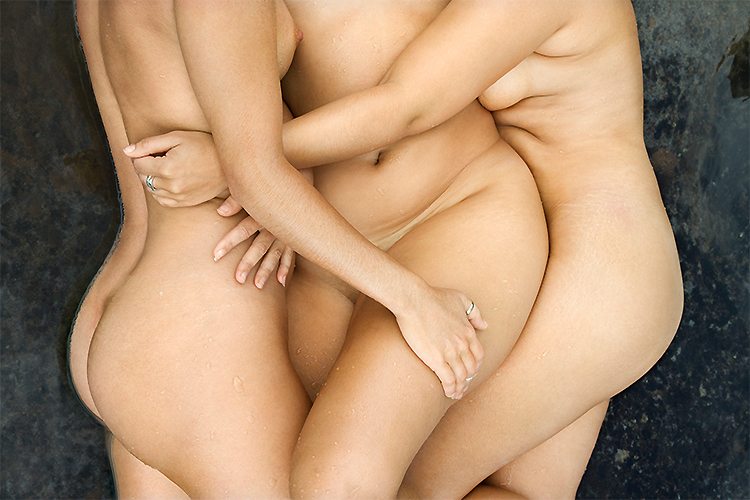 Alright, ladies – let's start with a bit of frank talk. Before I started working in a adult novelty store, I thought lubricant was just for anal sex, old people, and performance vehicles.
---
I was oblivious, and I'll admit it. So I'm here to let you in on a secret. Once you get a taste of the sweet slipperiness of a lubed-up coitus, you'll never go back. So without further ado, here is your one-stop guide to making sure your lady garden stays moist no matter the weather!
1. Reclaiming Lube for the Lady Lovers
Heteronormative marketing pretty much tells women in lady-loving relationships that lubricant isn't really for them. But, incorporating a bit of lube into your sex life can make a really significant difference in pleasure. First off, lubricant is a must-have when using penetrative toys. Since a toy does not produce its own moisture, you're going to find a drop of your favourite lube will make the process more sensual and realistic, especially if you are using sex toys such as the Clit Exciter. Lubricant used for external play can increase stimulation, prolong or hasten you to reach orgasm, and even provide a flavour hit if that is what you are into! Lady lovers, it's time you got on-board the lube train. Bring a raincoat.
2. Natural and Neutral
The more natural a lubricant is, the better it will be for your body. Not all lubes are made equal – don't compromise your clunge health using lubricants containing harmful ingredients like parabens, petroleum or animal glycerin (but we love vegetable glycerin!). Plus, anyone whose endured thrush will tell you that messing with the natural balance of your downstairs rumpus room can cause all kinds of problems. Look for a sex aid which isn't heavy on oils or silicone which can irritate your precious lady bits. Lubes like Love, Anime, Durex and System Jo Organic are some of the most natural on the market making them perfect for the woman who wants to keep her vaginal health top notch (which should be all of us!)
3. Just Like the Real Thing
Some lubes can be gluey, odorous, gluggy, and frankly, a total wide-on killer. Finding a lubricant that mimics your natural moisture is one of the best changes you'll ever make to your sex life. This might take a few tries to get right but I can tell you now that a lot of our most popular lubricants are way to thick to feel realistic, and aren't made for women at all! Avoid feeling uncomfortable by trying Love Lubricant's water-based formula which is the closest I've found to the real thing, quickly followed by the powdery goodness of Evolved's Boob Lube or Durex' Intense Stimulating Gel.
4. Mix it up
While all natural, odour-free lubricants are some of the best on the market, one of the greatest things about experimenting with this life-changing sex aid is the multiple ways you can use it to change up your sex life. System Jo has a huge range of flavoured lubricants that are sure to increase the velocity of a tongue lashing, and other brands have options for warming and cooling lubricants that help to increase stimulation both inside and outside of your lady business. I'm a huge fan of any minty lubricants which create a tingling sensation during use, but some women prefer the more subtle warmth of capsicum extract. I challenge you go try something new, you never know what you might like until you've experienced it!
Go forth and lubricate ladies!