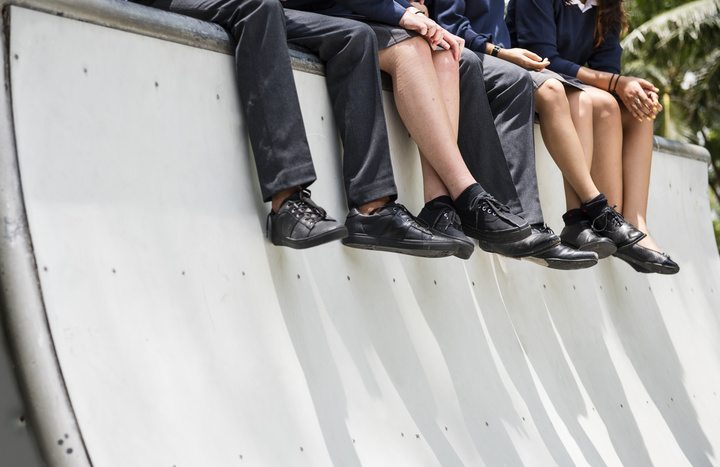 The suggestion has been made to end the era of 'male' and 'female' uniforms in a bid to make all students feel comfortable and welcome, regardless of what gender they identify with, or their sexuality.
---
According to the secondary teacher's union, one in thirty pupils throughout school can identify with being part of the LGBT+ community.
The Post Primary Teachers Association (PPTA) rainbow taskforce has updated their recommendations and guidelines when it comes to introducing gender-neutral uniforms, toilets, and allowing students to bring ball dates of the same sex. The guidelines include the notion that gender identity and sexuality should never be barriers for the students during school.
In a interview with Mike Hosking from Newstalk ZB, PPTA member, Shawn Cooper, said many schools have started to take action already. "Schools are responding to this. They're recognising that for the students, for whom this is a major issue, it can have huge impacts on their feeling of self-worth." Cooper says they want to get people looking at school uniforms. "Thinking about things like how we have students wear specific uniforms based on their biology," he said.
Dunedin North Intermediate has already chosen to remove gender-specific uniforms, offering options such as a kilt, trousers, shorts, culottes, or a PE uniform.
Cooper mentions that they are also addressing what schools could alter or improve on in order to be more inclusive to the LGBT+ community as facing challenges like this at school can be a big distraction from their learning.
"To provide opportunities for students to be able to express their gender identity and sexuality and just feel the school community is a little bit more inclusive," he said.
Kim Prance, a transgender advisor, told reporter, Nadine Higgins, that New Zealand is making progress.
"The uniform policy is a very easy one to make into a unisex policy for schools. That's really nothing much."
"As far as bathrooms, showers etc. maybe new designs could be looked at for schools, so that any remodelling when it's being done those could be taken into consideration."
Aych McArdle, Diversity education specialist, commented on the notion that if students don't feel themselves in the clothes they are wearing to school, it is hard to expect them to be focused in class, let alone open to the idea of making friends.
"If a school allows a student to wear whichever uniform they like and use a uniform that meets their needs, that means they are going to be better concentrating in maths and building really strong social bonds," McArdle said.
Although it seems like a simple step forward to help students feel safe, some schools seem very open to the idea, while others still have a long way to go.
"We want to make sure that everyone in New Zealand has a safe place to learn and to be themselves," McArdle said.