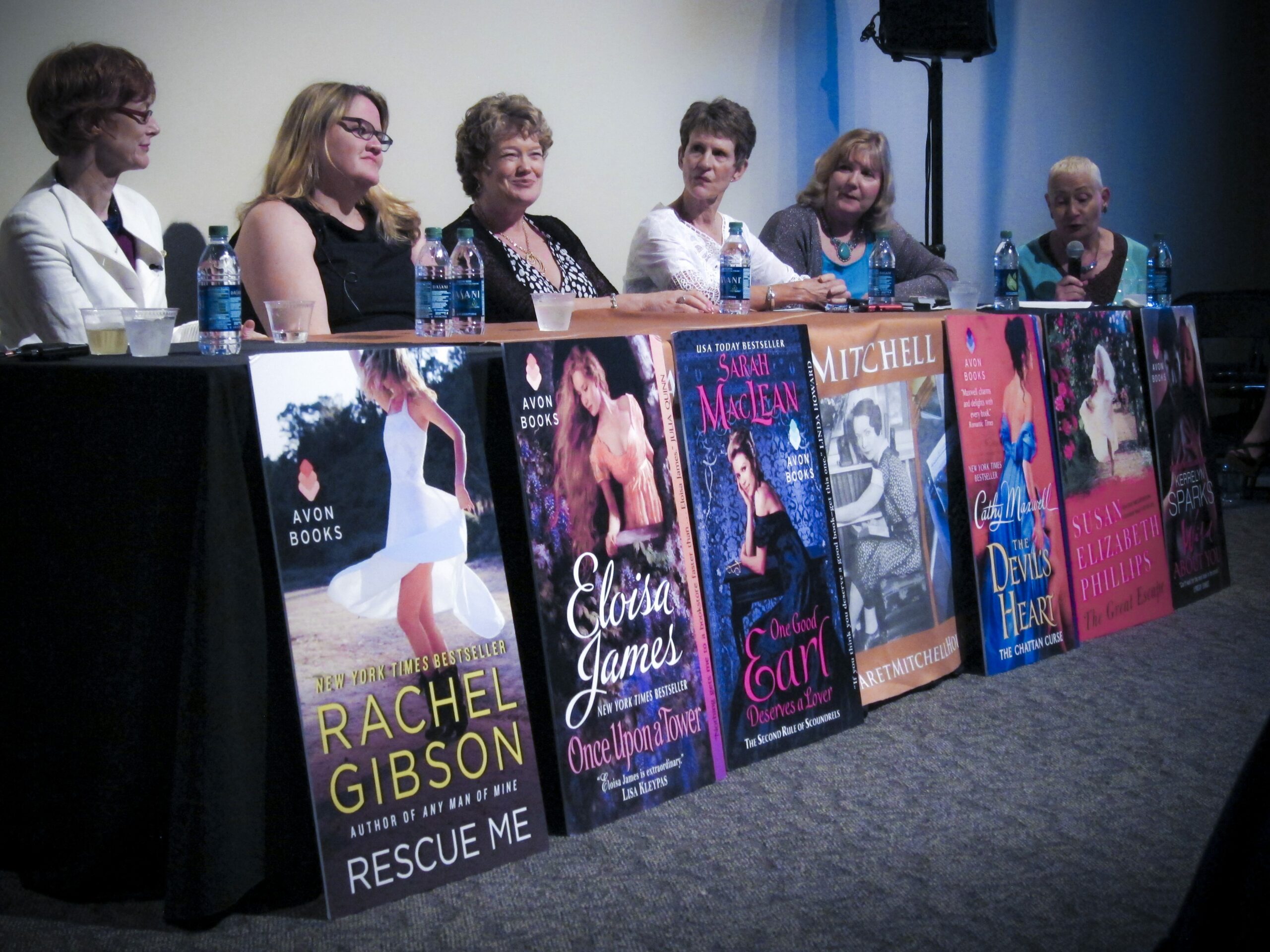 Romance fiction grosses more than a billion dollars a year – outselling mystery, sci-fi, and fantasy combined. Yet the millions of voracious women (and sometimes men) who read and write romance novels have remained oddly invisible. Love Between the Covers is an entertaining, empowering and inspiring look into the billion-dollar romance fiction industry and its powerhouse of female writers and readers, a sisterhood that is pioneering the digital revolution while finding fortune, fulfilment, and a global community.
---
We spoke with author Len Barot who writes under the pen name, Radclyffe, about her involvement in the documentary, what it's like to write lesbian romance novels and the supportive romance writing community.
Can you talk about your involvement in the documentary?
The filmmaker, Laurie Kahn, interviewed dozens of industry and academic professionals over the several years she filmed this documentary (authors, editors, romance scholars, readers, booksellers). I was one of the authors who eventually became a "featured character" in the film, and I met with Laurie and her crew multiple times over the course of filming at romance conventions, LGBT+ reader events and signings, my office, my home, and during the Bold Strokes Books (BSB) author retreat in upstate NY. I didn't know how big (or small) my role in the film might be, or what parts of my interactions were included, until I saw the preview on opening night at the Library of Congress. The film was as much a surprise (and delight) to me as it was to other members of the audience.
Where do you think the romance genre sits in today's publishing landscape?
Romance enjoys the same degree of popularity as it has for decades within the greater world of publishing, comprising over a third of the US fiction share in recent surveys (Nielsen BookScan/PubTrack Digital 2015). Our experience at BSB is similar – romance outsells every other fiction genre. I can't foresee any significant changes in those figures, since romance as a genre has weathered many changes in publishing in recent years with no decline in sales.
How far does the genre extend? What variations of it are available?
The romance genre is an incredibly versatile and flexible genre in which authors can alter plot and character to readily address changes in the social/political/cultural climate very quickly. Erotic romance, for an example, saw a rapid escalation in popularity in the last few years with the cross-over between film and fiction. The aftermath of the US involvement in wars in the middle east spawned romances with returning veterans as main characters dealing with the challenges of re-assimilation or PTSD. Dozens of romance sub-genres exist—ranging from historical romances to space operas, and inspirational to erotic.
What is it that is unique about your work within the genre?
I write in several romance genres (contemporary, intrigue, and paranormal). The unifying and distinguishing characteristic of my romances are that all of them feature a central romance between two women (lesbian romances). While not unique, lesbian romances occupy part of a smaller sub-genre of LGBT+ romances that is often dominated in the public eye by male-male romances. Within the lesbian romance spectrum, my romances tend to feature archetypal "heroes" and heroines" (gender not withstanding) – many of whom are in service occupations (medicine, the military, law enforcement, first responders).
What does your audience look like?
While we have not looked at our reader demographics in any large, systematic study, from personal experience at reader events and correspondence over the course of 20 years, I can comfortable say our audience is "primarily" but not exclusively lesbian. Our reader range in age from teenagers to octogenarians-plus.
Is the wider writing community receptive to your work?
Receptive is a tricky word – we still occasionally see our works rejected from awards competition because they are "not romances," but for the most part the publishing world recognizes LGBT+ authors and their work as valid parts of the romance genre. What we don't see is much cross-over in sales—non-LGBT+ readers don't buy our books in large numbers with the exception of male-male romances marketed specifically to the heterosexual female market.
How important has your own sexuality been in how you identify with the genre?
I write lesbian romances because I am a lesbian—the concept of love, passion, and desire is filtered through my expectations and experiences in the world. When asked if I could write "straight romances," my answer is probably. When asked if I would, the answer is no—I would never be able to translate the power of my connection to community or my passion for another to anything other than a lesbian love story. Even if I managed that, I want to write for my community—to celebrate the love we often cannot share any other way.
Can you speak about Bold Strokes Books?
I founded Bold Strokes Books in 2004 with the goal of publishing diverse, quality LGBT+ fiction within a traditional publishing model, which includes mainstream domestic and international distribution for print books and targeted marketing strategies. My second goal was to create a support structure to promote the growth of author craft and careers. BSB was first established in 2004 as a traditional print publisher, prior to the emergence of widespread digital sales channels or products. Currently BSB publishes simultaneous print and ebook versions of 95% of titles. A handful of titles have only ebook editions, most usually because they're novellas or short stories, where the word count is too short for a print edition. Occasionally we will release a digital edition first when we want to move a title into circulation quickly and may then follow at a later date with a print version.
How does it work?
Authors submit manuscripts to us for review (our guidelines are available here https://www.boldstrokesbooks.com/publish-with-bsb). Agents are not required. I and several editors and experienced readers review the submissions. If I believe the work and the author are good fits for BSB we offer a publishing contract. Once the contract is agreed upon and signed, our senior editor assigns an editor for the work, co-ordinates cover design, cover copy, and marketing info and schedules the work for publication. Print books are distributed via major mainstream distributors and wholesalers such as Ingram/Perseus and Baker and Taylor as well as LGBT+ specific distributors such as Bella Distribution, making them available to any bookseller or library as well as all online retailers. Digital and audio versions are also released via all major third-party vendors (Kindle/iTunes/Audible etc.)
How many people do you reach and in what way?
Our audience numbers in the tens of thousands worldwide. We have a very active D-2-C (Direct to customer) interface with our online eCommerce platform (www.boldstrokesbooks.com) where we sell all out titles in print and digital versions. Our bi-monthly newsletters alert readers to new releases and special sales. In addition, we have a presence at mainstream events such as the BEA, the annual RWA meeting, and RT Booklovers conference as well as queer focused events internationally. Second, we promote each individual author/book via a comprehensive review process via Netgalley.com, advertising, award submissions, and in-person author-generated events such as pride festivals and book events/signings. Third, BSB and its authors have an active social media presence via fb, twitter, and Instagram.
How important is it to foster and nurture aspiring writers, particularly in the LGBT+ community?
All emerging writers can benefit from the career advice and technical know-how of more experienced authors in myriad ways (from submission to marketing to legal issues, as well as tips on improving craft), and this guidance and mentorship is particularly important for authors in niche markets like LGBT+ fiction, which are under-represented in the mainstream and where avenues for personal support and networking may be less readily available. Enabling authors of different experiences, perspectives, and identities to have a voice enriches the world of publishing, and our society in general, for everyone.
In the documentary, we see a kind of sisterhood formed by this particular genre of writing, have you made connections like this? Do you often lean on the networks you've established?
Minority communities often establish our own support structures outside the mainstream, and this is somewhat true of the LGBT+ writing community as well. However, inroads into the mainstream publishing world and its organizations in recent years have allowed for more integration of LGBT+ authors so that we can find personal and career support via many different avenues. As a publisher with over 200 in-house authors writing LGBT+ fiction, much of which is romance, I see one of our main roles as that of providing a community and network of support for our authors, especially the debut authors. Our BSB retreats and other sponsored events aid us in rapidly introducing our new authors to the more experienced BSB authors, and we see friendships and collegial relationships developing rapidly. Often our authors form formal or informal writing groups and partnerships as a result.
What advice would you give to aspiring authors writing their first book?
Writing is an art, as well as a craft. The art is the inspiration: the story that moves you. The craft is knowing "how" to tell the story. Both are essential, and we never stop learning to be better at both. Practically speaking, know the genre in which you intend to write – know what makes a good romance, mystery, space opera, or coming of age story and incorporate those elements. Do you due diligence when researching where and how to be published – decide what works for you, what you need from the publishing experience, and ask questions of those who have more experience in the field. Above all, write (and read) as much as you can.
Love Between the Covers premieres Saturday 1 July, 8.30pm on SKY ARTS (SKY channel 020)
About Len Barot:
Surgeon, farmer, publisher, and well-known author of lesbian romance fiction, writing under the pen names RADCLYFFE and L.L. RAAND. Bold Strokes Books, the publishing house Len founded a decade ago, now publishes more than 140 authors worldwide, providing both advice and safe haven to its authors and readers.