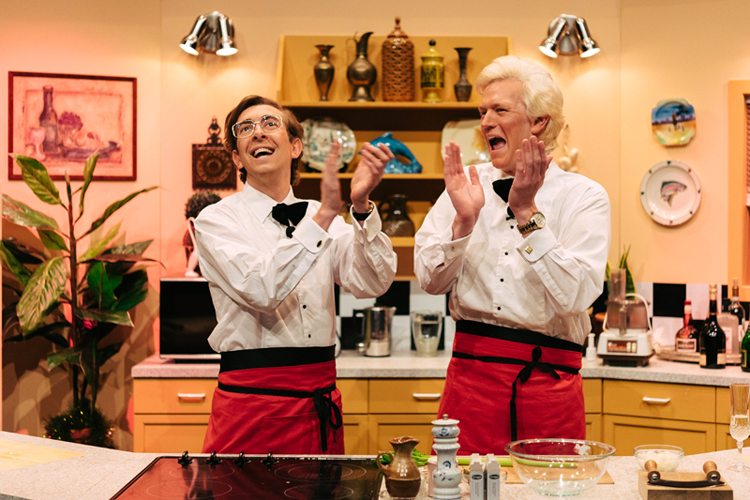 Kiwi stars Todd Emerson and Chris Parker are transformed once more into the much-loved 80's TV sensations Hudson and Halls in Silo Theatre's production of Hudson & Halls Live!
---
The side-splitting Christmas special was such a success in 2015 that it's been brought back to life at Q Theatre for two whole weeks of pure comedy gold.
Based on the iconic cooking duo Peter Hudson and David Halls, who took over New Zealand screens for 11 years from 1975 to 1986. The comical pair were not just TV legends but also New Zealand's greatest gay love story. They became known not only for their love of one another but also their love of good old-fashioned food, and of course the odd tipple or two.
The show transports us back to the 1980's to when Hudson and Halls were at a pivotal point in their career. The Nation's favourite foodies host a never done before live Christmas special, now if you know Hudson & Halls, then you know that this surely isn't going to go to plan. With a lack of script and a hell of a lot of alcohol, how could it possibly go wrong?
Emerson and Parker do a cracking job of getting it wrong, but in the right way, as they portray Hudson and Halls in the truest possible light. After mistakenly finding out that their show has been cancelled next year, the quirky duo decide to commemorate their loss live on air. Food flies around the studio, the turkey gets burnt and the special guest is a no show, but the alcohol keeps on flowing.
Within this chaos there are a handful of serious moments that counterpoint the continual joking around. Even when Halls burns the turkey, Hudson finds it in his heart to forgive him stating "I wouldn't want to share my turkey with anybody else." Now, if that's not true love then I don't know what is.
All craziness aside, Parker portrays the flamboyant David Halls with excellence, while Emerson plays Peter Hudson with ease. They both respectfully bring the iconic TV personalities back to life and accurately demonstrate their relationship with one another. The couple that were as famous for their on-screen spats as well as their dishes turned cooking into a comedy. Kip Chapman's direction and the casts well-researched script captures this and certainly allows us to re-live the past.
Anya Tate-Manning does a wonderful job as the hilarious floor manager Ngaire Watkins, who keeps the audience engaged throughout. Her constant flapping was comical and her special guest performance stole the show.
The show within a show is extremely engaging from start to finish. The immersive experience takes theatre to a whole new level. From the audience participation to the perfectly timed interval and who could forget Daniel Williams 70's-esque set design. It's all the intricate details that make for a legendary performance.