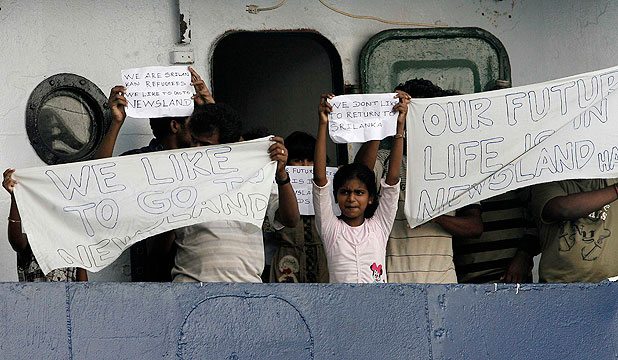 An increasing number of queer and gender diverse people who fear for their safety in their home country are finding refuge in New Zealand, as the number of those granted refugee status rises.
---
At least 40 queer and gender diverse people have been granted refugee status in New Zealand according to Radio New Zealand, with the first case believed to have been in 1995.
While this year, nine queer and gender diverse people have been granted refugee status by Immigration New Zealand, triple the number in 2012, Radio New Zealand report that over the past five years, twenty-five cases have been approved.
An appeals tribunal administered by the Ministry of Justice, has also granted refugee status to asylum seekers.
The International Lesbian, Gay, Bisexual, Trans and Intersex Association (ILGA) annual State Sponsored Homophobia report positions New Zealand among the nations with the best recognition of rights for queer and gender diverse people.
Image credit:http://ilga.org/what-we-do/maps-sexual-orientation-laws/
As a champion for marriage equality here in New Zealand, Rainbow Labour MP Louisa Wall says she has had queer and gender diverse individuals and organisations from across the globe contact her for immigration support.
"My office has provided support and advice to members of our global LGBTIQ family who are being persecuted and discriminated against in their own countries.
"We can only hold our own policies and processes to account in our advocacy."
As a journalist working within the queer and gender diverse media for a number of years, I too have had numerous emails from people reaching out for help, fearing for the situation in their country because of their sexuality or gender identity. These people have reached out from countries including Yemen and Bangladesh, where they say they fear for their lives.
Some of those granted refugee status because of their gender identity or sexuality have come from Russia, Cuba, Fiji, Zimbabwe, Pakistan and Myanmar.
New Zealand has signed three international conventions supporting the right of people to seek asylum.
The 1951 Convention Relating to the Status of Refugees, the 1966 International Covenant on Civil and Political Rights and the 1984 Convention against Torture and Other Cruel, Inhuman or Degrading Treatment or Punishment.
For clarity, an asylum seeker is someone who fears returning to their home country and lodges a claim for refugee or protection status.
Wall says she is very proud of New Zealand's record on human rights.
She notes that "The Homosexual Law Reform Act 1986 decriminalised sexual conduct between consenting males 16 years and older. The right to freedom from discrimination on the grounds of sexual orientation was recognised in the Human Rights Act 1993. The right of qualifying and consenting adults to marry regardless of sex, sexual orientation or gender identity was realised in 2013 after civil unions were legislated in 2004."
The current annual refugee quota in New Zealand is 750 people, with the National Party announcing last year that in 2018 this number would rise to 1000 – the first increase in the quota since it was established in 1976.
Information on the process for asylum seekers in New Zealand can be found here.
https://www.immigration.govt.nz/audiences/supporting-refugees-and-asylum-seekers/asylum-seekers