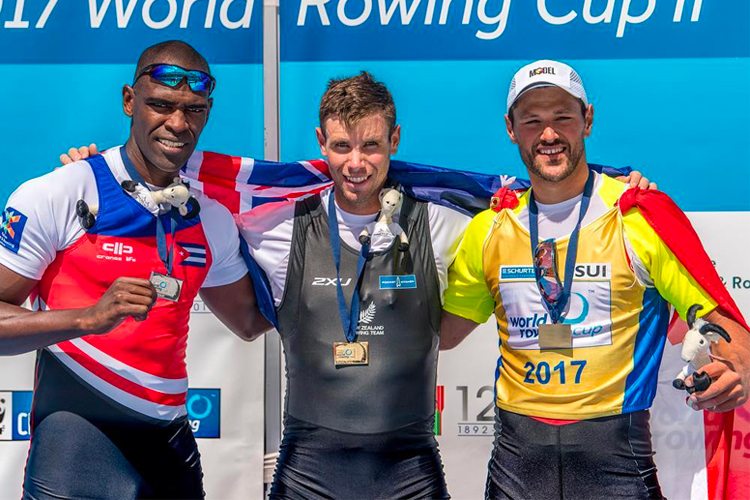 Robbie Manson has made his single sculls debut a smashing success by setting a World Best Time and winning himself a gold medal at the World Rowing Cup II in Poznan, Poland.
---
In a remarkable display of sustained power, Manson won the event by eight seconds – a huge amount in that race – which included last year's Rio Olympic silver medalist Damir Martin, of Croatia, and Angel Fournier Rodriguez, of Cuba.
He also set a new world record by clocking in at 6min 30.74s, eclipsing double Olympic champion Mahe Drysdale's previous record by an impressive three seconds.
Manson celebrated his win on Instagram:
"I started slow and steady, which was my plan," Manson told NZ Herald, "I thought through the 1000m I was slower than world record pace, but then I looked at 500m to go and my splits were still reasonably good.
"So I kept my foot down and tried get as close to it as I could. I crossed finish line, saw time and was pretty stoked."
Manson publicly came out via OutSports in 2014. Not letting his sexual orientation define him, he acknowledges the role he can play in helping other LGBT+ people in sports.
In August last year, he shared that he's become a better rower after coming out, since he can now exclusively focus on being the best at his sport and not have to worry about hiding.
"The response has been 99.9% positive. It was a far better response than I ever could have expected. I have now done one Olympic cycle almost fully in the closet and I'm now coming to the business end of my second fully out. I feel as though I've learned a lot and continued to grow as a rower and as a person because of my decision to come out."
In a charming example of an athlete giving back, Manson teamed up last year with the advocacy group The Waterboy – whose goal is to keep children involved in sports. They teamed up as part of TWB's School Speaker Series to discuss homophobia in sports.