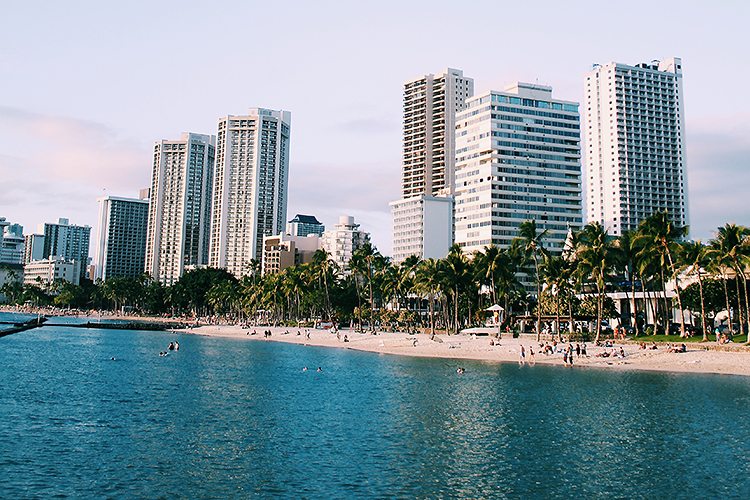 Sculpted emerald cliffs, rustling palms and sugary beaches – it's easy to see why Hawaii has become unanimous amongst travellers.
---

International Marketplace
Only recently completed, the International Marketplace boasts a factor not typically associated with modern shopping districts -tranquility. Located across from some of Waikiki Beach's most popular hotels and boutiques, the InternationalMarketplace provides you with a diverse range of stores. Beautiful trees line the centre walkways which makes the place feel truly Hawaiian, with live bands nestled between the trees in the summer months from 6pm onwards.
---
Ala Moana Center
The warm Hawaiian wind blows through Ala Moana Center in a way which refreshes you to shop another round, but that's what you'd hope in the world's largest open-air shopping center. There are more than 340 shops and restaurants to explore, including four department stores which possess some of the best deals in Honolulu, as well as high-class boutiques, sports stores and more. When the weather's good, there's no excuses for postponing a late night shop, with all stores remaining open till 11pm.
Honolulu Zoo
Want to do something that's relaxing but isn't the beach or shopping? Honolulu Zoo is beautiful because it's so quiet. It's open area safari land is extremely therapeutic to walk through on a warm afternoon or early morning.The zoo boasts an eye-catchingly extensive range of birds from thePacific, as well as 900-plus animals spread over 42 acres of land. Feeling peckish after the trek? Walk across the road toTeddy's Bigger Burgers and you'll probably need a wheelbarrow to get yourself home.
---
Waikiki Beach
No matter the time of day, Waikiki is beautiful. Whether it's looking down from DiamondHead Park, from one of the massive hotels which line the beachfront, or you're genuinely strolling it, Waikiki Beach brings out the true understanding of 'Hawaiian time'. Catch the early risers trying their luck with the surf break, or enjoy a catamaran ride through booking at any of the beachfront hotels. If you're more of an evening person when it comes to beaches, utilize one of the infinity pools at the Sheraton and enjoy the warm ocean air with a nice cocktail in hand, or better yet, spend an extra $5.00 and rent out a few loungers on the beach itself.
Pearl Harbour
You don't need an explanation for this one. The USS Arizona Memorial is something that really gives a perspective on the turmoil Hawaiians were thrown into on December 7, 1941. If you have the opportunity, head down during the anniversary week for a spectacular ceremony which really highlights the heroics of those who were there, as well as respecting those not so fortunate. The bullet holes remaining in the hangars are a stark reminder of the reality of war and is something that truly defined the Island itself. Note: Once you're in the base, you can't leave and come back in – so make sure you stock up on snacks and water as some of the ships and hangars you get to explore are arduous and tiring, but so worth it.
---
Waikele Outlet Center
A man can't get enough Tommy Hilfiger when you can buy a designer shirt for the price of fries at a bar. This outlet center is definitely out of the way, but boy is it worth it. Book a shuttle to the outlet and you may find you'll need a taxi on the way home with all the bags. With designer outlets including Coach, Calvin Klein, Tommy Hilfiger, Ralph Lauren and more, it's hard not to walk away with a new wardrobe. With limited food outlets, taking along an extra bottle of water or snacks is a must if you or your partner gets a bit peckish while shopping.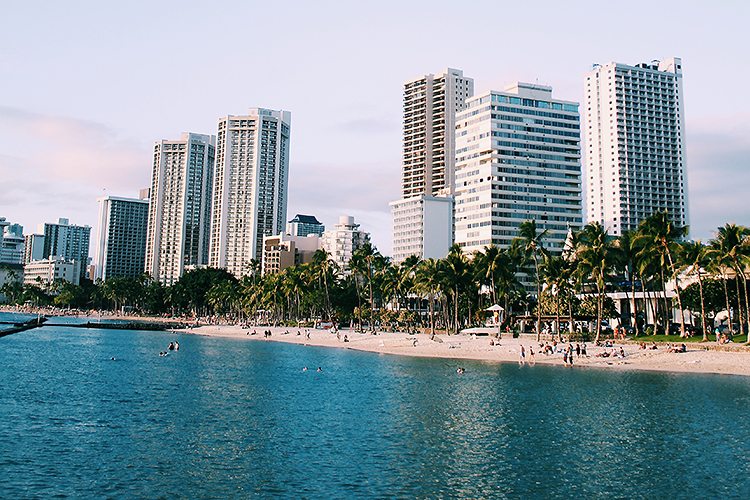 Overall
The problem with Hawaii is a simple, yet luxurious one. With limited time, you'll need to decide which is more important, the food that these beautiful islands provide, the shopping opportunities which make you consider moving permanently, or the unmatched tranquility of the world-class beaches Honolulu has to offer.
If you get the chance, which you will, try Poke and it's many forms and variations. The seafood these islands have available to them is something one could only dream of, with crab legs, Poke and oysters being a commonality on menus all over the island. Managing to capture all three pleasures of the Island is the ultimate task for your travels, but remember it's Hawaii: it's hard to find anything wrong with it.
Travelling with mum (who's been more times that I can count) was definitely a plus side on the time management. There's so much to do in Honolulu that you definitely need to prepare and plan your shopping and relaxation time in advance if you want to get the most out of your trip. Or, as mum says, why do it all when you can come back next year?
Safety tip
Whilst the island doesn't typically get dark till 9pm, and the warm air throughout the night makes it inviting for an evening stroll, remember the Waikiki boardwalk and shopping area has it's bad areas after dark. In saying that, police in Hawaii are some of the friendliest I've ever met in my travels and are always keen to have a yarn.
Images | Sam Parsons