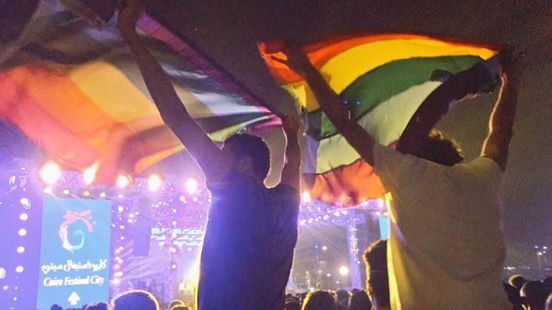 Police in Egypt are said to be rounding-up and arresting people suspected of being part of the sexuality and gender diverse communities.
The crackdown is believed to follow the arrest of seven people over the weekend who raised a rainbow flag at the concert of the Lebanese rock band, Mashrou' Leila in Cairo. The lead singer of the band is openly gay.
Those arrested at the concert face charges of inciting immorality and promoting homosexuality.
Now, activists in the country say 13 other people were arrested in a 24 hour period and three more arrested were made the following day.
Activists told Gay Star News, "In recent developments, a real attack has been launched. The police have swept through Ramsis area and captured six people.
"There is conflicting information about the whereabouts of the previously arrested seven individuals. But we can confirm they have been detained last night."
They are urging people in Egypt to delete dating apps and the Facebook app as Police are said to commonly go through the phones of suspects and their social media profiles to identify more people.
A number of activists have fled their homes in Cairo as some politicians and media are demanding a crackdown on the people who were arrested at the Mashrou' Leila concert.
Homosexuality is not illegal in Egypt.