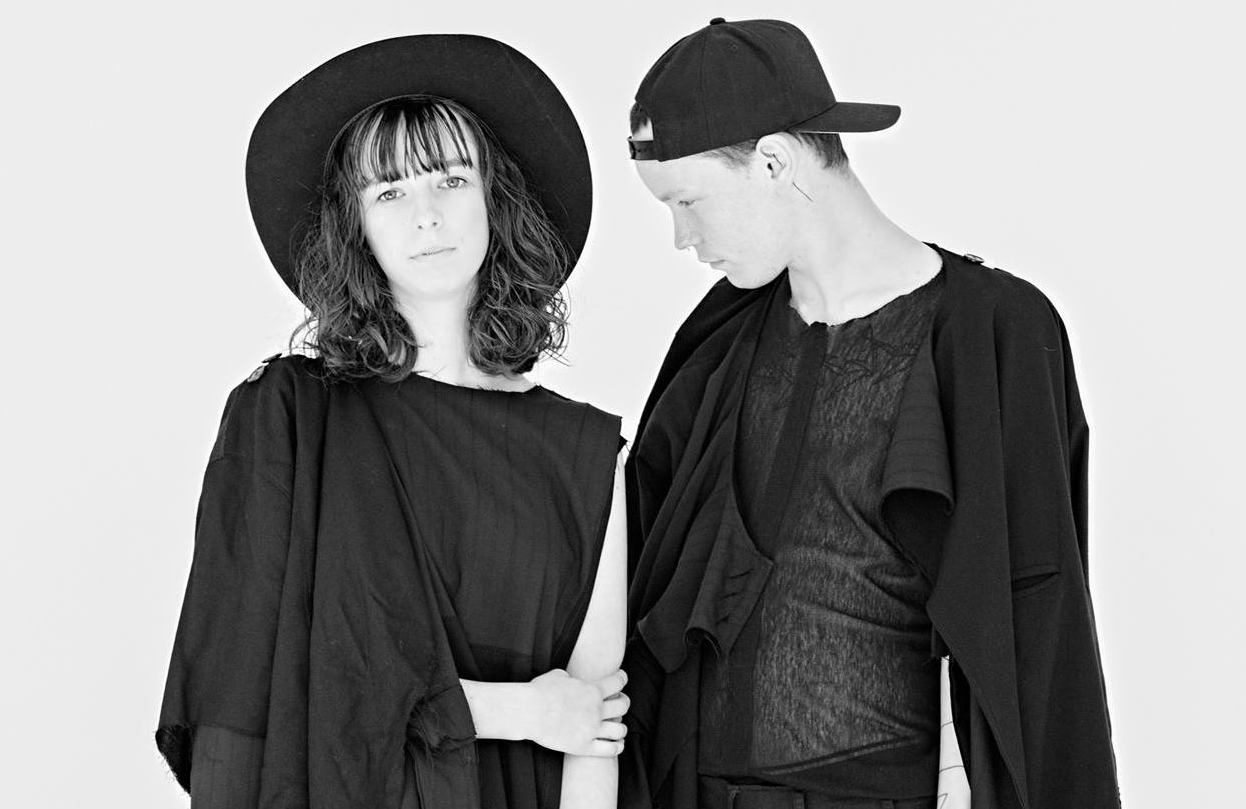 Zakk d'Larté sat down with Auckland-based Māori designer Ryan Turner ahead of the upcoming New Zealand Fashion Week.
---
Inspired by androgynous European and Japanese styles, Turner's designs originate from the combination of these two opposing cultures. His label offers unisex clothing and apparel to people of all genders, age and size.
"One of my goals is to redefine gender roles set by modern society," he says, "and offer new and innovative garments that push the boundaries of commercial fashion, whilst maintaining a high level of comfort and functionality."
Androgynous fashion has featured strongly on the local and international runways the past few seasons and Turner delivers his own version of it.
What initially sparked your interest in fashion?
As a young child, my mother used to sew at home, with all three kids, to help make extra money to feed us and pay the bills (this was until we got old enough to go to school and she started an office job). Growing up, I was always inspired by mum and how she could turn any old bit of material into an amazing garment that was truly individualised to her and fit her like a glove. I suppose in a sense, it wasn't fashion I was interested in but more the ability to create something beautiful out of nothing when you just couldn't afford to buy clothes.
What made you take fashion more seriously and make a career out of it/ what was the main reason you became a designer?
A few months into uni I had unintentionally created a collection through exploring different shapes and techniques and basically, just not following what the lecturers were trying to teach me. It was so awesome to finally be able to make clothes that I just didn't want to stop, I worked days on end without taking breaks purely because I was enjoying what I was doing – so much a break seemed lame! Apparently, all the lecturers had heard of this crazy first-year that had basically finished a capsule collection in a few weeks and I had random students and tutors coming down to meet me and see for themselves.
In all honesty, what I was making wasn't technically difficult, it was simple and more about the textures. I draped a lot of my patterns and had diagrams instead of paper patterns because some would have used over 12m of paper and that just seemed a bit ridiculous at the time.
A few weeks later, I had a store on K' Road wanting to sell my things which was insane because I was just making things to play around with but they sold the entire collection and another two I did that year, so I guess it was then that I knew this was what I really wanted to do.
Are you self-taught or did you study fashion design?
I started studying at AUT a few years ago which was a dream come true, I didn't graduate high school so it was a great privilege to be able to study and learn something that I had always had an interest in. I loved the space and having a place to learn and create, but a few months in I felt like my creativity was slowly being destroyed by the confines any learning institution has and so spent the following few years of my life developing my skills and knowledge outside of uni.
I had an amazing mentor too, who to this day, still helps me out immensely – New Zealand designer Jason Lingard. He showed me how the fashion industry works and gave me such an in-depth understanding of how to run a fashion business without losing your creativity or spark for life, thanks Jason!
What impact do you hope your collections will have on the fashion industry?
To be quite honest, I'm really not too sure. There is a lot I have to give to the world and I would love to say that I would like to change the face of fashion both here and abroad, but there are so many amazing designers in the world already doing this. I would just like to have the opportunity to share clothing that directly reflects my inner thoughts and feelings, almost a capsule of my life at that moment in time.
I always try to design with a sense of freedom in mind, so I suppose I'd like people to feel more free. Not only in themselves, and how they dress, but also in the way they think and move through the world.
What advice would you give to young designers/dreamers?
Oh I love this question – what would I tell myself if I had the opportunity to see myself a few years ago. Make mistakes, lots of them! Screw everything up you possibly can and explore as much as your sanity allows you. Some people learn from being told what works and what doesn't, but I find it is better for me to understand what doesn't work, and why it didn't, then to try and find a solution to the problem instead of just saying, "that doesn't work". It helps you to understand the laws behind the rules we are taught and builds such a strong foundation for more technically difficult designs.
What do you consider your greatest achievement (so far!)?
Does officially moving out of home for the 5th or 6th time now count? I'm not too sure what my greatest achievement is, I haven't really done anything that amazing. I mean, thinking about it, just living to the age I am now is achievement enough. I wasn't in a good space for quite a period of my life and I really didn't see myself on this Earth long at all. Somehow I managed to become strong again and so not letting depression kill me would have to be my greatest achievement by far.