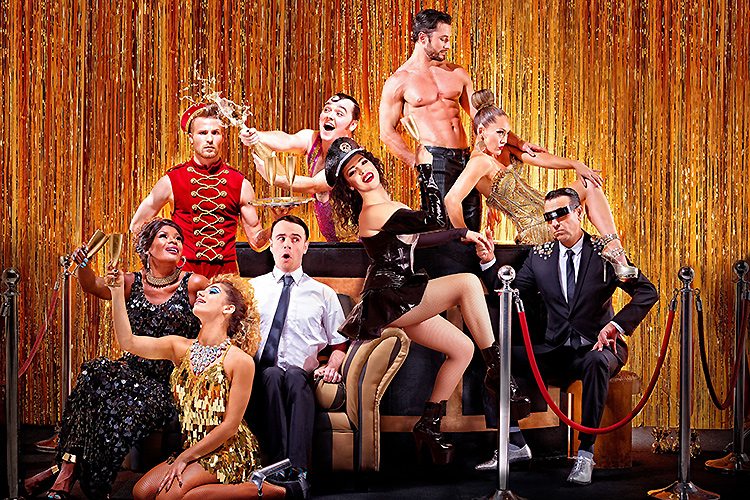 The International Cabaret Season shows kick off on 14 September and run until 1 October. Express recently previewed Velvet (and the beautiful Stephen Williams who takes part in this is our Hottie of the month). Here we look at three more shows, starting with O A'u (It's Me) which stars Spencer Papali'I who appears on our cover for this month. Starman, a show for Bowie fans where we interview the star, Sven Ratzke, is also highly recommended. Miss Frisky's Karaoke Experience has blown away audiences all over the globe so is a must see. Our advise? See all three!
---
O A'u (It's Me)
My face is my canvas; the brush is my culture, the beauty blender is my sexuality. Each stroke, each glitter cut crease eyeshadow, each highlighted cheek, feathered eyebrow and contoured jaw. With each step, O A'u becomes clearer. Is your canvas blended? Are your harsh contour lines visible? Are you glowing for the Gods? Shooing away the negative stigmatism surrounding the artform in New Zealand, Spencer Papali'i shares his love of drag as a creative outlet, as well as his story of growing up queer and Polynesian in New Zealand.
O A'u is part of Auckland Live's International Cabaret Season 14 Sept – 1 Oct.
Starman
Express interviews Sven Ratzke about his performance in Starman
What are you most excited about in your performance for Starman?
Starman is a trip in to the universe of legendary Bowie and into my universe. It's not at all a tribute show, but we make the music our own and re-create it with our own emotion and the storytelling takes you into another world as well. Its great music and great entertainment, with the amazing musical material of Bowie. I would say: a very exciting mixture.
What can the audience expect from this show?
Great music, bizarre, fun storytelling, great entertainment, wild costumes, personality, amazing musicians. Soft touching ballads to rocking songs. It's a great rollercoaster. It's cabaret but also pop and theatre.
What about Bowie inspired you to create this work?
Especially the 70's when he changed personas so many times, as if he was wearing masks all the time. He was almost losing himself in all this, he was becoming a legend. And his songs were like pages out of his diary of that time. This all screams "make theatre of it, make a show about it". And Bowie inspired me very much, by always taking risks to create something new. I think that is was it is about of being an artist.
What do you love most about touring internationally?
I meet the most beautiful and interesting people, and create an audience around the world. Like separate homes, where I have friends and can return to visit.
Have you been to NZ before – if so what did you love. If not – what are your expectations?
I'm so excited. I expect it to be unique, beautiful, it's on the other side of the world for us. I'm so happy that I finally can visit it.
Tell us about how Bowie sanctioned and encouraged this show – what did that mean to you?
That was the blessing that you need to create a show like this. I'm very proud and happy about that. The same thing sort of happened when I did Hedwig And The Angry Inch, John Cameron Mitchell, asked me to do it and re-create the script for Europe.
What's your favourite song from the show?
I would say: Heroes, a truly universal song, that touches people all around the world and is one the greatest pop songs ever written, full of pain and hope.
STARMAN plays Thursday 14 – Friday 15 & Sunday 17 September at the Concert Chamber, Auckland Town Hall as part of the Auckland Live International Cabaret Season from 14 September – 1 October.
Miss Frisky's Karaoke Experience
There's a cabaret diva in the house.
The beloved Miss Frisky (La Soiree; Frisky & Mannish) returns for her wild world premiere of Miss Frisky's Karaoke Experience.
Renowned as one of the biggest voices in the international cabaret scene, Miss Frisky has seduced audiences from London's West End to the Sydney Opera House via Singapore, Berlin and New York. Now she's back in Auckland for an evening of karaoke cabaret nonsense, vocal pyrotechnics and riotous fun.
Don't hold your breath for your turn on the stage — while you choose the playlist, Miss Frisky will be hogging the spotlight. But with a voice like hers, it might just be the best karaoke experience you ever have.
Directed by Miss Behave.
Miss Frisky's Karaoke Experience is part of the Auckland Live International Cabaret Season 14 Sept – 1 Oct.
For more information visit: aucklandlive.co.nz