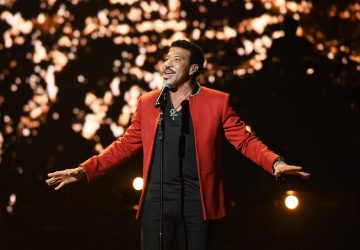 Lionel Richie brings his All the Hits tour to our shores next month, backed by disco legends Chic!
---
Lionel Richie is one of the most successful singer-songwriters of all time. His chart career began in the late sixties as the lead singer of the Commodores and in the early eighties branched out as a solo artist to achieve even greater success. 50 years on he is still going strong, sharing inspiring messages through his social media and earning rave reviews for his All the Hits tour around the world.
Lionel's All Time Classics:
(10) Three Times a Lady – Too cheesy for some, but there is nothing more satisfying than seeing someone drowning in Dutch-courage belt this one out to an embarrassed onlooker at Saloon bar.
(9) Truly – The soaring ballad that launched Lionel as a solo artist after he departed the Commodores
(8) Dancing on the Ceiling – the party anthem for parties that are never really going to get out of hand.
(7) Say You, Say Me – an atmospheric, tear-jerker that has stayed famous far longer than the movie it was made for (White Nights).
(6) Brick House – A funk classic from the Disco-era that celebrated larger figured ladies with style.
(5) We are the World – America's answer to Band Aid, was co-written by Richie and Michael Jackson and even gave female singers solo sections in the song, something Do They Know It's Christmas failed to do.
(4) All Night Long – Richie's true party-starter won him numerous Grammy awards when released in 1983, and saw him close the Los Angeles Olympics with it the following year.
(3) Easy – a staple of coffee commercials to easy listening radio, Richie could have probably comfortably retired off this one Commodores hit alone. He didn't though, and is now worth 200 million!
(2) Endless Love – This Diana Ross duet became one of Motown biggest hits and convinced the record label that Richie was ready to be a solo performer.
(1) Hello – Sentimental and romantic, but undeniably well written and delivered with powerful poise, despite Adele producing a mega-hit with the same name, there is only one 'Hello' and it belongs to Lionel Richie. If you are in any doubt of its timeless value – revisit the music video (where the blind girl molds Richie's face out of clay) on Youtube and then check out his simple yet thrilling rendition at the 2007 Grammys.
While Chic remain synonymous with the disco-era, their lead guitarist Nile Rodgers has ensured the band's memory will never fade by going on to produce some of the greatest pop songs of all time. His most recent work includes collaborations with contemporary artists: Daft Punk, Pharrel, Sam Smith and Adam Lambert.
Like Richie, Chic recently performed at the Glastonbury festival and while Lionel drew record numbers, it was Chic who gained unexpected fans. In an interview with Rolling Stone Oasis' Noel Gallagher stated, "My favourite act at this year's Glastonbury, when I went, was not the Rolling Stones, as great as they were; was not the Arctic Monkeys, as good as they were; was not Disclosure, as good as they were; but it was Chic. They were fucking mega. Absolutely out of this world."
Nile Rodgers Greatest Recordings:

Diana Ross – Upside Down and I'm Coming Out
David Bowie – Let's Dance and Modern Love
Madonna – Like a Virgin and Material Girl
Chic – Le Freak and Good Times
Sister Sledge – We are Family and He's the Greatest Dancer
B 52s – Love Shack and Roam

Lionel Richie's All the Hits tour with CHIC featuring Nile Rodgers will be performed at Christcurch's Horncastle Arena 19 October (www.ticketek.co.nZ) and Auckland's Spark Arena 21 October (www.ticketmaster.co.nz).