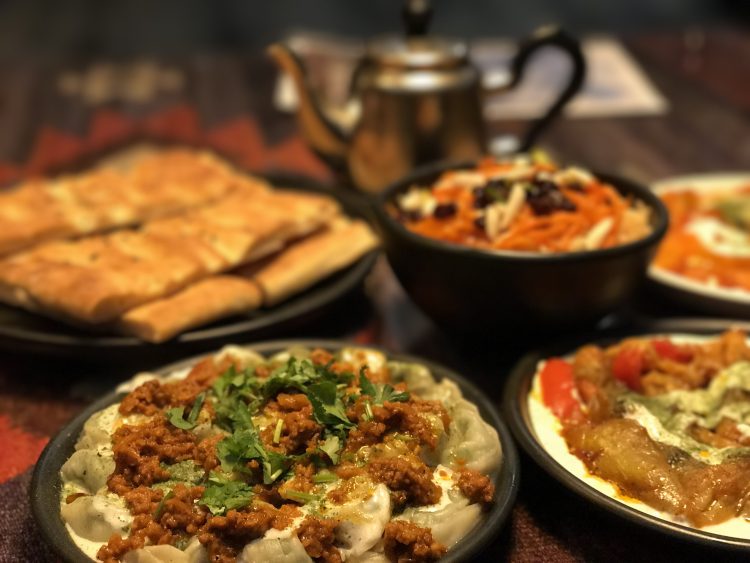 Alexia Santamaria is the co-author of popular blog www.cheapeats.co.nz, the Auckland guide to eating great food without going bankrupt.
---
Restaurant Review: Samadi
We've been meaning to head to Samadi since it opened this year and finally made it one recent cold rainy Auckland night. Any sogginess we might have felt, metaphorically dried up the instant we entered thanks to the warmth of this lovely Afghani family. And the food just cemented this was my kind of place; homemade, honest, tasty cuisine served by warm generous people. Perfect.
We ordered the Aushuk (Afghan dumplings) Qabuli Palau, Kadoo (sautéed pumpkin) and Banjan Sia (eggplant) and all were fantastic. The dumplings were super silky and soft, stuffed with chives and topped with mince, yellow split peas, homemade garlic yoghurt and dried mint. The textures all worked beautifully together, and it was the epitome of comfort food.
The long grain rice of the Palau was complemented perfectly by the carrots, raisins, pistachios and slivered almonds; notes of cinnamon and cardamom gave it that distinct middle eastern fragrance. The Banjan Sia was perhaps my favourite dish – it had a similar topping to the dumplings (minus the split peas) and the eggplant base was cooked to perfection. The Kadoo was similar, but with pumpkin, and equally tasty. Nothing was super spicy but all was beautifully flavoured – the only thing I would have to say is you have to like yoghurt, as it features heavily.
It's not a big place and you have to be willing to share one of the two large sunken tables (or the conventional ones outside). But I guess that's testament to food and charming service because despite the size, less-than-glamorous-location and the current lack of alcohol (the liquor licence is still pending), we would go back in a heartbeat.
Samadi, 11 Point Chevalier Road, Point Chevalier.
Diwali Deliciousness
If Indian food is your thing, make sure you get down to the annual Diwali celebrations in Aotea Square and Queen Street from midday to 9pm on Saturday, 14 and Sunday, 15 October.
There's all kinds of street food available from curries and roti, to masala dosa to Indian sweets and ice cream. You'll also find plenty of performances to watch – and arts, crafts and clothes to browse. Go hungry
For more info check out www.aucklandnz.com/auckland-diwali-festival-2017
Say cheese
It's New Zealand Cheese Month – what could be better? For the whole month of October, the New Zealand Specialist Cheesemakers Association is promoting cheese consumption (like we needed any encouragement!) with tastings in supermarkets and speciality cheese retailers such as Sabato and Farro Fresh.
Cheesemakers will also be hosting special events and details of these can be found here at http://www.nzsca.org.nz/cheese-month/
We'll definitely be using it as an excuse for a little more brie, blue and gouda than usual.
Kanpai to that!
We can't quite believe this event is even happening! Auckland's top four Japanese chefs are collaborating for the most incredible night of food on Sunday 29th October.
The restaurants involved are Azabu (Yukio Ozeki), Cocoro (Makoto Tokuyama), Kazuya (Kazuya Yamauchi) and MASU (Nic Watt) and it will be held at Masu in Federal Street from 6pm to 10pm.
The format is a four course dinner with a sake/wine match showcasing each chef's unique style of Japanese cooking (authentic, European, Peruvian, contemporary). The cost will be $150 per person for four courses with matching drinks. Book soon.