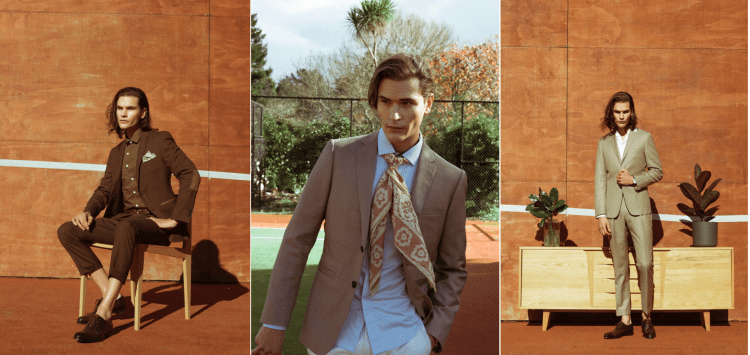 Belinda Nash takes us behind the scenes in New Zealand's fashion industry and gives us her hot pics of the month.
---
Suit up, summer's coming
Fashion trends come and go but the suit is eternal, says co-owner of French83, Vivian Cheng.
The suit emanates trustworthiness, confidence and gravitas, says Cheng, and is the ultimate "dress for success" staple.
"It's not as simple as just wearing any suit, it needs to be an appropriate style and the right fit. If you only have one suit, invest in a versatile, high quality one."
Chengs reminds us of the powerhouse history of suits – real and imagined – from Abraham Lincoln to James Bond, and Jay Z.
"There is something empowering about a suit; it just makes you look well put together."
French83 designer Nicole Wesseling has perfected bespoke tailoring with modern cuts that give the middle finger to convention. Think luxurious wool fabrics that deliver comfort and style to wearers.
Oh, and personality. French83 is all about it.
"We have a lifestyle and casual element to our brand. And we really believe in making made to measure affordable so more New Zealanders can experience getting a well fitted suit."
For styling your look, Cheng says try combining formal with casual.
"At French83's New Zealand Fashion Week show, we paired our suits with New Balance sports shoes. This creates a cool, casual vibe, which makes you stand out. Bold stripes and checks are also very "in" this season and I encourage people to mix these prints into their wardrobe."
Cheng admires the wealth of New Zealand fashion talent and applauds the drive to produce quality over quantity, and the buyers that support them.
"We're far away from the rest of the world so our designers have the freedom to be unique and not get cornered into designing only what's in trend."
Cheng is big on sustainability, and gives props to Stella McCartney's new menswear collection with its emphasis on sustainability and animal cruelty-free ethics.
She adds, "You can trade in your old suit for French83's Restyle Project and get $250 off a new made to measure suit. Whitecliffe fashion students then upcycle your old suit into new pieces like bags or couture outfits which we sell for charity. The project aims to raise awareness for sustainability in the fashion industry."
---
Monthly Hot Picks
Prada Luna Rossa Carbon 100ml RRP $166 available at Smith & Caughey's and Farmers
hanon X New Balance U520HNF 'Fishermans Blues' RRP $200 exclusive to Loaded and Good as Gold
Atlas Tank Lips X and Rush Tee Lips limited edition fashion week print $69.95 by Federation
Stevie Jean $169 by RUBY
Nesting Fantail with Turquoise pendant $325 by Nick Von K
Jon Duffle $965 by Yu Mei
Newhaven Dot Sock and Eileen Stripe Sock two for $20 by Barkers