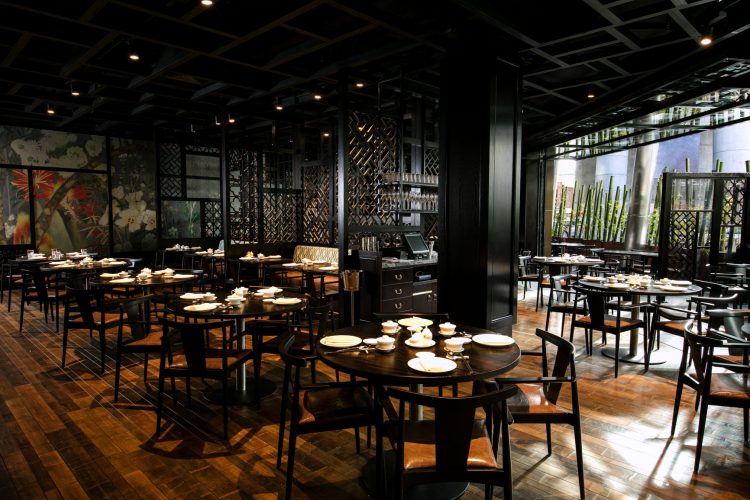 We're spoiled for choice for great lunches in the city and one I've been meaning to try, since it opened in July, is Huami – the latest in the Skycity stable. Knowing the calibre of the chefs behind it (Jeff Tan and Nic Watt) I knew it would be nothing short of amazing and was proven right when I visited last month.
---
The first thing that struck me was the interior; yet another beautifully-designed restaurant proving that Auckland really has come of age in the realm of hospitality. You feel like you could be in Melbourne, London or New York, so pretty is the fitout. There's lots of classic Chinese influences in a contemporary style with old brick work, ceramic tiles, traditional Chinese screens, dark wood and stone finishes; and New Zealand's first wood fired duck oven takes pride of place in the centre of the kitchen. It's enormous and apparently, they had to close the street when bringing it in – they basically built the restaurant around it.
I was with two other lunch companions, which is always great for sampling an increased range of menu items. Between us we ordered the fruit wood-roasted Peking duck (of course!); the squid ink, yellow chives and prawn dumplings; the XO chilli 'siew mai', the manuka honey glazed char siu pork with mustard sauce, crispy taro puffs and char siew pork buns.
Everything was great but my standouts were the duck, the char siu pork and the XO dumplings. Apparently, the duck is stuffed with ginger, garlic, licorice, sugar, salt and spices before spending up to two days in the duck drying room and then it's cooked in the giant duck oven. The drying room itself is kind of impressive, and judging by the amount of ducks hanging from the roof, I'm not the only fan of this dish.
It was served standard Peking duck style with pancakes and condiments but the duck itself was anything but standard. It was everything you want duck to be – fatty and crispy but not overwhelmingly so, tender but not so soft it doesn't have bite. I couldn't stop going back for more. The Char Siu pork was beautifully executed too, tender and sweet but not cloyingly so. The mustard sauce wasn't particularly strongly flavoured, but added a creaminess of texture that complemented the pork.
The XO chilli 'siew mai' shrimp and chicken dumplings were a siew mai style dumpling topped with fresh chilli giving the savoury base a good spicy, fresh kick. It was a nice contrast to the sweetness of some of the other dishes, especially the pork bun – a baked version which had a crunchy exterior, almost donut-like in flavour.
I've yet to visit for dinner, which is quite a different menu, but I would definitely recommend Huami as a great place for lunch in the city. The menu is a lovely mix of traditional Chinese dishes and ones that have been given a modern twist, but they all add up to pretty delicious way to liven up your work day.