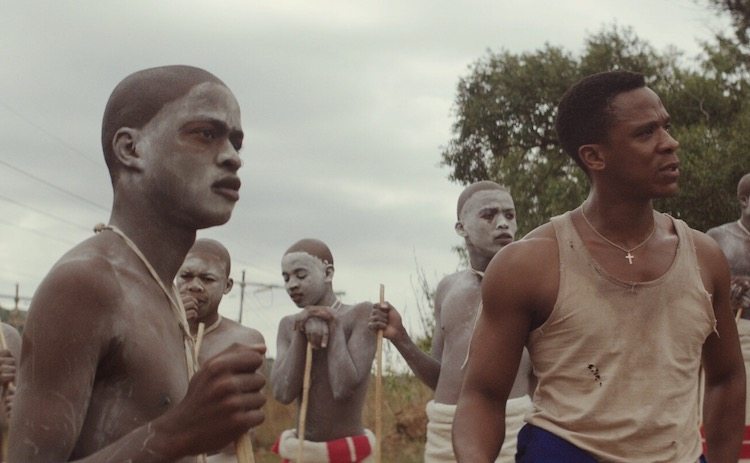 In the secluded mountains of the East Cape an Xhosa tradition known as Ukwaluka takes place twice a year as a group of teenagers are guided into manhood.
---
The teenagers, known as the novitiates, are circumcised and then spend several weeks recovering in isolation from the wider world, while being mentored and nursed by caretakers.
But what makes a man, and what does it mean to come into manhood?
The Wound is an exploration of sexuality and masculinity within the context of a tradition that is shrouded in secrecy and taboo.
Softly spoken Xolani (Nakhane Touré) is given the task of looking after a teenager whose father is worried about the amount of time he spends in his room with other young men. Asking if Xolani can be firm with his son, while there is not an overt questioning of the boy's sexuality, this is our entry point into the film and much can be said of that which is not said.
The boy, Kwanda (Niza Jay Ncoyini), is from the city, his family has money and as the other teenagers sense something's different about him – he's immediately outcast.
He is sure of himself and confident in his sexuality, as the boy becoming the man, he challenges tradition and his caretaker – questioning whether one is truly a man if he can't even openly be himself.
He sees Xolani's connection with fellow caretaker Vija (Bongile Mantsai), who is married with children, for what it is, one of shame, secrecy and desire.
While it does have its moments, The Wound isn't explicitly sexual and this would be have to be one of its strengths. It deals with what is a very taboo subject yet, at no point does it use it as it's crutch – tension and desire are explored through the subtleties of intimacy and body language.
Director John Trengove says the film was born out of a desire to push back against clichéd stereotypes of black masculinity perpetuated inside and outside of African cinema.
He told Deadline "Right at the beginning, it was a conversation about making a queer South African film. We felt that this was something we wanted to do that nobody else was doing, but specifically, I think what was important to us was to bring together a story about same-sex desire within a traditional African context."
The Wound is a film that pushes boundaries, so much so that the Xhosa king himself called for a boycott.
It's a film that is unapologetically queer, confidently navigating a world that is riddled with heteronormativity.
A queer film that has a unique South African perspective, with a long list of awards trailing it's credits, The Wound is South Africa's entry for the Oscars and we see it being a strong contender.