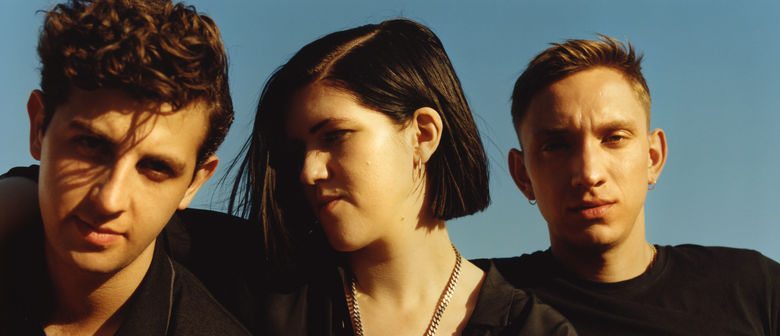 The xx certainly impressed the crowds at their Auckland show at Henderson's Trust Arena – the very first show that the band have played as headliners here, first coming to our shores eight years ago playing Auckland's Laneway Festival. It was a stunning performance of effortlessly smooth atmospheric pop – perfect for a hot summers day.
During their set, which came in at just over an hour, the band managed to deliver what many only dream of doing – creating an intimate experience against the odds. I couldn't help but feel as though the venue let down its end of the bargain though, a performance like this would have been much better suited to one of Auckland's many intimate venues like The Powerstation.
It was a night of embracing who you are, there was no need to try and impress anyone. In fact, it's precisely that genuine individuality that does impress.
The audience was not shy to show their appreciation and Oliver looked overwhelmed with emotion as the crowd's applause filled the room after a particularly heartwarming moment (which there were a number of). Earlier in the night, he told us that he just wanted us to have fun – I think it would have been hard not to.
Sweetening the deal, one dollar from every ticket sold went to LGBT+ youth organisation Rainbow Youth and it was a gesture that really echoed the band's heartfelt and giving presence. How can you not have fun when you know that you're supporting a good cause and that the band themselves really do care.
The onstage connection between Romy and Oliver only added to the intimacy. Theirs is a friendship that has spanned many years, meeting as toddlers. It's a friendship that is ever-changing, having drifted apart at times only to then come back together.
Nearing the end of the night Romy addressed the crowd, thanking each and every person who came out to support the band, she told us she truly meant that and there was no doubting that she did.
It was although every one gushed with admiration all at once, she was letting us see the real her, even apologising for rambling, she was nervous she told us. There was nothing disingenuous about the band's interaction with the audience. During an interview, last year with Fader, Romy revealed that as she's gotten older, and since being with her partner Hannah, she's become more outward facing and confident in social situations.
To wake us out of our dreamlike state after having been lulled into a blissful daze for most of the concert, Jamie brought us to the peak of the performance and gave us a taste of his solo work, including the recent hit Loud Places – it's fair to say the crowd loved it.
There was no better way to end the evening then Romy delivering us gently back into reality, leading the crowd with 'Angel', it was a near-perfect moment as the stadium echoed with the words "Being as in love with you as I am".
And then, just like that the three walked off stage, their arms wrapped around each other, the lights came on and we were left to journey home.