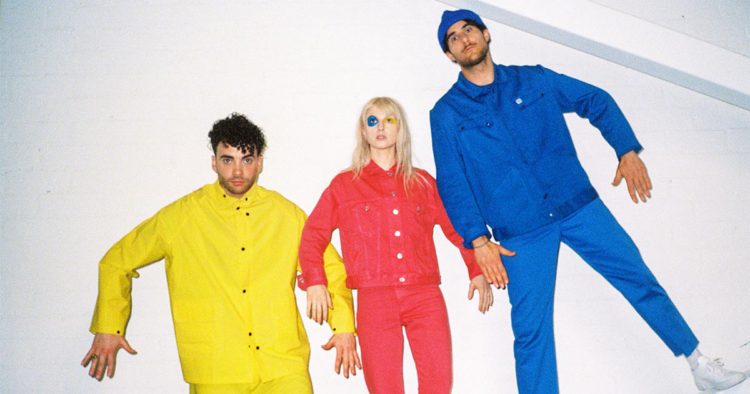 It's no Misery Business as Hayley and the gang return to NZ with an effervescent set.
---
Spark Arena had been transformed into an intimate half-moon shape for the former-emo rockers return to NZ in four years. Paramore didn't come empty handed bringing with them American support act The Bleachers, a band fronted by producer de jour Jack Antonoff – the man currently crafting big hits for Taylor Swift and Lorde (he also recently left Girls actress Lena Dunham and is now dating Lorde, if you believe anything blogger Pere Hilton writes). Antonoff looked like a man who currently owns pop music, relaxed and cheery for The Bleachers half hour opening set. Playing sort of indie synth pop that was the perfect warm up for Paramore.
45 minutes after Jack had done his thing, Paramore made a low-key arrival onto the stage, no big curtain fall or stage lift here! Opening with Hard Times, followed by Ignorance and then the contagious Still Into You the crowd were instantly happy! The set list proved to be focused on their latest album After Laughter (hits like Decode and The Only Exception are Exception are not performed), but frontwoman Hayley Williams' showmanship kept everyone's interest peaked.
The stage proved surprisingly crowded as Paramore's three official current member (Hayley, Zac and Taylor) were joined by four additional musicians on stage. The presence of two guitarists, one bass, a drummer, a percussionist and a keyboard wizz, ensured all of the 18 songs played in their 90-minute set had a really full sound, whether it After Laughter's dance floor ready synth, a gentler ballad like Hate to See Your Heart Break or the harder edge of their older rockier material like Misery Business.
While we are on the subject of the band's biggest hit – it does seem to be a song the brilliant Williams now feels fraught to perform. She indicates that lines like 'once a whore, your nothing more… That will never change' are not lyrics the band are proud of. The song is performed to the half way point before a lengthy pause where an audience member is brought onstage to finish it off. They pick a good one luckily, who joins in the headbanging, but I would have rather seen Williams deliver it as full throttle encore.