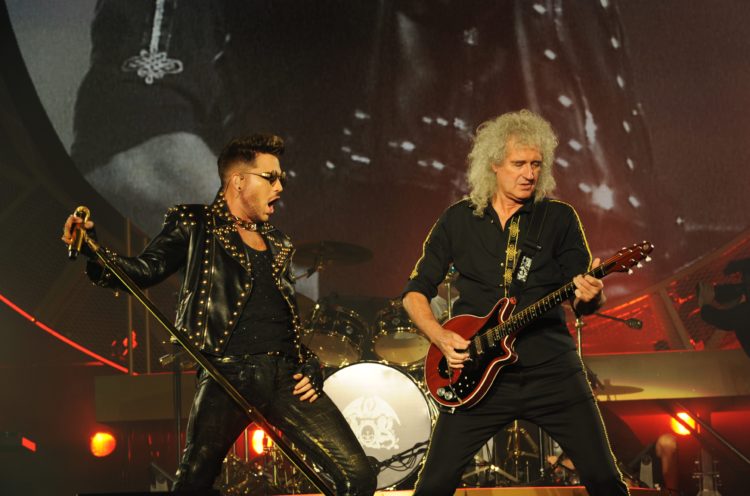 In the midst of the Pride Parade and Proud Party, a musical event fit for a Queen rocked Spark Arena.
Auckland Pride's condensed two week festival assured if you wanted to experience everything the festival had to offer you were going to be very busy. For me, Saturday night was the most packed of all, bouncing from the Parade, to Queen + Adam Lambert and on to the Proud Party.
---
As I watched Adam emerge from underneath the stage reclining on the head of a giant robot prop (no less) dressed in a sparkling pink suit (only three songs in and already a costume change), I realised this concert was going to be the most camp and colourful event I would attend that night!
Glambert's career has walked a unique path both helped and hindered by his open sexuality and flamboyant showmanship. After auditioning (ironically) with Bohemian Rhapsody, he looked set to win American Idol as he strutted into the finals. That was until a social media smear campaign with photographs of him kissing men fired up Middle America and he placed second.
Adam was still signed to a label and made the cover of Rolling Stone with a tell-all interview where he admitted he was gay and reminisced about years taking pills in clubs, but his solo music enjoyed middling success. Commercial radio wasn't quite ready for such an 'openly' gay pop star.
Finally, in 2011 when he first teamed up with Brian May and Roger Taylor to form Queen + Adam Lambert, for the first time in his commercial music career Lambert's sexuality and flamboyance was treated as an asset, and seven years later the trio are still going strong – performing their biggest most high tech production yet!
After ensuring the entire arena was on their feet with Killer Queen and Don't Stop Me Now, Lambert addressed the elephant in the room. "I know what some of you are thinking – you're no Freddie!" No shit, he surmised, "There will only ever be one Freddie Mercury!" Lambert acknowledged his job was to pay tribute to the rock 'n' roll God, and that he did!
On stage Lambert was all soaring vocals and costume changes. So much so, even Lady Gaga might have thought it was OTT. But that's what makes this the perfect role for Adam, because being himself makes him better at his job.
While Lambert is backstage ripping his clothes off, the original members of Queen kept us entertained, not only with the expected guitar and drum solos but also with song.
As Brian May serenades on Love of my Life and Roger Taylor takes on David Bowie's parts on Under Pressure, you realise that Queen was (and indeed still is) a band where every member was a great vocalist! The big notes though, the boys leave for Adam who tears it up on the likes of Who Wants to Live Forever and Bohemian Rhapsody.
Complete with giant robot arms, laser lights firing from every angle and steam canons reaching to the sky, this was a rock arena spectacular not to be missed.