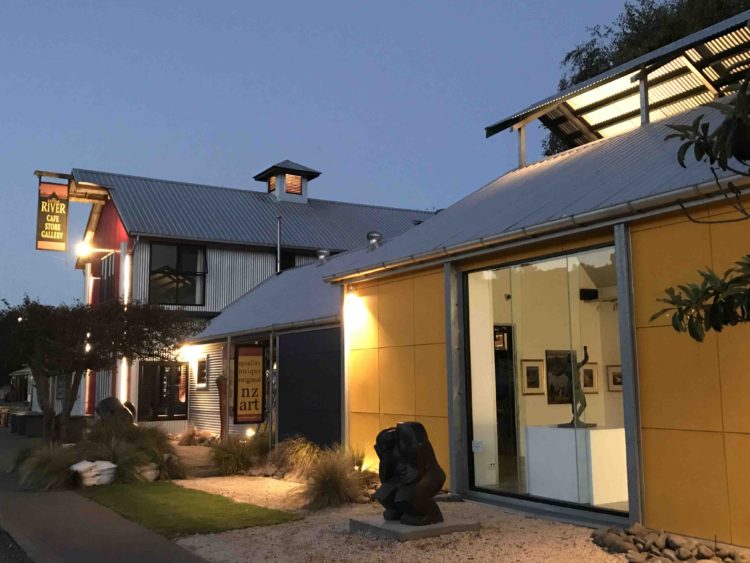 A Weekend to Remember in this artistic community.
Feeling like a break?!…….need a break, a surprise, a chance to impress and escape for a few days to a little town that has little, but has it all. Never heard of Little River?……. wrong browser, wrong feed. Take a chance, feel that excitement and impress your beloved with a touch of R'n'A, Retreat and Art experience.
Article | Stuart Wright-Stow and Linda Hennessy
---
A picturesque 45 minute drive from Christchurch, Little River is a thriving, artistic community, hugging the edges of SH75.
At the centre of this eclectic community are Stuart and Angela Wright-Stow, owners of the Little River Gallery and the building that also houses the Little River Café. Adjoining the Gallery is New Zealand's only SiloStay, an award winning group of repurposed Silo's providing exclusive accommodation, very much in keeping with the individualistic style of the town.
The Gallery's sophisticated 'rural design' is easy to spot. It's always surrounded by parked cars, happy customers and rustlers.
Little River Gallery has become one of New Zealand's leading galleries, with regular exhibitions by New Zealand artists and a large stock of paintings, sculptures, ceramics, object d'art, jewellery and exquisite artisan made giftware.
Exhibitions rotate every 4 weeks, so there is always something new to look at. Artists including Llew Summers, David Lloyd, Clare Reilly, Jane Downes, Philip Beadle, the established and not so established.
Llew has a range of sculptures currently on display including Jazz Man, which depicts his interest in the powerful figurative form. Another sculptor and artisan, David Lloyd has an eclectic style using mainly copper and repurposed objects, often finding an ironic and challenging perspective of a current issue in NZ, seen here with his take on the sensitive irrigation issue. Philip Beadle's current exhibition showcases his affair with the Peninsula and his other love, that of the nude form.
A sculpture garden surrounds the gallery where you can peruse object d'art, intriguing sculptures and form, whilst sipping a latte from the Café.
The Gallery has become a weekend destination for enlightened Cantabrians, or travelers of the universe and further afield, seeking that exclusive indulgence and experience. The Café opens daily and serves a varied mix of Kiwi tradies going about their daily business, to international visitors navigating their campervans around the narrow roads of Banks Peninsula. The food is freshly made and served with a smile.
Right next door to the Gallery and Café, you will find sumptuous love nests. SiloStay was the brain child of Stuart. Quite literally, virgin grain silo's that now house beautifully designed accommodation. Every sophisticated detail has been thought through. Each unit has an upstairs which houses a queen sized bed and glass sided shower, whilst downstairs provides a kitchen and dining area. In the upstairs peak of the silo there is a glazed lid which allows a glimpse of a million stars, whilst snuggling under the duvet's duck down feathers.
The accommodation provides a feast for the imagination, an architectural statement of design, sumptuous comfort and intrigue. Your own Silo is the duvet of warmth, welcome and wonder. Inside or out, ramble a trail, indulge the senses and nourish the inner self. The Silos certainly make an impression and with the attractions of the area, the gallery and cafe, why not surprise and delight your loved one with a real treat for all the senses? You won't forget it.