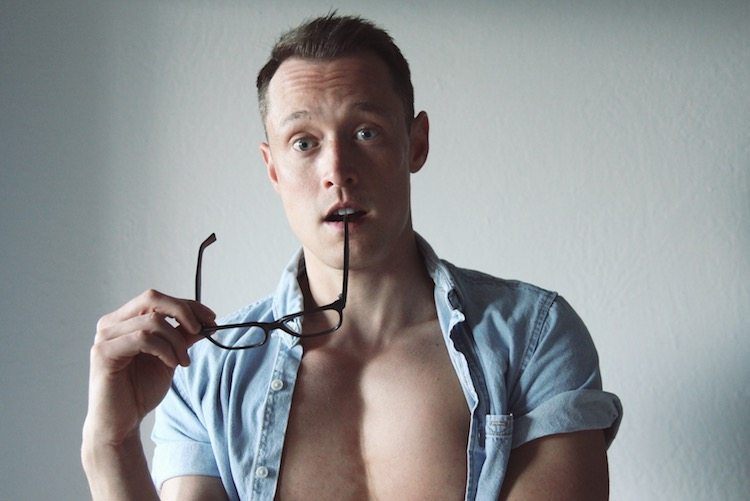 Davey Wavey is a gay sex-positive Youtube vlogger with over a million followers. His 800+ videos include: guides to gay sex intricacies, positive body image and are embracing of all colours of the LGBT+ community. Last year Davey took things a step further starting his own adult entertainment site Himeros.tv. He caught up with Oliver Hall to discuss this new frontier in gay porn.
---
Known to is many fans as Davey Wavey (real name Johnathon), Davey worked as an online marketing manager at a nonprofit organization for LGBT+ parents, when he was given a webcam and decided to experiment. "Before YouTube was a popular platform, I created a handful of videos and didn't think much of it. One of my first videos, which was about my masturbating neighbor, went viral – and people started subscribing to my channel."
Like many long-term relationships, Davey says his partnership with YouTube is 'complicated'. "I'm forever grateful for the platform and hope, that YouTube has given LGBT+ people. By connecting our community, we're able to share resources, tell our stories and remind other LGBT+ people that they aren't alone." However, he admits YouTube has dropped the ball when it comes to looking after their LGBT+ content creators, particularly sex-positive ones, with the platform's 'restricted mode' targeting LGBT+ content.
"As it currently exists, YouTube viewers are able to flag content that they believe is inappropriate. But, unfortunately for LGBT+ creators, that system relies on the bias of viewers. For some people, seeing a gay person simply read the phone book is offensive… and so, our content gets flagged more than non-LGBT+ content. If a video receives a lot of flags relative to the view count, someone at YouTube must manually review that video. And sometimes, that person will wrongly agree with the viewers. To me, this illustrates a lack of diversity training and a need for YouTube to have more cohesive standards. And I find it continually frustrating that sexual content is perceived as more offensive than violent content. Sadly, much of the world is more comfortable seeing two men shoot each other than kiss each other."
For many YouTubers this policing has seen a huge drop in ad revenue with LGBT+ content disproportionately affected. "I can only speak for my own experience, but per 1,000 views, my revenue is 96% less," Davey tells us – explaining that this is actually an improvement on the 99% drop he experienced at the beginning of the year. With over a million subscribers, Davey is more protected that many lesser followed YouTubers hoping to get their big break.
"Fortunately for me, I don't rely on ad revenue for my channel's viability – but many other creators do. And that's a huge problem."
While Davey tells us, he will carry on creating YouTube videos for as long as he feels inspired, his main focus now is his recently launched gay adult entertainment site Himeros.tv. "Like many gay men, I learned about sex from porn. Of course, porn isn't designed to teach you what feels good or about intimacy and connection. Porn is just designed to get you off," he tells express, explaining that Himeros is different. "Himeros.tv is a website that uses erotic content to teach gay men about better sex. We work with gorgeous models and a team of sex coaches, tantric instructors, psychotherapists and sexologists to create erotic content of a whole new genre."
Muscle-bound Davey has even guest starred in some of the site's videos before in non-nude roles, but says he prefers being behind the camera and leaving the action to the experts.
"My favorite video is titled Spank Me Daddy and it features Jeremy Feist and Windom Gold. Jeremy is a professional dom from Toronto and watching him spank Windom is like watching a prima ballerina on center stage. It's incredible!" He tells express.
Having talked about and produced gay sex related content for years, Davey tells us that one simple sex tip stands out among the recommendations he has received. "Explore your desires and discover what feels good. Then, communicate that to your partner or partners."
Himeros.tv has already recruited one New Zealand star in Max Small (interviewed elsewhere in this issue), but could soon be on the lookout for more. "New Zealand is on my bucket list," Davey tells us, "so, someday, I'd love to film there!"
Maybe he'll be filming you!
You can follow Davey Wavey on Instagram @officialdaveywavey, on YouTube user/wickydkewl and at Himeros.tv