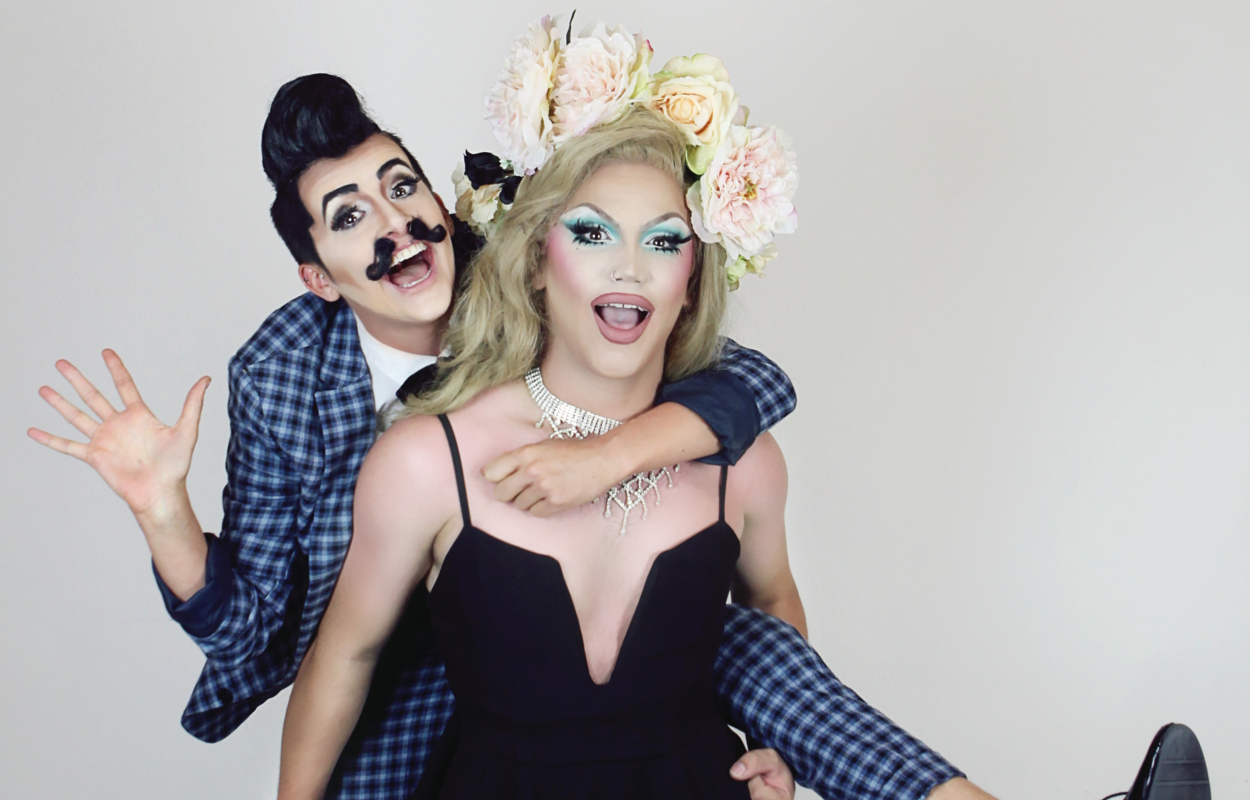 Wellington drag king Hugo Grrrl talks to Oliver Hall about coming out as a trans man and NZ's booming subculture of Drag Kings.
For the last three years, Hugo Grrrl has been New Zealand's only full-time professional drag king. The masculine equivalent of a drag queen, usually performed by queer women and people assigned female at birth. Hugo tells us the NZ drag king scene is expanding with more performers taking on the genre semi-professionally. "There are bloody heaps. It's growing into quite the exciting subculture!" He buzzes.
Hugo got into drag because of 'a good old fashioned gender identity crisis,' and just recently came out as a trans man. "Exciting times," he exclaims. "Drag, of course, had a big part to play in me sorting out my gender identity, and I'm excited to see what my transition from crossdresser to 'show boy' will look like!"
Hugo grew up in Christchurch. "An art kid in a sea of rugby and boy racers," and moved to Wellington at 17. "I told people I moved for law school and theatre, but really it was for the gay bars!" He confesses.
He started dressing in male clothing to help make sense of his gender identity. "I was surrounded by show folk at the time so it seemed like the most normal thing in the world to put all that chaos onstage. It was a weird time, lots of hours spent humping the bedroom mirror. I recall the process as really frantic and exciting. Hugo is a proper alter-ego in that way – he just fell out of me!" He tells us.
For his first show, he dressed as a schoolboy and performed a striptease to Stacey's Mum by Fountains of Wayne. Drag Kings generally tape their breasts under their armpits to create pecs, but Hugo's novice attempt at taping did not hold up and he ended up flashing the crowd. "It was quite the ruckus debut," he admits.
"Pretty soon after I quit my lovely stable bar job to 'do drag', which in retrospect was the dumbest decision… I was just so obsessed with performing that I was happy to hustle like a maniac to make it work. I lived in a caravan in someone's driveway at one stage… I started running shows to create stage time for myself and my underrepresented mates and three years later creating smutty late-night cabaret and comedy shows is my full-time job so I'm bloody glad I made the gamble."
Hugo's path to success was not an easy one. At times he met resistance where you would least expect. "I've had venue managers tell me outright that 'you will fail' and had organisers admit to not hiring kings alongside queens, cause 'they're just not as good'. Trying to start the conversation about bias and micro-aggressions with the mostly gay men who do drag and don't believe they perpetuate any of this sexist nonsense, is frustrating, to say the least." He explains.
A big part of the problem is how little representation drag kings have in the mainstream compared to drag queens. "I meet someone about every week who does not know what a drag king is, whereas queens are everywhere. They have a confirmation bias – when they're entertaining it reinforces what the TV has told you a drag queen is. But when a king is entertaining it's a surprise rather than the presumption. We're working against the norm. It means hustling twice as hard and trying to be twice as flashy to be given the same kudos." He says.
Despite these hurdles; hard work, persistence and an age-old rule of entertainment has lead Hugo to succeed. "People are really excited to see themselves, or a part of themselves, represented on stage. So The Little Boys' Room, the drag king show I run in Welly, often turns into a bit of a 'dykey' social affair. We get a lot of older lesbians, trans men and recently a lot of younger genderqueer kids; which warms the cockles of my cold gay heart."
Hugo believes when kings and queens team up they can really make magic happen. Recently in The Menagerie Variety Show. he performed with drag queen Eve Envy (pictured). "There's something specifically adorably comedic about a tiny little dorky man and a huge glamorous woman dancing together," he recounts with pride!
As more and more great drag king talents make the brave decision to step on stage, we are assured this subculture will succeed and Hugo Grrrl for one is not going anywhere. "He just lets me be a louder, prouder, braver, sparklier version of me. The power of a fake moustache, aye!"
From Rocky Horror themed drag show, Filth Monster to Naked Girls Reading and Halloween and Christmas special events, Hugo Grrrl is regularly performing in Christchurch, Wellington, Auckland and beyond. Follow him on Facebook for more info.