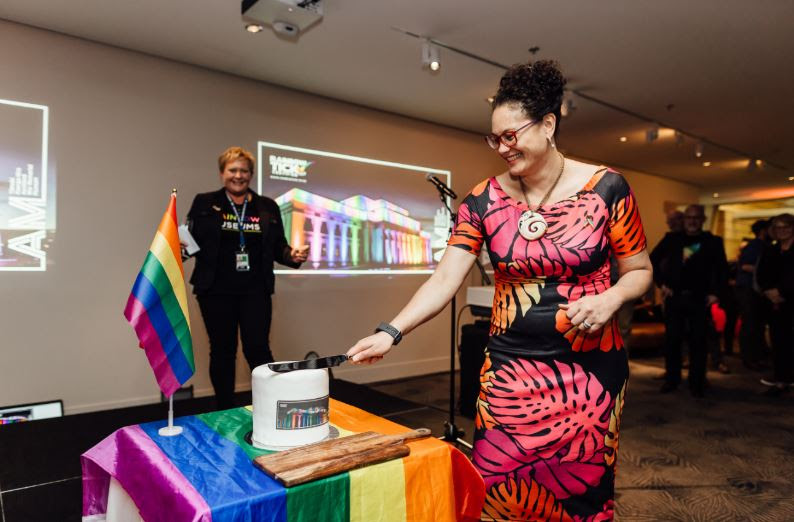 Auckland Museum is the first Museum in New Zealand to have been awarded the Rainbow Tick, an external audit and quality improvement programme designed to help an organisation to be a safe, welcoming and inclusive place for people of diverse gender identity and sexual orientation.
"The Museum encourages diversity in the workplace and sees real value in embracing people from a wide range of different perspectives and experiences," says Catherine Smith, Auckland Museum's Director of People and Organisation.
"We are proud to have gained Rainbow Tick accreditation, an acknowledgement that we have been proactively nurturing a culture where differences are truly celebrated.
"We take our commitment to Auckland very seriously and it's crucial that our policies and practices reflect and support the many communities that we serve."
Rainbow Tick has a focus on continual improvement and accreditation is awarded once an organisation has demonstrated achieved across five areas of evaluation.
The auditing process examines company policy, training, engagement and organisational support, external engagement and ongoing monitoring. This was supported by working with current Museum staff members from the community.
Auckland Museum was presented with the Rainbow Tick accreditation by Michael Stevens, Rainbow Tick Programme Director and equality advocate, MP Louisa Wall.
Michael says the Museum has demonstrated a genuine understanding of the value of being a truly inclusive workplace.
"As a place that many Aucklanders hold dear, it's fantastic that they are not only the first Museum in New Zealand to have been awarded the Rainbow Tick, they have demonstrated sector leadership by also being the first Rainbow Tick accredited cultural institution nationally."
To celebrate this achievement the Museum flew the Rainbow flag and was lit in rainbow colours.